Recruiting Feature
Top Men's Classes - 2013 Winter Rankings
The end of January is right at the midway point between the fall and spring signing periods. High school seniors across the country made formal commitments in November, and dozens more are making verbal commitments every week.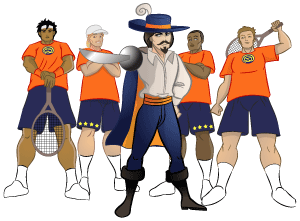 With more than 750 commitments in the books, this is a great time to take stock of how programs are doing. We invited our panel of voters - national tournament directors, members of the media, and other experts - to give us their take on the top recruiting classes in college tennis.
Today, January 21, 2013, the Tennis Recruiting Network takes a look at the top men's classes. We present the Winter Recruiting Class Rankings for the Class of 2013.
Media Poll
Tennis Recruiting has once again enlisted the aid of junior tennis experts from around the country to vote for the top classes. We list the panelists for this voting period below.
Each of our panelists submitted his/her take on the Top 25 recruiting classes. Schools received 25 points for each first-place vote, 24 points for each second-place vote, on down to 1 point for each 25th-place vote. The panelists did not consider incoming transfer students in their voting - and also did not consider players that started college in January.
Top 25 Men's Recruiting Classes (through January 3)
Here are the Winter Rankings of the top men's college recruiting classes. Point totals are shown in the right-most column - with the number of first-place votes in parentheses. All commitments reported through January 3, 2013 are included.
Also Receiving Votes
Other men's programs receiving votes in our rankings are: Clemson (52), Tulsa (51), Duke (46), Harvard (46), N.C. State (38), Vanderbilt (34), Cal Poly (29), Notre Dame (13), William & Mary (11), LSU (5), Georgetown (4), Valparaiso (4), Richmond (3), Pacific (1), and Wisconsin (1).
Cavalier Attitude
The choice at the top was clear this year, with our panelists tabbing the Virginia Cavaliers as the program with No. 1 recruiting class in the country. Virginia's four Blue Chip recruits garnered 22 of the 24 first-place votes and 596 of 600 total points.
The recruiting class is comprised of Thai-Son Kwiatkowski, Luca Corinteli, Juan Aragone, and Jordan Daigle - four recruits who have all been ranked in the top 5 nationally. The group won 14 matches at the Boys 18 Nationals in Kalamazoo, with two of their losses coming to other UVa recruits.
Head Coach Brian Boland is no stranger to top recruiting classes. 2013 marks our eighth year doing these rankings, and UVa's classes have been in the top 10 every single year.
Boland looks forward to this group arriving next fall.
"We are excited about welcoming a group of hard working, determined and passionate young men to our program," said Boland. "The players joining us next year are committed to developing their tennis to play at the highest level, and we look forward to working with them."
And while the future looks bright, Wahoo fans are focusing on the present. Virginia returns five of its top six players - including ITA national singles champions Jarmere Jenkins, Alex Domijan, and Mitchell Frank - from a squad that reached the NCAA championship match in 2012. Add in the fact that UVa also had last year's top recruiting class, and you can see why many Virginia fans believe this is their year.
Give Me Five
There are a number of strong classes at the top, including the UCLA Bruins who check in at the No. 2 spot. The resurgent Bruins, who reached the Final Four in last year's tournament and are currently ranked No. 3 nationally, have attracted a strong class from within the Golden State, signing Blue Chip recruits Mackenzie McDonald, Gage Brymer, and Joseph DiGiulio. The class also includes 4-Star recruit Michael Guzman who has been ranked among the Top 25 in the juniors. The Bruins earned 571 out of 600 points and one first-place vote in our rankings.
Rounding out the Top 5 are the Florida Gators (No. 3), USC Trojans (4), and North Carolina Tar Heels (5). The remaining first-place vote went to the No. 8 California Golden Bears and their two Swedish recruits.
East Coast, West Coast
A look at the rankings shows two conferences that stand out from the rest - the Pac-12 and the ACC. Looking down from the top, seven of the top eight recruiting classes in the rankings come from one of those two conferences.
The Pac-12 has four schools in the rankings - all of which are among the top eight. The aforementioned
UCLA Bruins
lead the way at No. 2, followed by
USC
(No. 4),
Stanford
(7), and
California
(8).
The ACC counters with five programs in the rankings - more than any other conference. Following No. 1 Virginia are North Carolina (5), Florida State (6), Wake Forest (17), and Georgia Tech (21). For good measure, three of the first five teams in the "also receiving votes" category also come from the ACC.
Conference Call
Twenty-one of the programs in the list come from five different conferences: the Pac-12, ACC, Big Ten, Ivy League, and SEC. Each of those conferences have four or more programs in our rankings.
Two schools of note in our rankings come from outside of the power conferences: the Boise State Broncos and Pepperdine Waves. Boise State and Pepperdine check in at No. 11 and No. 12 in the rankings, respectively. Led by longtime coaches Greg Patton (BSU) and Adam Steinberg (Pepperdine), these two programs have become national powerhouses, with Pepperdine winning the 2007 NCAA Championship and reaching last year's Final Four.
Drop Shots
Scattershooting through the rankings...
Panelists for January 2013
The panelists for this voting period are shown below alphabetically. Please join us in thanking them for donating their time and talents to this effort.
Joseph Braden, Director of Tennis at Schwartz Tennis Center, USTA/Midwest Tournament Director.
Sonny Dearth, Daily Press newspaper and dailypress.com Web site in Newport News, Va.
Tim Donovan, Donovan Tennis Strategies, DTS College Prospects Showcases
Caerwyn Evans, Indian Wells Tennis Garden Junior Academy - Senior Academy Professional
Barry Friedman, Director of Tennis, The Claremont Club, National Tournament Director G18's National Team Championships, tournament director USTA Men's Pro Circuit (Pomona Valley Hospital Medical Center USTA Pro Classic)
Sally Grabham, National Tournament Director, USTA Winter Nationals, National Junior Competition Committee, Southwest Junior Competition Committee, Central Arizona Delegate
Marty Hennessy, Director of Tennis at The Stirling Club, USPTA professional, National Tournament Director
Larry Jackson, Director, Dayton Center Courts and Tennis Academy, National Tournament Director
Adam Jasick, Director of Indian Wells Tennis Garden Junior Academy, Former USTA Pro Circuit Tournament Director, ITF and USTA National Tournament Director
Randy Jenks, USPTA National, National Tournament Director, The Firehouse $10k Tournament Director
Pua Johnson, USTA National and ITA Collegiate Referee
Ali Jones, Contributor to TennisRecruiting.net, USTA/Texas Junior Tennis Blog
Ernie Katko, Junior Development Coach in Chicago, USTA High Performance Coach, USPTA, PTR, Member of USTA/Midwest Coaches Commission
Elissa Kinard, Coordinator of USTA Junior and Collegiate Competition, former college coach
David "The Koz" Kozlowski, Inside Tennis With The Koz, The Tennis Channel
Patty Lambropoulos, Junior Tennis Coordinator, College Park Athletic Club, National Tournament Director, Chicago District Board of Director and Endorser, Midwest Junior Competion Committee.
Colette Lewis, ZooTennis.com
Phil Parrish, Tennis Director, The Longfellow Club, National Tournament Director, Former College Coach
Robert Sasseville, National Tournament Director, USTA National Referee
Jeffrey Szekely, Former National Tournament Director, USTA Clay Courts
Clayton Taylor, Former ATP and Collegiate Coach. Former Director of U.S. International Hard Courts and National Opens.
Timothy Thompson, Director of Tennis at Bainbridge Tennis, Tournament Director.
Julie Wrege, TennisInformation.com, TennisRecruiting.net, former National Tournament Director, former USTA ranking chair
Evan Zeder, Athletic DNA
Up Next... The Ladies
These men's rankings are the first of our Winter Rankings. Next Monday, the Tennis Recruiting Network continues with the Top 25 Women's Recruiting Classes.
Don't see your school? These 2013 Winter Rankings are only preliminary. We will update them again in May after the spring signing period begins. During that time, we will also post rankings featuring schools outside the high major conferences.
Leave a Comment
More Recruiting Class Rankings
28-Jan-2013
Top Women's Classes - 2013 Winter Rankings
Spring Signing Day is a little over two months away, and coaches are busy locking up their recruits. A number of highly-ranked seniors have already made their college choices - they have made verbal commitments or signed during the Fall Signing Period. Find out which women's teams are on top at this point - as The Tennis Recruiting Network proudly presents its Top 25 Women's College Tennis Recruiting Classes of 2013.
15-Jun-2012
2012 Top NCAA Division III Women's Classes
The Tennis Recruiting Network wraps up its spring recruiting class rankings with a look at the D-III women. Today we present our list of the Top 25 NCAA D-III women's recruiting classes for 2012. At the top of our rankings sits a Purple Cow... with it's feet up, smoking a cigar.
11-Jun-2012
2012 Top NCAA Division III Men's Classes
The Tennis Recruiting Network presents its recruiting class rankings for NCAA Division III conferences. Today we present our Top 25 D-III men's recruiting classes for 2012. Teams from the NESCAC and UAA have a stranglehold on the Top 5 - including the Lord Jeffs who check in at No. 1.