News & Features
Where Are They Now?
Catching Up with Vinay Bhamidipati
by
Harry Cicma
, 23 July 2010
Special from
NBC Sports
Harry Cicma recently got the chance to sit down with Vinay Bhamidipati, a former New Jersey high school state champion who went on to play college tennis at Columbia. Cicma and Bhamidipati talked about junior and college tennis, life after competitive tennis, and how tennis has helped prepare him for life.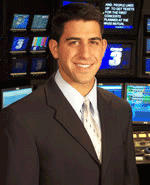 Questions and Answers
Harry Cicma (HC): You had a dream-like run during your senior year of high school, capturing the New Jersey state singles crown. How has that experience affected your life in a positive manner?
Vinay Bhamidipati (VB): Winning the New Jersey state high school singles title was one of the best moments of my life. Winning that tournament was not only for myself, but also for my family - who put so much into my tennis career - as well as my community and my high school. Bringing the title home to Egg Harbor Township is something that you cannot really put words to.
As in any sport, tennis has given me so much in terms of confidence in myself, a good work ethic, as well as the ability to deal with the pressures of the real world. The pressures faced during a tennis match are not unlike the pressures we face as adults - knowing that you have the abilities to face these pressures is very self-assuring.
HC: You later went on to play Division I Ivy League Tennis at Columbia. Describe the adjustment from New Jersey High School tennis to national NCAA competition?
VB: Just as any other sport, the level of competition was a ten-fold increase from what I experienced in high school. Players were hungrier. They were more fit, and better trained. All of a sudden it didn't matter how much talent you had - but more how much you wanted to win.
The idea of representing your University and playing for your teams benefit pushes you that extra mile and gives you adrenaline to push through all those tough three-setters.
HC: The Eastern USTA section is often referred to as one of the most competitive areas for tennis, along with Florida, Texas and Southern California. How does the ETA maintain this top level of play?
VB: To be honest I don't know how the ETA keeps such a strong level. I Played for the Middle States myself, and I know that coming from one of the smaller sections we struggled to keep up with some of the other powerhouse sections such as the ETA, Southern Cal, etc. Many times, some of our top players, including myself, would travel to these other sections in search of better competition and training.
HC: What are you up to now these days? How is life after competitive tennis?
VB: I just finished my second year in medical school. Life after tennis gets no easier. Just as the competition on the court changed from high school to college, so has the level of competition from college to grad school.
However, as I said before, I think playing tennis at such a competitive level has given me a skill set that will help me succeed in all my future endeavors.
HC: What advice would you give young players coming up through the high school ranks, looking to go pro or play top Ivy League Tennis?
VB:
In my opinion, many of the young athletes get lost in the idea of winning and losing. My advice to young athletes would be to focus more on developing the different aspects of your game. Understanding that losing today may lead to more wins tomorrow is a key concept that many take for granted.
Trying different tactics and using different techniques in tournament play, under pressure situations is key. Also I would advise them to focus on their off-court training. Time spent in the gym and on the track running sprints may not help you in the scope of short term goals, but in the long run, being able to pull out that tiebreaker in the third set of a match is what makes the difference between a champion and just another player.
HC: The Ivy League is one of the more competitive college tennis conferences. What was the experience like to play against rivals such as Harvard, Princeton, Yale and Brown?
VB: You hear school names like Harvard, Princeton, et cetera, and automatically associate them for the academic marvels that they are. However in recent years the Ivy League has become very strong in the realm of athletics as well. You saw this year Cornell made a fantastic run at the NCAA tournament in basketball, and every year the league is getting stronger. The fact that these athletes are not only succeeding in their respective sports but also in the classroom is a testament to their character.
I think it is a true honor to compete against Ivy student-athletes. And since the Ivy League does not give out any kind of athletic scholarships, these athletes exhibit the true passion for the sport. They are playing just for the love of the game and representing their university. There are no alternate incentives - no scholarship money riding on their performance - and many of us know that life after college might not involve athletics. Ivy League athletes put it all on the line and do it just for the love of the game. I think those characteristics are what makes Ivy League sports so great.
Leave a Comment
More "Where Are They Now?" Features
13-May-2013
Don Johnson Brings Experience to Vstrator
Donald Johnson turned a successful college tennis career at North Carolina into a professional stint that brought him to the No. 1 doubles ranking in the world. Today, Johnson works at Vstrator, a company he helped found that provides video analysis tools for athletes and has great application to tennis.
24-Apr-2013
Talking with Jay Goldman
Jay Goldman was a standout tennis player for the Arizona Wildcats between 2007 and 2011. At Arizona, Goldman competed primarily at the top of the lineup. Goldman traveled to Tucson following a storied junior career out of Worceser, Mass., and the IMG Academy Tennis Program. Harry Cicma got the opportunity to catch up with Goldman and discuss college tennis.
14-Mar-2013
Canadian Levine Remains a Gator
Jesse Levine was a top U.S. junior who was on the cusp of turning professional when he decided to give college tennis a whirl. He brought his talent to Florida, where he was named ITA National Rookie of the Year before turning pro after his freshman year. Now ranked No. 97 in the world, Levine will compete for Canada in their Davis Cup quarterfinal tie against Italy next month.
About Harry Cicma
When it comes to college tennis, Harry Cicma is your man. Cicma covers tennis and other athletic stories for
NBC Sports
, writing articles and producing video segments.
He is co-founder and host of World Tennis a weekly tennis show on NESN, and host of of Tennis Live Radio's College Corner.
Cicma competed as a junior in USTA/New England and went on to play college tennis at Rutgers University. As a professional, Cicma competed at the ATP Newport tournament and the San Jose Siebel Open. He reached a career-high #75 in the ATP doubles team rankings and #1262 in the ATP Entry System.
In media, Cicma has run the gamut. He has worked for NBC, CBS, ABC, ESPN, FOX Sports Net, the Tennis Channel, and World Team Tennis. Cicma has announced NCAA sports as well as the US Open Tennis Championships on both TV and radio.