Where Are They Now?
Catching Up with Sukhwa Young
by
Harry Cicma
, 29 November 2010
NBC Sports
, managed by
MDTOHM Design
A decade ago, the name Sukhwa Young was well-known to junior tennis aficionados. Born in Alaska, he moved to Florida at age 11 and won a number of USTA Supernationals, achieving a #1 USTA ranking in the 12s, 14s, and 16s age divisions.
Young had some success at Georgia Tech and on the ATP circuit before a shoulder injury ended his career.
Harry Cicma of NBC Sports recently had the chance to talk tennis with Young. Here are highlights from their conversation.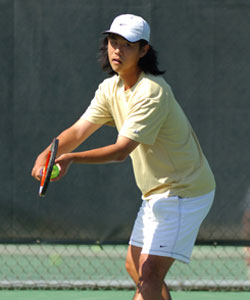 Former Georgia Tech standout Sukhwa Young
courtesy, Georgia Tech Athletics
Questions and Answers
Harry Cicma (HC): What was the experience like for you, playing for a top ACC program in your home state?
Sukhwa Young (SY): I actually played for Georgia Tech, and my home state is Florida. However, it is still close.
Playing in college gave tennis a complete different outlook for me. As you know, tennis is an individual sport, and when it is turned into a team effort it is a huge change.
HC: I remember you used to train at Saddlebrook Academy in Tampa, What other factors led to your great success in the juniors and at the top National NCAA level?
SY: To be successful in anything, you need to have a strong will, mindset, and discipline. You to be passionate about what you are doing - and above all enjoy what you are doing and dream big. Anything is possible if you work hard.
HC: What's your best memory from competing on the Pro ATP level?
SY: I remember when I was 16 years old getting my first ATP point played in a Futures against an NCAA Champion from Stanford... When I was serving for match point I could barely move my arms or legs, it was an amazing experience to compete at that level.
HC: What advice would you give a player looking to reach the top national level in college and juniors?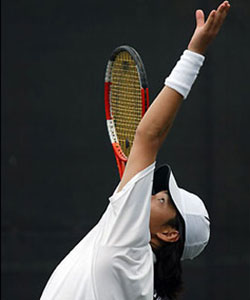 SY:
The biggest advice is simple. There are three types of mindsets - junior, transitional, and professional. Regardless of your level, the mindset is what is important. Even if you are number 1 in the world for the 14s you have to ask yourself: "If I played like that against Federer or Nadal, what would they do to me?"
The old saying if you want to be a millionaire act like a millionaire applies to tennis. Never be satisfied with what you did - and strive to get better. Always have a higher goal in mind.
HC: What was the best part of being a Division 1 college athlete?
SY: Just the whole team atmosphere. Playing for something bigger than yourself really generates that much more emotion - you are not out there just winning or losing for yourself. It's also a great opportunity to compete with some of the best athletes in the country and in the world.
Leave a Comment
More "Where Are They Now?" Features
28-Mar-2015
Countdown: Conversation with Williams Champ Urban
It's been a few years since Lex Urban walked the campus of Williams College in Massachusetts. Back in the early 2000s, Urban served as captain of the Ephs Men's Tennis Team that won the NCAA Division III National Championship in both 2001 and 2002. After graduating, Urban spent a year doing community service in AmeriCorps - and he now is a practicing lawyer in Washington, DC. Harry Cicma of NBC Sports chatted with Urban about all things college tennis...
11-Mar-2015
Checking in with Former USC Standout Amanda Fink
It's been 10 years since Amanda Fink was a Blue Chip senior. Fink went on to be a two-time All-American at USC and competed professionally for almost three years - rising into the Top 300 in the world. TennisRecruiting.net recently caught up with Fink, who is now a teaching pro, and she lets us in on the most under-utilized training strategy for junior players.
13-Feb-2015
Catching Up with Gator Great Lauren Embree
Lauren Embree had one of the most successful collegiate careers in Florida history, leading the Gators to back-to-back NCAA titles in 2011 and 2012. Now living in Santa Monica, Embree has begun the year on the USTA Pro Circuit, where she has competed in four tournaments in the past month. At the $100,000 Dow Corning Tennis Classic in Midland, Mich., last week, I spoke with her about her return from injury, what she misses about college tennis, and her goals for 2015 and beyond.
About Harry Cicma
When it comes to college tennis, Harry Cicma is your man. Cicma covers tennis and other athletic stories for
NBC Sports
, writing articles and producing video segments.
He is co-founder and host of World Tennis a weekly tennis show on NESN, and host of of Tennis Live Radio's College Corner.
Cicma competed as a junior in USTA/New England and went on to play college tennis at Rutgers University. As a professional, Cicma competed at the ATP Newport tournament and the San Jose Siebel Open. He reached a career-high #75 in the ATP doubles team rankings and #1262 in the ATP Entry System.
In media, Cicma has run the gamut. He has worked for NBC, CBS, ABC, ESPN, FOX Sports Net, the Tennis Channel, and World Team Tennis. Cicma has announced NCAA sports as well as the US Open Tennis Championships on both TV and radio.