Where Are They Now?
Catching Up with Sukhwa Young
by
Harry Cicma
, 29 November 2010
NBC Sports
, managed by
MDTOHM Design
A decade ago, the name Sukhwa Young was well-known to junior tennis aficionados. Born in Alaska, he moved to Florida at age 11 and won a number of USTA Supernationals, achieving a #1 USTA ranking in the 12s, 14s, and 16s age divisions.
Young had some success at Georgia Tech and on the ATP circuit before a shoulder injury ended his career.
Harry Cicma of NBC Sports recently had the chance to talk tennis with Young. Here are highlights from their conversation.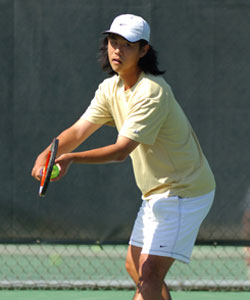 Former Georgia Tech standout Sukhwa Young
courtesy, Georgia Tech Athletics
Questions and Answers
Harry Cicma (HC): What was the experience like for you, playing for a top ACC program in your home state?
Sukhwa Young (SY): I actually played for Georgia Tech, and my home state is Florida. However, it is still close.
Playing in college gave tennis a complete different outlook for me. As you know, tennis is an individual sport, and when it is turned into a team effort it is a huge change.
HC: I remember you used to train at Saddlebrook Academy in Tampa, What other factors led to your great success in the juniors and at the top National NCAA level?
SY: To be successful in anything, you need to have a strong will, mindset, and discipline. You to be passionate about what you are doing - and above all enjoy what you are doing and dream big. Anything is possible if you work hard.
HC: What's your best memory from competing on the Pro ATP level?
SY: I remember when I was 16 years old getting my first ATP point played in a Futures against an NCAA Champion from Stanford... When I was serving for match point I could barely move my arms or legs, it was an amazing experience to compete at that level.
HC: What advice would you give a player looking to reach the top national level in college and juniors?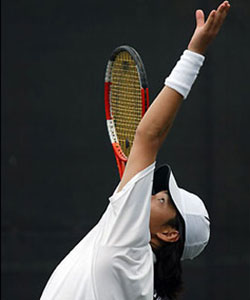 SY:
The biggest advice is simple. There are three types of mindsets - junior, transitional, and professional. Regardless of your level, the mindset is what is important. Even if you are number 1 in the world for the 14s you have to ask yourself: "If I played like that against Federer or Nadal, what would they do to me?"
The old saying if you want to be a millionaire act like a millionaire applies to tennis. Never be satisfied with what you did - and strive to get better. Always have a higher goal in mind.
HC: What was the best part of being a Division 1 college athlete?
SY: Just the whole team atmosphere. Playing for something bigger than yourself really generates that much more emotion - you are not out there just winning or losing for yourself. It's also a great opportunity to compete with some of the best athletes in the country and in the world.
About Haviland Tennis Academy
We are honored to have Haviland Tennis Academy as the presenting sponsor of our Where Are They Now? article series at TennisRecruiting.net.
Haviland Tennis Academy is a new junior academy located in Greenville, S.C. We have a beautiful new tennis center that boasts 4 clay courts, 3 fast hard courts, and 3 slow hard courts. Additionally, all courts have lights for night play.
Our facility is dedicated to our junior program, unlike academies that are run out of membership clubs or parks, so there are never members occupying courts or getting in the way of our training sessions. We pride ourselves on having one of the most elite coaching staffs in the world, as our coaching staff is comprised of former Top 10 world ranked juniors, Junior Orange Bowl Champions, Junior Grand Slam Champions, College All-Americans, and formerly-ranked - as well as currently-ranked - ATP pros.
We offer all this while remaining one of the most affordable academies in the United States. Students at Haviland Tennis Academy can attend academy training sessions for 3 hours a day 6 days a week, have weekly private lessons, and get tournament coaching several times a month for a fraction of what it costs to attend just the academy training sessions at the majority of academies around the country. With top-notch coaching, a collection of world class players to train with and spar against, and extremely affordable prices, Haviland Tennis Academy offers everything an aspiring player needs to take his or her game to the highest levels.
Connect with Haviland Tennis Academy on Facebook and Instagram - or on their website.
Leave a Comment
More "Where Are They Now?" Features
27-Jun-2016
Talking with Former Stanford Standout Hilary Barte
Hilary Barte, the No. 1-rated women's tennis recruit in the class of 2007, won two doubles national titles and one team championship while at Stanford, where she played No. 1 singles and doubles for all four seasons (2008-2011). Barte had a combined singles and doubles record of 258-63, and she was an eight-time All-American. We talked recently with Barte about her new career as a real-estate agent, her days as a junior, college and professional tennis player, and how tennis prepared her for that profession.
2-May-2016
Aubone Playing (And Finishing) On His Own Terms
When it comes to tennis, Jean-Yves Aubone has made sure things were on his terms. Born to two professional tennis players, there was no doubt that tennis would be the sport for "JY". He became one of the premiere junior tennis players in the country - eventually heading to Florida State. Since graduating in 2010, Aubone has been out on the professional tour. Contributor Joey Dillon got the chance to catch up with Aubone about all things tennis ...
7-Apr-2016
Countdown: Checking In With Kristy Frilling Skelly
Kristy Frilling Skelly was TennisRecruiting.net's No. 2 prospect for women's college tennis in 2008. The tall left-hander went on to become the first female four-year All-American at Notre Dame, where she won 235 matches and led the Fighting Irish to their first-ever NCAA semifinal finishes. TennisRecruiting.net recently caught up with Frilling to discuss her tennis career and spirit for travel.
About Harry Cicma
When it comes to college tennis, Harry Cicma is your man. Cicma covers tennis and other athletic stories for
NBC Sports
, writing articles and producing video segments.
He is co-founder and host of World Tennis a weekly tennis show on NESN, and host of of Tennis Live Radio's College Corner.
Cicma competed as a junior in USTA/New England and went on to play college tennis at Rutgers University. As a professional, Cicma competed at the ATP Newport tournament and the San Jose Siebel Open. He reached a career-high #75 in the ATP doubles team rankings and #1262 in the ATP Entry System.
In media, Cicma has run the gamut. He has worked for NBC, CBS, ABC, ESPN, FOX Sports Net, the Tennis Channel, and World Team Tennis. Cicma has announced NCAA sports as well as the US Open Tennis Championships on both TV and radio.