Special Feature
Twelve Tips for a Better Tournament Experience
by
Colette Lewis
, 1 July 2011
Colette Lewis has attended quite a few tennis tournaments over the years. During that time, she has seen the good, the bad, and the ugly. Here is a list of twelve tips that players and parents should keep in mind to foster the best-possible tournament experience for everyone.
Twelve Tips
1) Make sure the Tournament Director has a phone number where you can be reached.
2) It is your responsibility to know your match time. Ask a member of the tournament staff where the match times will be posted, and at what time you can expect to have access to that information.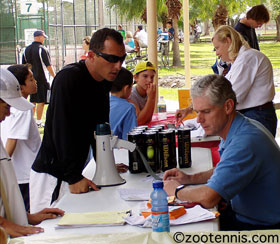 3) Check in at least 15 minutes before your scheduled match time and stay within earshot.
4) Come prepared to play when your match is called.
5) Make sure you know the scoring format before you take the court.
6) Ask how practice courts are handled - fees, scheduling, location.
7) If you are unable to play a match, notify the tournament director or site director as soon as you know you will not be playing.
8) If you are delayed by circumstances beyond your control, notify the site director promptly.
9) Bring your USTA card and have an identification tag on your racquet bag.
10) Have adequate water and/or sports drinks and nutrition available to you on court
11) Be patient. Officials have no control over weather or match lengths.
12) Report your score to the tournament desk and request your next match time if applicable. If you are out of the tournament, thank the tournament or site director for their efforts.
Leave a Comment
More Special Features
8-Dec-2013
The Invaluable Experience - New Kindle Book by Lao and Limpert
Reflecting on her successful college tennis career, Danielle Lao, a two-time All-American at USC thought she might have some valuable information to share with others either enrolled at colleges and universities around the country, thinking about playing college sports, or even sports fans wondering what the college experience is like for a elite athlete. With the help of Rick Limpert, Lao has
24-Nov-2013
WAM Sports College Showcase to be held December 5-6
The WAM Sports College Tennis Camp and Showcase is a great way to get exposed to and recruited by 40+ U.S. college tennis coaches. College coaches from all divisions across country will be in attendance to educate you about the college tennis recruiting process and spend time with you on court.
22-Nov-2013
College Tennis Camps and Showcases - A Must for College-Bound Prospects
What are College Tennis Camps and Showcases? Who are they for? What can they do for me? Junior tennis players, parents and coaches alike often do not know much about either type of event. Therefore, they are hesitant and unsure of the benefits. But the chance to talk to a college coach, to be scouted and educated by them, to even be recruited by college coaches is always a valuable experience for any student athlete, regardless of who you are.
About Colette Lewis
Colette Lewis
has covered topflight U.S. and international junior events as a freelance journalist for the better part of a decade. Her work has earned her contracts with such organizations as the Tennis Channel, USTA Florida and the Junior Orange Bowl, as well as
TENNIS
,
SMASH
,
USTA
,
Tennis Championships
and
Racquet Sports Industry
magazines. Lewis is active on
Twitter
, and she writes a weekly column right here at TennisRecruiting.net.
Lewis, based out of Kalamazoo, Michigan, has seen every National Championship final played there since 1977, and her work on the tournament's ustaboys.com website led her to establish ZooTennis, where she comments on junior and college tennis daily.