Special Feature
Twelve Tips for a Better Tournament Experience
by
Colette Lewis
, 1 July 2011
Colette Lewis has attended quite a few tennis tournaments over the years. During that time, she has seen the good, the bad, and the ugly. Here is a list of twelve tips that players and parents should keep in mind to foster the best-possible tournament experience for everyone.
Twelve Tips
1) Make sure the Tournament Director has a phone number where you can be reached.
2) It is your responsibility to know your match time. Ask a member of the tournament staff where the match times will be posted, and at what time you can expect to have access to that information.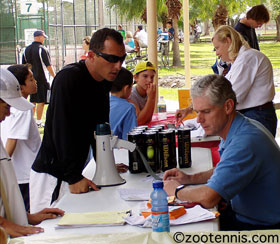 3) Check in at least 15 minutes before your scheduled match time and stay within earshot.
4) Come prepared to play when your match is called.
5) Make sure you know the scoring format before you take the court.
6) Ask how practice courts are handled - fees, scheduling, location.
7) If you are unable to play a match, notify the tournament director or site director as soon as you know you will not be playing.
8) If you are delayed by circumstances beyond your control, notify the site director promptly.
9) Bring your USTA card and have an identification tag on your racquet bag.
10) Have adequate water and/or sports drinks and nutrition available to you on court
11) Be patient. Officials have no control over weather or match lengths.
12) Report your score to the tournament desk and request your next match time if applicable. If you are out of the tournament, thank the tournament or site director for their efforts.
Leave a Comment
More Special Features
28-Sep-2016
Rome Tennis Center Blends Economics and Education with Tennis
In Field of Dreams, a voice told Kevin Costner's character, "If you build it, he will come." Cities and municipalities have been doing this for sports like baseball, softball, soccer and lacrosse. Add tennis into the conversation, as word has reached the "powers that be" that a large, modern and sprawling tennis center can drive money into the local economy, bring awareness to all that a city offers, and offer unprecedented educational and recreational opportunities for residents.
7-Jun-2016
USTA Midwest Section to Hold College Showcase in Indianapolis
On Friday, June 24, the USTA Midwest Section will host its 2016 College Showcase, giving students from the region a chance to learn about the wide range of opportunities in college tennis. The showcase will be held at the Barbara S. Wynne Tennis Center, North Central High School in Indianapolis, Indiana, and will include both information and on-court sessions for high school players.
4-May-2016
ASU Reinstates Men's Tennis
After an eight-year hiatus, Sun Devil Athletics announced the reinstatement of the men's tennis program at Arizona State. Through a lead gift of $1M by Buffie and Ray Anderson, Vice President for University Athletics, ASU will now field a total of 26 NCAA varsity sports.
About Colette Lewis
Colette Lewis
has covered topflight U.S. and international junior events as a freelance journalist for over a decade. Her work has appeared in
Tennis
magazine, the
Tennis Championships
magazine and the US Open program, and she provides monthly content for USTA Florida. Lewis is active on
Twitter
, and she writes a weekly column right here at TennisRecruiting.net.
Lewis, based out of Kalamazoo, Michigan, has seen every National Championship final played since 1977, and her work on the tournament's ustaboys.com website led her to establish ZooTennis, where she comments on junior and college tennis daily.