Special Feature
Twelve Tips for a Better Tournament Experience
by
Colette Lewis
, 1 July 2011
Colette Lewis has attended quite a few tennis tournaments over the years. During that time, she has seen the good, the bad, and the ugly. Here is a list of twelve tips that players and parents should keep in mind to foster the best-possible tournament experience for everyone.
Twelve Tips
1) Make sure the Tournament Director has a phone number where you can be reached.
2) It is your responsibility to know your match time. Ask a member of the tournament staff where the match times will be posted, and at what time you can expect to have access to that information.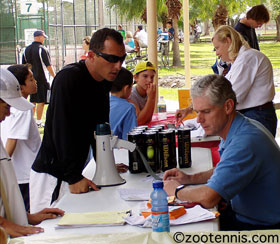 3) Check in at least 15 minutes before your scheduled match time and stay within earshot.
4) Come prepared to play when your match is called.
5) Make sure you know the scoring format before you take the court.
6) Ask how practice courts are handled - fees, scheduling, location.
7) If you are unable to play a match, notify the tournament director or site director as soon as you know you will not be playing.
8) If you are delayed by circumstances beyond your control, notify the site director promptly.
9) Bring your USTA card and have an identification tag on your racquet bag.
10) Have adequate water and/or sports drinks and nutrition available to you on court
11) Be patient. Officials have no control over weather or match lengths.
12) Report your score to the tournament desk and request your next match time if applicable. If you are out of the tournament, thank the tournament or site director for their efforts.
Leave a Comment
More Special Features
29-Jan-2016
Andy Brandi on Junior Tennis
When Andy Brandi joined the United States Tennis Association's Player Development staff as a National Coach five years ago, he brought with him nearly every conceivable tennis experience: college tennis player, college coach, WTA touring coach, and tennis academy coach. Colette Lewis of ZooTennis.com got the chance to talk with him last month at the Junior Orange Bowl in Coral Gables, Fla.
15-Jan-2016
Eight Intriguing Questions for 2016
Another year... and another edition of "Intriguing Questions" from columnist Colette Lewis. Today, Colette poses eight queries about junior and college tennis for 2016.
11-Jan-2016
Learning from Lendl
During his Hall of Fame career, eight-time slam champion Ivan Lendl was known for his lethal forehand, his fitness, his preparation, and his single-minded pursuit of tennis excellence. With a stern and often forbidding presence on the court, Lendl, now 55, has made a markedly different impression on the seven junior boys he is working with as a USTA coaching consultant.
About Colette Lewis
Colette Lewis
has covered topflight U.S. and international junior events as a freelance journalist for over a decade. Her work has appeared in
Tennis
magazine, the
Tennis Championships
magazine and the US Open program, and she provides monthly content for USTA Florida. Lewis is active on
Twitter
, and she writes a weekly column right here at TennisRecruiting.net.
Lewis, based out of Kalamazoo, Michigan, has seen every National Championship final played since 1977, and her work on the tournament's ustaboys.com website led her to establish ZooTennis, where she comments on junior and college tennis daily.