Special Feature
Twelve Tips for a Better Tournament Experience
by
Colette Lewis
, 1 July 2011
Colette Lewis has attended quite a few tennis tournaments over the years. During that time, she has seen the good, the bad, and the ugly. Here is a list of twelve tips that players and parents should keep in mind to foster the best-possible tournament experience for everyone.
Twelve Tips
1) Make sure the Tournament Director has a phone number where you can be reached.
2) It is your responsibility to know your match time. Ask a member of the tournament staff where the match times will be posted, and at what time you can expect to have access to that information.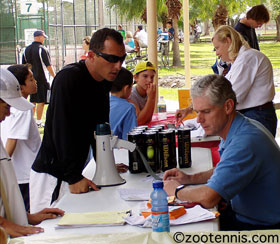 3) Check in at least 15 minutes before your scheduled match time and stay within earshot.
4) Come prepared to play when your match is called.
5) Make sure you know the scoring format before you take the court.
6) Ask how practice courts are handled - fees, scheduling, location.
7) If you are unable to play a match, notify the tournament director or site director as soon as you know you will not be playing.
8) If you are delayed by circumstances beyond your control, notify the site director promptly.
9) Bring your USTA card and have an identification tag on your racquet bag.
10) Have adequate water and/or sports drinks and nutrition available to you on court
11) Be patient. Officials have no control over weather or match lengths.
12) Report your score to the tournament desk and request your next match time if applicable. If you are out of the tournament, thank the tournament or site director for their efforts.
Leave a Comment
More Special Features
23-Sep-2015
Billie Jean King on American Junior and College Tennis
Tennis legend Billie Jean King has never been shy about voicing her opinions on American tennis. Any complaints she registers usually come with suggested solutions. Contributor Marcia Frost sat down with King to discuss the future of tennis - with a focus on American junior and college tennis - during the celebration of the 40th anniversary of Mylan World TeamTennis in August.
8-Sep-2015
World TeamTennis at 40: Supporting Junior and College Players
It's been 40 years since Billie Jean and Larry King launched World TeamTennis - an unusual team tennis concept that would bring together men and women in a fun, yet competitive, atmosphere. WTT, which has been sponsored by Mylan since 2012, has been an especially popular launching pad for top juniors and players just out of college who are looking to make their way into the pros.
3-Sep-2015
USTA's New Initiative Aims to Reach Hispanics
The USTA's new leader, Katrina Adams, is reaching out to the Hispanic community, telling them tennis is a lifetime sport - and that college scholarships should be a goal for junior players. Adams may have only started serving her two-year term as USTA Chairman of the Board, CEO and President on Jan. 1, 2015, but her first major initiative has the potential to change the face of tennis forever.
About Colette Lewis
Colette Lewis
has covered topflight U.S. and international junior events as a freelance journalist for over a decade. Her work has appeared in
Tennis
magazine, the
Tennis Championships
magazine and the US Open program, and she provides monthly content for USTA Florida. Lewis is active on
Twitter
, and she writes a weekly column right here at TennisRecruiting.net.
Lewis, based out of Kalamazoo, Michigan, has seen every National Championship final played since 1977, and her work on the tournament's ustaboys.com website led her to establish ZooTennis, where she comments on junior and college tennis daily.