Player Advice
The Coach's Revolving Door
by Paul Thomson, Drake Women's Tennis, 14 July 2011
In the movie The Cowboys John Wayne's character, Wil Anderson last dying words to the adopted group of young boys he hired to drive his cattle to market were these: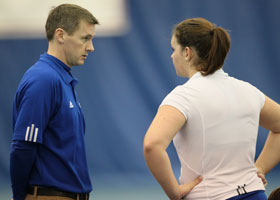 Drake
Coach Paul Thomson addresses his players
courtesy, Drake Athletics
"Every man wants his sons to grow up to be a better man than he was. You are."
With those words, he took his last breath and passed to the hereafter. There is a great deal to be said about that line - from what I think is one of the greatest movies ever made about growing up, maturing, and doing the right things. Those words are - and should be - the goals of all parents, coaches and teachers. We should all want to have our children, players and pupils grow up to be better people and leaders than we have been.
College coaches have many duties, and among these are building successful programs, developing athletes, and winning contests. But they hold a deal more responsibility than that. As a coach, I have a responsibility to each player - and the parents of that player - to push them towards being successful both on the courts and as individuals. Sure, we want to win, and we want our kids to be victorious on the courts and fields of play. But we can win every match and every title and still not fulfill our roles as coaches.
One of the biggest things I tell the student-athletes and parents I am recruiting is that I see myself as a revolving door. The parents have their sons and daughters for 17,18 maybe 19 years. Then, all of a sudden, they are out of the house, away from home and on campus under my guidance for four, maybe five years. I see this time as a revolving door.
This idea of the revolving door encompasses a huge responsibility and commitment. As the cells of the revolving door go around, each one represents a different year of college and a different level of growth. All are equally important and vital to the athletes. And once they leave that last cell of my revolving door, it spits them into the real world. That's often a reality check for those who aren't prepared. But while they are with me I am responsible for them, I am their leader, their support - and I am their path to the future.
The first cell of the door is the freshman year - the trust and belief cell. The freshman year is where the trust in a coach by his player and the player's family is fortified. It is so vital to show genuineness: that I have the best interest and intentions for the player and the team. Once that trust is established, a coach can really begin to build upon that student athlete. Fortifying confidence and purpose early goes a long way. Getting players to believe in themselves as well as their abilities is a primary goal for coaches. Most of all, once a player trusts me, that player will understand that my motives are golden even when they do not understand my methods.
The second cell in the revolving door is the sophomore year - the purpose and persistence cell. It takes time to mold champions, and failure usually precedes a climb to new heights. I think one of the big picture issues of coaching is building the resolve of players. Helping them deal with their fears and demons that hold them back prepares them for the pitfalls to come later in life. When a coach can transform that fear into focus, the obstacles become more manageable, and goals can be reached. Once they are willing to fall, pushing through the next challenge isn't so daunting. I teach patience and focus - and that there are no instant gratifications. If they can stay focused in their mind, they will fulfill their needs and be fruitful in life and tennis. They will avoid the frustration, fear and burnout.
The third cell is the junior year - the risk versus reward cell. Another important lesson I teach is to make sure any decision made in life is a life decision. Simply put, the decisions you make now will affect you down the road. Is what you are doing worth the reward, or are you not putting enough on the line? One of the keys here is to teach when the risk is worth it and when the results are not. Along with purpose and persistence, discipline and discretion are built up during a player's college life. It falls on the lessons taught by the coaches and the coaches' actions.
The last and senior cell is the principles and values cell. Everything that student athletes learn during their college lives will structure how they respond to being placed out into the real world. The lessons, the highs, lows, rights and wrongs all come together as a player enters the last cell. Coaches have the responsibility to reinforce the good and correct the other. I heard a speaker once say that "there are no right or wrong people, only people doing the right or wrong things." By the time players reach their senior years, they should be able to decipher most of this on their own if the coach has done his job along the way, mentoring the players and setting the right examples. The senior can even pass some of those practices on to the players below them.
Erik Rees sets a great model in his book S.H.A.P.E. Finding and fulfilling Your Unique Purpose in Life. S.H.A.P.E. translates into:
Spiritual - "What are my gifts,"
Heart - "What are my passions,"
Ability - "What do I do better than others,"
Personality - "How am I wired to navigate life,"
Experience - "Where have I been what have I learned."
The parents mold the child for the first 18 years. However, this shaping is molded in the revolving door while players are under the coaches' direction. It is a coach's responsibility to help players identify and help develop these things. Each coach may actually develop different cells for their players in his own role development. After all no two situations are exactly the same. But if we do our job, as Rees writes, they will be "in S.H.A.P.E" - focused in the mind, fulfilled in the heart, and fruitful in life. (And, hopefully, successful on the courts!)
If I am doing my job, not only will the players be developing on the court, but the will be developing as people, and leaders. At the end of my coaching career I want to be able to look at my former players and say "I always wanted you to turn out to do more and be better than I was on and off of the courts. You are." We should want all of our players to be able to be better, lead stronger, and influence others more positively than we have done. If they can and are willing to do those things when they leave, then - and only then - have I and all coaches done our best.
Paul Thomson is head coach of women's tennis at Drake University.
Leave a Comment
More Player Advice
1-Aug-2016
A Daily Mental Plan That Might Just Work
Focus ... Concentrate ... Stay in the present ... these are all words and terms we use when coaching players from time to time. We have difficulty understanding why they get distracted and lose focus during various stages of their matches or in practice. But how many tennis players have a daily mental routine or practice? Not just a plan before or during matches - but an actual daily practice to strengthen their minds and emotions?
8-Jul-2016
How to Win Without Your A Game
When you look at the world's top players, isn't it amazing how often they are in the quarters, semis, and finals of Grand Slam tournaments? How is it possible for them to be that consistent time after time? How do they bring their "A game" when it matters the most? The reality is that the top players understand that the key to consistency and playing well has to do with how to act when they don't have their A game.
4-Jul-2016
How to Enjoy the Pressure of Competing
One of the most common issues that comes up during my early sessions with top junior tennis players is the overwhelming pressure they feel before and during matches. On a positive note, many junior players look for ways to improve their mental performance and stop the worrying. But the problem goes beyond mental skills - many juniors just don&apos't enjoy the competition. Here are three things players can do to enjoy tournament play - and perform at a higher level.
About Paul Thomson
Paul Thomson has spent over 20 years in tennis, with ten years experience in college tennis coaching - the past eight of which have been spent as head coach. He was the 2008-09 SAC Women's College Coach of the year. Thomson, certified through the PTR, has experience as a tour and high school coach and club/academy instructor. He has also worked in grass roots tennis community tennis development. Thomson is currently doing freelance writing and working on his first book.