Coverage Announcement
Hard Court Championship Week
by Dallas Oliver, 15 August 2011
The second week of August is always the most important week of the year in U.S. junior tennis.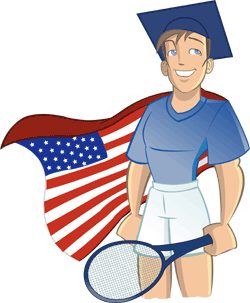 The best American juniors traveled from across the country to Arkansas, California, Georgia, Michigan, and Texas to compete for gold balls at the USTA National Championships. National titles were awarded for both boys and girls in all four age divisions.
This week, the Tennis Recruiting Network features special coverage of all these tournaments with a special article series called Championship Week. Every day, TennisRecruiting.net will feature articles that celebrate the best of the best in American junior tennis.
Here is our planned coverage schedule:
Championship Week Series
Things get started this afternoon at 5pm Eastern / 2pm Pacific - with images from the Girls 14s and 12s Nationals.
We hope you enjoy our complete coverage schedule of Championship Week. Check in each day for coverage of the top boys and girls from across the country.
Leave a Comment
More Website News
25-Apr-2015
Coming Soon... May Madness Bracket Challenge
March is so passe. In the world of college tennis, it's all about May - and May Madness. This coming Tuesday evening, the NCAA will announce the teams participating in the NCAA Division I Men's and Women's Tennis Championships. Later that night, you can submit your picks in our fourth annual May Madness Bracket Challenge.
30-Mar-2015
Gamma Partners with Tennis Recruiting Network on Countdown to Signing Day
GAMMA Sports (GAMMA) is continuing its sponsorship of Tennis Recruiting Network by becoming the title sponsor of "Countdown to Signing Day" and "Signing Week" featured content areas.
13-Mar-2015
Countdown to Signing Day
It's that time of year... Signing Day is approaching. April 15 is the first day of the Spring Signing Period - when seniors from around the nation can sign on to play college tennis at Division I or Division II schools. And once again, The Tennis Recruiting Network and GAMMA are ready with the Countdown to Signing Day.