Commitment Profile
Countdown: Anna Mamalat Chooses Texas A&M
by James Hill, 14 March 2012
Anna Mamalat, a junior player with a world of competitive experience, has signed a letter of intent with Texas A&M University.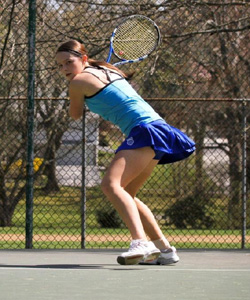 The Blue Chip recruit from Philadelphia inked with the Aggies last October, and she plans to travel to College Station in August. According to the Babolat Class Rankings, the 18-year-old is ranked as the No. 13 recruit in the nation - with an RPI ranking of No. 8.
"I chose A&M because I loved Texas," Anna said. "The people there were really nice, and the weather was great. I could also tell the school is very supportive of tennis and academics. The coaching staff and players really work together well as a team."
Anna, who studies at Commonwealth Connections Academy, also seriously considered Florida, Georgia, Oklahoma State and Wake Forest, before deciding on Aggieland.
A&M, which will depart the Big 12 Conference, and become a member of the Southeastern Conference in the fall, is led by first-year women's head coach Howard Joffe, who was appointed last July. Joffe, a native of South Africa, had successful head coaching stints at Maryland and Miami University (Ohio), and he was also an assistant at Southern California.
The former Pepperdine standout is thrilled to have Anna as a new team member.
"Anna is a serious tennis player who wants to continue to develop her tennis game and career while competing successfully against top national teams," Coach Joffe said. "These goals, along with her ferocious drive to succeed, overlap with what we intend to do at Texas A&M."