College Feature
Talking with Bryant Coach Ron Gendron
by
Harry Cicma
, 8 October 2012
Follow Harry on
Twitter
Ron Gendron is starting his eighth season coaching the Bryant University men's tennis team, and he has seen a lot of changes during his tenure. After several years in the NCAA D-II Northeast-10 Conference, Bryant reclassified to Division I for the 2008-09 season.
Now in the Northeast Conference, Bryant has had some success. The Bulldogs went 12-7 this past season, and 2012-13 marks the first season where Bryant will be eligible for post-season play.
Harry Cicma talked with Coach Gendron about his experiences coaching college tennis.
Questions and Answers
Harry Cicma (HC): How are things progressing in the world of Bryant University Tennis?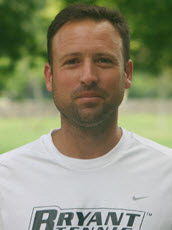 Ron Gendron (RG):
Our transition to Division I has been a great learning experience. Our
women's program
went undefeated in conference this year, and our men's program is 7-1 against conference competition over the last two years. We are looking forward to our first year of Division I competition in 2012-13. Recruiting has been very exciting. We have made a lot of new friends along the way.
HC: How do you get your team ready for the competition?
RG: Our preparation is very organized. Mondays are off days, Tuesdays, Wednesdays and Thursdays are skill days. Conditioning takes place every day with Fridays typically reserved for light hitting with opponent analysis. We try and maintain a disciplined schedule to allow the guys consistency to handle their academic commitments. This also allows the guys the ability to schedule labs, group projects, and for our upperclassmen, schedule various internships.
HC: What are your goals for the upcoming year?
RG: Every season's goal is to maintain a 3.0 team GPA. To be as prepared as possible for every match. And to compete to our highest ability and skill. Obviously our first shot at a Northeast Conference title will be exciting and challenging since there are some very solid programs in our conference. We look forward to competing at the highest level we are capable of.
HC: What are you most looking for during the recruiting process?
RG: Bryant University is a highly-competitive institution with a world class business program. I look for young men with interests in accounting, actuarial mathematics, finance and international business. Graduates of these majors experience over 97 percent job placement within six months of graduation. In addition to a concentration, we are also looking for young men who are looking for a private, well-established university located in the Northeast. Lastly, we are looking for hard workers who are prepared to sacrifice to help get our program to the next level.
HC: What is the most rewarding part of being a head coach at the Division I level?
RG: The relationships I have developed with the players and their families is very special. The time spent traveling and practicing creates a bond and builds friendships that will last a lifetime. Once a Bulldog, always a Bulldog.
Leave a Comment
More College Coverage
28-Jan-2015
Oklahoma State Women down Georgia Tech 4-3 in ITA Kickoff
Oklahoma State Coach Chris Young usually counts on his No. 19 ranked Cowgirls when it comes to the doubles point. But after dropping the point against the host and No. 18 Georgia Tech at the ITA Kickoff Weekend in Atlanta, he had to challenge his players. His team responded - coming back to defeat the Yellow Jackets 4-3 with the deciding point coming from a come-from-behind victory at No. 6 singles.
27-Jan-2015
Columbia Upsets Notre Dame, 4-2, in ITA Kickoff Weekend
The University of Notre Dame men's tennis team knew they would face stiff competition as they prepared to host the ITA Kickoff Weekend; what they couldn't have foreseen was a come-from behind upset victory by another top-16 team. Sunday afternoon, in a match that lasted almost four full hours, the Irish were toppled by Columbia, 4-2, who advanced to the ITA Indoor Championships in February with the win.
15-Jan-2015
Q&A with Ed Silver of Penn
Edward Silver was a standout junior tennis player and student when he enrolled at the University of Pennsylvania for the 2002-03 season. Silver was known for his work ethic and perserverance as a member of the Penn squad. Harry Cicma of NBC Sports recently got the chance to talk with Silver about topics around college tennis.
About Harry Cicma
When it comes to college tennis, Harry Cicma is your man. Cicma covers tennis and other athletic stories for
NBC Sports
, writing articles and producing video segments.
He is co-founder and host of World Tennis a weekly tennis show on NESN, and host of of Tennis Live Radio's College Corner.
Cicma competed as a junior in USTA/New England and went on to play college tennis at Rutgers University. As a professional, Cicma competed at the ATP Newport tournament and the San Jose Siebel Open. He reached a career-high #75 in the ATP doubles team rankings and #1262 in the ATP Entry System.
In media, Cicma has run the gamut. He has worked for NBC, CBS, ABC, ESPN, FOX Sports Net, the Tennis Channel, and World Team Tennis. Cicma has announced NCAA sports as well as the US Open Tennis Championships on both TV and radio.