College Feature
Talking with Bryant Coach Ron Gendron
by
Harry Cicma
, 8 October 2012
Follow Harry on
Twitter
Ron Gendron is starting his eighth season coaching the Bryant University men's tennis team, and he has seen a lot of changes during his tenure. After several years in the NCAA D-II Northeast-10 Conference, Bryant reclassified to Division I for the 2008-09 season.
Now in the Northeast Conference, Bryant has had some success. The Bulldogs went 12-7 this past season, and 2012-13 marks the first season where Bryant will be eligible for post-season play.
Harry Cicma talked with Coach Gendron about his experiences coaching college tennis.
Questions and Answers
Harry Cicma (HC): How are things progressing in the world of Bryant University Tennis?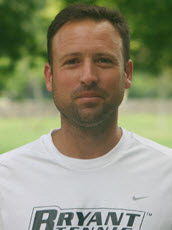 Ron Gendron (RG):
Our transition to Division I has been a great learning experience. Our
women's program
went undefeated in conference this year, and our men's program is 7-1 against conference competition over the last two years. We are looking forward to our first year of Division I competition in 2012-13. Recruiting has been very exciting. We have made a lot of new friends along the way.
HC: How do you get your team ready for the competition?
RG: Our preparation is very organized. Mondays are off days, Tuesdays, Wednesdays and Thursdays are skill days. Conditioning takes place every day with Fridays typically reserved for light hitting with opponent analysis. We try and maintain a disciplined schedule to allow the guys consistency to handle their academic commitments. This also allows the guys the ability to schedule labs, group projects, and for our upperclassmen, schedule various internships.
HC: What are your goals for the upcoming year?
RG: Every season's goal is to maintain a 3.0 team GPA. To be as prepared as possible for every match. And to compete to our highest ability and skill. Obviously our first shot at a Northeast Conference title will be exciting and challenging since there are some very solid programs in our conference. We look forward to competing at the highest level we are capable of.
HC: What are you most looking for during the recruiting process?
RG: Bryant University is a highly-competitive institution with a world class business program. I look for young men with interests in accounting, actuarial mathematics, finance and international business. Graduates of these majors experience over 97 percent job placement within six months of graduation. In addition to a concentration, we are also looking for young men who are looking for a private, well-established university located in the Northeast. Lastly, we are looking for hard workers who are prepared to sacrifice to help get our program to the next level.
HC: What is the most rewarding part of being a head coach at the Division I level?
RG: The relationships I have developed with the players and their families is very special. The time spent traveling and practicing creates a bond and builds friendships that will last a lifetime. Once a Bulldog, always a Bulldog.
Leave a Comment
More College Coverage
22-Sep-2016
Virginia's Collins and Kwiatkowski Earn Titles at American Collegiate Invitational
The University of Virginia picked up where UCLA left off last year at the third annual American Collegiate Invitational, played at the end of the second week of the US Open. After Bruins Mackenzie McDonald and Robin Anderson had swept the titles in 2015, the Cavaliers dominated the proceedings this year, with recent graduate Danielle Collins taking the women's title and senior Thai Kwiatkowski capturing the men's championship.
19-Jul-2016
College Tennis Players Spending the Summer with BB&T Atlanta Open
While most college students are spending their summer break working at summer camps, house sitting or maintaining lawns, there a half-dozen or so college tennis players giving a needed assist to the BB&T Atlanta Open, an ATP World Tour 250 event that is one of eight summer tournaments in the Emirates Airline US Open Series. These student athletes are getting to interact with names like Isner, Agassi and Kyrgios.
8-Jun-2016
Talking with Division III Men's Singles Champion Skyler Butts
Skyler Butts of Claremont-Mudd-Scripps ended his career on a high note last month in Kalamazoo, claiming the Division III men's singles title after reaching the final in 2015, the same year the Stags claimed their first team championship since 1981. Colette Lewis of ZooTennis.com talked with the 22-year-old Californian about his tennis background, postgraduate plans, one-handed backhand, hobbies and why Division III was the right choice for him.
About Harry Cicma
When it comes to college tennis, Harry Cicma is your man. Cicma covers tennis and other athletic stories for
NBC Sports
, writing articles and producing video segments.
He is co-founder and host of World Tennis a weekly tennis show on NESN, and host of of Tennis Live Radio's College Corner.
Cicma competed as a junior in USTA/New England and went on to play college tennis at Rutgers University. As a professional, Cicma competed at the ATP Newport tournament and the San Jose Siebel Open. He reached a career-high #75 in the ATP doubles team rankings and #1262 in the ATP Entry System.
In media, Cicma has run the gamut. He has worked for NBC, CBS, ABC, ESPN, FOX Sports Net, the Tennis Channel, and World Team Tennis. Cicma has announced NCAA sports as well as the US Open Tennis Championships on both TV and radio.