Player Advice
Quality Provides Quantity
by Paul Thomson, Drake Women's Tennis, 25 February 2013
Just as success leads to success and junk promotes junk... quality provides for quantity.
Over the years, I have had the privilege and fortune to become close friends with some of the greats in college tennis. More importantly, I have had the opportunity to study under and learn from them. Two of these individuals are Chuck Kriese and Paul Wardlaw.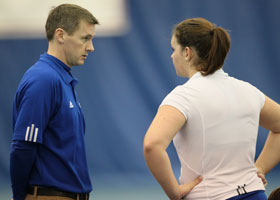 Coach Thomson with his
Drake
Team
courtesy, Drake Athletics
In a recent conversation with Coach Wardlaw, he had the following to say about his
directional system
.
"Directionals originated from Kriese's idea about not changing direction from his Total Tennis Training camps and programs. I was serving and volleying, and my natural tendency was to change direction on volleys not crossing my body. Kriese's rule was no change of direction. I couldn't figure out why not changing direction was beneficial in that situation given how my body wanted to rotate. I then took this 'Aha' moment to the baseline, and it all made sense. My favorite backhand was the inside ball that I could turn on. I had a good ball striker on our 1992 women's team who couldn't move. I taught her directionals and she was a force - she became an All-American her senior year as our No. 2 player. The 1994 team was my first team to really have to use directionals, and that became the team's tactical base moving forward."
Wardlaw's directional tennis system is simple. It teaches and stresses simplicity. Its design is to limit unforced errors and decision making. The important thing to remember in this system is that a player is not hitting balls to his opponent or even to a target. He is hitting at targets and through opponents.
The system uses the terms pull shots - or shots that are cross court with the rotation of your swing and body. This type of shot is akin to a batter in baseball "pulling" an inside pitch. The batter hits the ball in the direction of and with the rotation of his body; The term "outside ball" or a ball hit across your or your opponents body; "inside balls" a ball hit that does not cross your or your opponents body. Each term has purpose and meaning. An "outside ball" hit from the ad corner to your ad corner should be hit back to the ad corner. This would be likewise on the deuce side of the court. Change of direction comes primarily with the "inside balls" - a right-hander's forehand hit to your (a right handers) backhand or a backhand to your forehand side. This change of direction is more natural because the direction change comes on a ball hit with the directional swing and rotation of your body. You are not hitting inside out or away from your body. The last term is "90 degree change of direction." This would be a ball hit short in the court that may be an outside ball or even an inside ball you are able to move forward and around on hitting it up the line into the open court.
The theory is to keep things simple. Kriese explains that too many things are going on to hit up the line from on or outside of the baseline. Such a shot would require a player hit over a higher part of the net, change the direction of the ball, change the spin of the ball, and perhaps change the pace of the ball, often while hitting on the run. Such a practice would result in far more unforced errors. The rule of thought in the directional system is to hit bigger, higher quality balls at bigger single targets rather than hitting high volumes of balls at different targets in different situations that often leads to misses or weaker balls that your opponent can attack. Quality vs. Quantity!
I have a 5/6 Quality target rule that I preach to my players and students. This rule is also very basic. Simply stated, hitting five to six quality balls at quality targets will be all a player needs most times to win a point or to put the other player in position to lose the point. Many rallies can last fifteen, twenty, thirty balls or more. But most points last on average about ten to fifteen seconds, each player only hitting between five and six balls. Even if the rally itself goes with each player hitting ten to twelve balls, the point may very well be decided after your fifth or sixth (5/6) quality ball. Because at that point your opponent is
defending
- blocking balls back, running balls down, stretched, pulled or pushed around the court and in no position at all to hurt you. It is up to you at this point to simply not hurt yourself.
I spend time charting both practice matches and competitive matches with my players. I am not a mathematician, but the stats and numbers don't lie. Including service aces, missed returns, double faults, the longer 15-20 ball rallies and everything in between, the average rally is in fact five, six or maybe seven balls. Charting matches, it becomes obvious that the player who hits the first quality ball gains an edge in the point and builds his edge by staying on target and hitting simple quality. Players miss more, hit weaker shots, and lose the edge - eventually the point - by changing direction too often or at the wrong time. They hit to tougher targets instead of hitting tougher balls at better targets ultimately giving away a free point by making an error. With the 5/6 theory, your first ball - whether a serve or return of serve - should be the best ball of the rally. This quality ball leads the other player to play neutral or defensive on his next shot, which in effect puts you ahead in that point. At times, that might be the only ball you have to hit.
An example of the "first best" quantity ball would be John Isner's serve and why he is so hard to break or Novak Djokovic's return and why he can work to get easier service breaks than others. I am not saying you have to hit aces or return winners. But instead make each first shot that of high quality.
The 5/6 system is designed directly around Wardlaw's Directional System and Kriese's "don't change direction" mindset. My team and students work almost exclusively with directional tennis and ball striking. One of the biggest complaints I hear about this strategy is, "But they are always going to know where I am going to hit the ball." My response is, "What's your point?" If you as a player are consistently hitting quality balls at quality targets, your opponent is going to have to spend the quantity or majority of his or her time playing neutral or defending. You are in effect simplifying the process for yourself and complicating the process for your opponent. There are no easy buttons in tennis. The game is too difficult. But I will argue to the end that simplicity is better.
Just as there is a difference between doing things right and doing the right things, there is a difference in letting your opponent change directions, letting him make decisions, and letting hit winners versus making him change directions and forcing him to do all of the thinking and decision making and having to hit winners to beat you. You are missing less. You are putting the weight on your opponent's shoulders. It makes them have to do more to get the job done. Directionals simplify the game for players. The thinking is all but gone. You know where you are hitting even before you get to the ball. At that point the mental process and mental errors go away and all that is left are the fundamentals of ball striking. When the thinking is gone the game becomes instinctive.
Coach Kriese has a theory that I use today. He asks players how many points an unforced error is worth. The obvious answer is one. Kriese, however, explains that it is actually two. It is the point you gave away and the point that you could and maybe should have had. For every miss, bad decision, and reckless shot, a player has to win the next point just to get even and a second point to then get ahead. Simply put, miss less and win more. Kriese always preaches how tough it is to excel in tennis. Complicating the game with silly mistakes and unforced errors only makes it tougher. Keep it simple, play directionals, miss less, and win more. Kriese's rule was to always keep the ratio of winners to unforced errors equal and moderate. You will beat your opponent by forcing more errors on the other side of the net.
Pay attention to your matches. Watch others play, whether it be at the club or professional level. It's the players that make more balls that win, not the players who go for more winners. Why is it so hard to play and beat the so-called "pusher" if this is not true? If somebody is going to hit thirty or forty winners per match against you from anywhere on the court, there is probably not much you are going to do to beat them that day anyway. More likely, however, and the stats do not lie, that same person going for the most winners also has the most errors. If you do the math, those statistics are not going to help much when a player gives away as many points as he wins. The person hitting the best-quality balls at the best-quality targets is the one missing less, giving away fewer points, and is able to win more while doing less.
Quality over quantity - hitting better balls, and going for fewer direction changes and winners. Hitting at better targets with better balls - and missing less, Simplifying the game for you - increasing pressure, decision making and in turn, errors on the other side of the court. The 5/6 rule is a pretty standard measure.
I do have to remind my players however, that they can in fact do all of the right things - play directions and take the 5/6 rule approach - and they will still lose some points. Their fault, the other players fault or no one's fault at all, just be it dumb luck, it will happen. But Wardlaw's directional system and the application of quality over quantity will put the percentages in your favor. Higher percentages and quality will typically lead to fewer errors, more victories, and fewer defeats.
Paul Thomson is head coach of women's tennis at Drake University.
Leave a Comment
More Player Advice
27-Nov-2016
Building A Game: The Tennis Imagination
Junior tennis abounds with players adept at contemporary tennis: an attrition-based, narrowly-focused baseline game. This mode certainly generates outcomes in the form of match wins, rankings and scholarships. But what about a long-term, sustainable process for staying engaged with the tennis? Talk of strokes - that is, groundstrokes - is plentiful. But talk of a playing style - the rich literature - is minimal.
21-Nov-2016
Go With the Flow
You will often hear at a junior tennis match, "I was so in the zone today," or "How is this guy zoning so hard out there?" If you are talking about yourself, it's a compliment. If you were referring to your opponent, you were basically saying they were playing above their level. Let's take a look at what these phrases really mean - and why they allow players to perform at their best.
16-Nov-2016
Shutting Off The Thinking Mind in Tennis
Meet the Thinking Mind. Many junior recognize its presence more and more as the college playing years are right around the corner. Players often become tight in the presence of college coaches at tournaments, in showcases, and on college visits. Here are four tips to overcoming the thinking mind - and taking control of your thoughts at this critical time.
About Paul Thomson
Paul Thomson has spent over 20 years in tennis, with ten years experience in college tennis coaching - the past eight of which have been spent as head coach. He was the 2008-09 SAC Women's College Coach of the year. Thomson, certified through the PTR, has experience as a tour and high school coach and club/academy instructor. He has also worked in grass roots tennis community tennis development. Thomson is currently doing freelance writing and working on his first book.