Where Are They Now?
Talking with Andrew Chmura
by
Harry Cicma
, 27 February 2013
Follow Harry on
Twitter
After a successful junior and college tennis career helping Notre Dame win conference championships in the mid-1990s, Andrew Chmura has built an adult career around the game. Chmura competed on the satellite tour, has taught and encouraged tennis play throughout the world, and he is currently the president of Grand Slam Tennis Tours, a company that has helps tennis enthusiasts travel to premier tournaments around the world.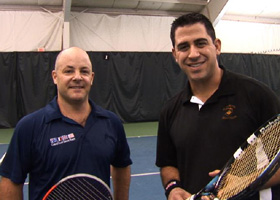 Andrew Chmura (left) with Harry Cicma after a workout
Harry Cicma
got the opportunity to catch up with Chmura about his tennis - past and future.
Questions and Answers
Harry Cicma (HC): You played top National Division 1 Tennis at Notre Dame, what are your thoughts about today's college tennis competition?
Andrew Chmura (AC): I think the overall depth of college tennis has gotten so much better now. I think when we were playing, the top four Nationally were great, but then it wasn't as strong as you went down the list.
Today, college tennis is getting top international guys and Americans who want to play and train in college, which wasn't as easy fifteen years ago. College tennis is definitely strong.
HC: John Isner is an obvious example of a college player who can thrive on Tour. You know John - what are your thoughts about his success? And also, do you feel Stanford alums Mike and Bob Bryan are the best doubles team of all time?
AC: Playing No. 1 for Georgia, he's going to get a top match every day, and I think that really helped his match play and toughness on the ATP Tour. John is a great player.
I would say the Bryan Brothers are the best. They are also great guys, and always so nice on and off the court. So yes, I feel they are the best doubles team of all time.
HC: Steve Johnson is making a nice run on the tour after winning his singles and team national titles at USC. How far do you think Steve can get on the ATP tour?
AC: I think he has the athleticism. We're taking about a different world of tennis on the tour, where the guys are stronger and better, but I think he can hang with them athletically. Only time will tell, but I think from an athletic stand point he can hang with them and find success.
HC: James Blake hails from Connecticut and had a great career at Harvard. You're familiar with his game as a colleague and player, what do you think about his game?
AC: James is an incredible athlete and a great tennis player - with one of the biggest forehands ever. It sounded like a cannon when he hit his forehand. He got a lot out of his game, bringing it to Top 4 in the world. James is an incredible athlete, an amazing person, and a great player.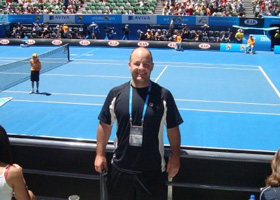 Andrew Chmura in the front row at an ATP tournament
HC: What was your best memory while playing for Notre Dame and Coach Bobby Bayliss?
AC: One of my favorite memories is when we were playing Michigan State, and I was playing lower in the line-up at the time. We were all tied at three matches all, and my stomach could feel the nerves. I was down 5-6 match points or so, But I was able to win the match. I had other moments where I didn't win, but that one I did, so maybe that's why it's so memorable for me. College tennis - with the camaraderie and the special bond with your teammates - there's a lot to be said about all of that.
Having Bobby Bayliss as a couch was amazing. He was such an incredible person - a legendary coach and a mentor to me. I am so grateful for everything Coach Bayliss did for me as a person while playing at Notre Dame.
HC: Why did you choose to go into Grand Slam Tennis Tours?
AC: For me, it's about creating memorable experiences and growing the game of tennis. I started small, taking clients to the Australian Open, and it grew from there. At Grand Slam Tennis Tours, we offer the best tickets at all major tennis venues, and are able to gain incredible access to all the events we bring our clients. We stay at amazing resorts close to all the action, and we offer tennis academies at exclusive clubs and resorts while on tour.
We are fortunate to have had great people from all over the world travel with us - who truly love the sport and have a passion for the game. Any time you do a little more than expected, your organization will grow - which is how our business has flourished. We take more than 2,500 people each year around the world to see top-class tennis in beautiful cities. It doesn't get much better than that!
About Haviland Tennis Academy
We are honored to have Haviland Tennis Academy as the presenting sponsor of our Where Are They Now? article series at TennisRecruiting.net.
Haviland Tennis Academy is a new junior academy located in Greenville, S.C. We have a beautiful new tennis center that boasts 4 clay courts, 3 fast hard courts, and 3 slow hard courts. Additionally, all courts have lights for night play.
Our facility is dedicated to our junior program, unlike academies that are run out of membership clubs or parks, so there are never members occupying courts or getting in the way of our training sessions. We pride ourselves on having one of the most elite coaching staffs in the world, as our coaching staff is comprised of former Top 10 world ranked juniors, Junior Orange Bowl Champions, Junior Grand Slam Champions, College All-Americans, and formerly-ranked - as well as currently-ranked - ATP pros.
We offer all this while remaining one of the most affordable academies in the United States. Students at Haviland Tennis Academy can attend academy training sessions for 3 hours a day 6 days a week, have weekly private lessons, and get tournament coaching several times a month for a fraction of what it costs to attend just the academy training sessions at the majority of academies around the country. With top-notch coaching, a collection of world class players to train with and spar against, and extremely affordable prices, Haviland Tennis Academy offers everything an aspiring player needs to take his or her game to the highest levels.
Connect with Haviland Tennis Academy on Facebook and Instagram - or on their website.
Leave a Comment
More "Where Are They Now?" Features
29-Aug-2016
Conversation with Two-Time NCAA Singles Champion Amber Liu Chang
Amber Liu Chang was a two-time NCAA singles champion and three-time team champion while at Stanford from 2002 to 2006. By now, she expected to be well-established in the business world. But while on the WTA Tour, she was coached by former French Open champion Michael Chang, and the two are now married with three children. Todd Holcomb got the chance to catch up with Liu Chang and talk about her tennis career, advice for young players, and the joys of the life she did not anticipate.
10-Aug-2016
Rose Continuing To Blossom In Pros
Malika Rose referred to herself as a wildcard when searching for a school to play collegiate tennis at. With the help of Chris Young and Jamea Jackson, the Brooklyn, New York native become a catalyst for the rise of the Oklahoma State Cowgirls, who stormed their way to an NCAA runner-up finish this year. Now back on the pro circuit after a near-yearlong injury layoff, Rose is eager to prove she's no thorn.
27-Jun-2016
Talking with Former Stanford Standout Hilary Barte
Hilary Barte, the No. 1-rated women's tennis recruit in the class of 2007, won two doubles national titles and one team championship while at Stanford, where she played No. 1 singles and doubles for all four seasons (2008-2011). Barte had a combined singles and doubles record of 258-63, and she was an eight-time All-American. We talked recently with Barte about her new career as a real-estate agent, her days as a junior, college and professional tennis player, and how tennis prepared her for that profession.
About Harry Cicma
When it comes to college tennis, Harry Cicma is your man. Cicma covers tennis and other athletic stories for
NBC Sports
, writing articles and producing video segments.
He is co-founder and host of World Tennis a weekly tennis show on NESN, and host of of Tennis Live Radio's College Corner.
Cicma competed as a junior in USTA/New England and went on to play college tennis at Rutgers University. As a professional, Cicma competed at the ATP Newport tournament and the San Jose Siebel Open. He reached a career-high #75 in the ATP doubles team rankings and #1262 in the ATP Entry System.
In media, Cicma has run the gamut. He has worked for NBC, CBS, ABC, ESPN, FOX Sports Net, the Tennis Channel, and World Team Tennis. Cicma has announced NCAA sports as well as the US Open Tennis Championships on both TV and radio.