Special Feature
Teah Flynn Organizes Groundbreaking Tennis Relay
by
Ali Jones
, 6 February 2013
For a 15 year old, Teah Flynn has done more community service than most adults. She has logged hundreds of volunteer hours raising funds for charities, walking dogs owned by disabled people, and producing public service announcements for such causes as drunk driving, texting while driving, finding missing children and establishing a national database for criminal DNA.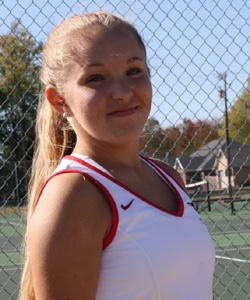 Community service is an integral part of
Teah Flynn
's life
"A lot of people probably don't think I'm a normal teen-ager," she laughed. "But I do have free time, in and out of school."
On February 9, 2013, Flynn, a two-star sophomore from Farmington, Arkansas, will host her most ambitious volunteer project so far - the "Keep The Ball In Motion Rally And Give Back" Tennis Relay. Through it she hopes to raise both awareness and over $700,000 for genomic cancer research at Washington University School of Medicine in St. Louis. That's a far cry from the $250 that she once raised for the Humane Society.
"I guess all this is an offshoot of what happened to my mom - the drunk driving was definitely," said Flynn, whose mother died in a vehicle driven by a friend who had been drinking. Not far from its destination, the Explorer that ferried her crashed into a gully, hit a tree, and instantly killed Leah. She was 32.
"We were sleeping, and we heard the ambulance," Flynn remembered. "Police officers came to our home and they told me to stay in bed. It didn't really register then. I didn't know what it was at that time, but now I do."
After the accident, her maternal grandparents adopted Flynn. Their grief was lightly lifted by their granddaughter's optimism and maturity.
"I was sitting at the breakfast counter crying," recalled Daun Flynn. "Teah said, 'Granny, don't cry, mommy is in heaven with God and nothing can ever hurt her again.' I will never forget those words."
Six months after their daughter's tragic accident, the Flynns saw an ad in the paper for tennis lessons and they signed up their granddaughter. Teah has been playing tennis since. She is on her high school team and trains at Pinnacle Country Club with Coach Manuel Cervantes. A member of the National Honor Society, Flynn is able to play tennis about six hours a week.
At age ten, Flynn and her grandfather George Schmitt signed up for video classes offered by the Fayetteville Community Access Television, and they have since produced numerous videos.
For her initial video project, family friend John Stauffacher helped Teah, and together they created "DUI and Me," which retold the story of her mother's death. The fresh-faced fifth grader displayed grace, poise and maturity in the video that has been used as a teaching tool for Arkansas police departments and Mothers Against Drunk Driving (MADD).
Flynn, the youngest producer of the local city station, has a running series called "My Kid's Point of View," which she writes, produces and edits.
For her latest project, which Flynn calls Keep the Ball in Motion - Rally and Give Back, she was inspired by a Charlie Rose interview with Dr. Lukas Wartman, an oncologist and cancer survivor. Appreciating the future of genomic possibilities for cancer, Alzheimer's, autism and other diseases, Flynn put together the two things with which she is most passionate: tennis and public service, and came up with the idea for a tennis relay fundraiser.
"My goal is to have 1,000 coaches or individuals around the country to sponsor a relay," said the precocious teenager from Farmington High School. "If I can reach my goal, that would be 72,000 people participating with each one donating $10.00. That is $720,000.00 - a lot of money that could really help genomic cancer research."
The format, which comes from the footwork drills that she herself does during training, is to keep a ball in play throughout the day. A pair can hit for 10 minutes, and rotate out, making way for the next pair, and the next, and the next, and so on. Flynn's goal is that on February 9, a club can designate one court for six hours to the fundraiser, and her target of $720 per court can be realized.
On tennisrelay.org she outlines the format for hosting. For those unable to play but who want to donate, the website has a link that has directions on how to send donations to Washington University School of Medicine.
"It's unlike a tournament or exhibition in that in a relay, the numbers are endless," Flynn explained. "We can have 70 to 100 people for each court. It gives us more possibilities."
Flynn, who is a full-time student, sent about 11,000 emails, including to each USTA staff member nationwide, rec center and tennis club directors, USTA tournament directors, and every high school coach whose name she found on the internet. She and her grandparents are donating their time and expenses for the fundraiser to ensure that every dollar she raises will go directly to the university.
"Amazing, exciting, phenomenal, are three words that I thought of when I saw the Charlie Rose interview," she said.
Leave a Comment
More Special Features
7-Oct-2015
USTA Adds Brad Stine to National Collegiate Coaching Staff
Brad Stine has coached tennis for 30 years, and he was recently appointed as the newest member of the USTA Player Development's collegiate division. Colette Lewis of ZooTennis.com recently talked with Stine about many topics - including the reasons he decided to pursue coaching, the five requirements for success as a pro, the value of the college pathway and the ITF's push for more prize money at the lower levels.
23-Sep-2015
Billie Jean King on American Junior and College Tennis
Tennis legend Billie Jean King has never been shy about voicing her opinions on American tennis. Any complaints she registers usually come with suggested solutions. Contributor Marcia Frost sat down with King to discuss the future of tennis - with a focus on American junior and college tennis - during the celebration of the 40th anniversary of Mylan World TeamTennis in August.
8-Sep-2015
World TeamTennis at 40: Supporting Junior and College Players
It's been 40 years since Billie Jean and Larry King launched World TeamTennis - an unusual team tennis concept that would bring together men and women in a fun, yet competitive, atmosphere. WTT, which has been sponsored by Mylan since 2012, has been an especially popular launching pad for top juniors and players just out of college who are looking to make their way into the pros.
About Ali Jones
Ali Jones has been a speechwriter, book editor, publicist and writer, most recently for
Muckety.com
. She has been a tennis enthusiast from an early age and has played recreationally on various surfaces, including crushed seashells in the Philippines and red clay in the Czech Republic and Mexico. When she's not travelling with her son to his tennis tournaments, Ali writes and enjoys historical research.