Where Are They Now?
Catching Up with Steve Johnson
by
Harry Cicma
, 7 May 2013
Follow Harry on
Twitter
A year ago, Steve Johnson was wrapping up his senior year at Southern California as arguably the most decorated player in NCAA history with his second second straight NCAA singles title and fourth straight NCAA team title. Fast forward a year, and Johnson has made a strong start to his professional career, working his ATP singles ranking up to No. 128 in the world.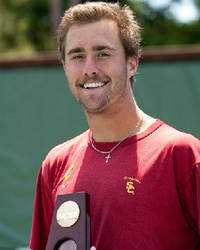 NCAA Champion Steve Johnson
courtesy, USC Athletics
Harry Cicma
recently chatted with Johnson about his future - as well as his college tennis memories.
Questions and Answers
Harry Cicma (HC): How is life after college going on the ATP Tour?
Steve Johnson (SJ): It's been fun, I've definitely enjoyed my time on the ATP Tour - traveling to many different places and seeing new cities. It has been great, I've had a blast, and I am enjoying every minute.
HC: How is the competition on the ATP Tour?
SJ: It is definitely tough - these guys are working hard every day to make a living. The talent is very high, and I've definitely had to raise my game to compete at the highest level. But I've been working hard to get better every day, and I have enjoyed it.
HC: Have you had any mentors - such as Andre Agassi, Pete Sampras or John McEnroe - try to help you as a fellow American?
SJ: It hasn't been any one of those guys per say, but they have helped at times. I will definitely take any advice that they give me and will absorb it.
HC: What were some of your best memories playing for USC, and what advice would you give a young player looking to make it in college tennis?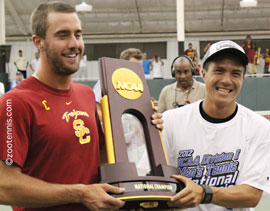 SJ:
Just winning the four team championships and the two singles titles, just being part of a very special team, with a very special coach. I hope they can keep going and continue their amazing success.
I would tell a young junior to do what you love to do, work hard, and always remember to have fun doing what you enjoy to do.
HC: What are your goals on the ATP Tour?
SJ: I'd love to get in the top 100 as soon as possible. I'd also be grateful to represent America in the Davis Cup one day - in another team environment. I just want to keep working hard and playing in as many tournaments as possible - and continue to improve.
Leave a Comment
More College Coverage
21-Jun-2017
Eliminate the Scholarships, Save the Program
Over the past few years, there has been an alarming pattern of NCAA Division I mid-major programs being cut, and I feel that these decisions are both shortsighted and highly preventable. I understand that these are complicated decisions, but there is one solution to keeping programs alive, improving college prospects for US tennis players, and increasing involvement from the university and local community: Eliminate the scholarships.
18-Jun-2017
Andy and Chris Brandi Take the Reins at LSU
Andy Brandi has accomplished just about everything there is to accomplish as a college tennis coach. He has the national titles, the Hall of Fame credentials and the historical winning percentage. But there was one thing still missing. It was something he talked at length about with his son, Chris, when they discussed a potential return to college tennis. He wanted to have his son by his side, and he will as Andy and Chris Brandi become co-head coaches at LSU.
7-Jun-2017
Getting to Know NCAA Champion Brienne Minor
Unseeded Brienne Minor of the University of Michigan achieved All-America status for the second straight year by winning her first two matches in the NCAA singles tournament. She she went on to win four more matches - eventually defeating No. 6 seed Belinda Woolcock of Florida 6-3, 6-3 in the final to become the first Michigan woman and the first African-American woman to claim the most prestigious title in Division I Tennis.
About Harry Cicma
When it comes to college tennis, Harry Cicma is your man. Cicma covers tennis and other athletic stories for
NBC Sports
, writing articles and producing video segments.
He is co-founder and host of World Tennis a weekly tennis show on NESN, and host of of Tennis Live Radio's College Corner.
Cicma competed as a junior in USTA/New England and went on to play college tennis at Rutgers University. As a professional, Cicma competed at the ATP Newport tournament and the San Jose Siebel Open. He reached a career-high #75 in the ATP doubles team rankings and #1262 in the ATP Entry System.
In media, Cicma has run the gamut. He has worked for NBC, CBS, ABC, ESPN, FOX Sports Net, the Tennis Channel, and World Team Tennis. Cicma has announced NCAA sports as well as the US Open Tennis Championships on both TV and radio.