Where Are They Now?
Catching Up with Steve Johnson
by
Harry Cicma
, 7 May 2013
Follow Harry on
Twitter
A year ago, Steve Johnson was wrapping up his senior year at Southern California as arguably the most decorated player in NCAA history with his second second straight NCAA singles title and fourth straight NCAA team title. Fast forward a year, and Johnson has made a strong start to his professional career, working his ATP singles ranking up to No. 128 in the world.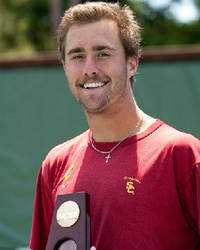 NCAA Champion Steve Johnson
courtesy, USC Athletics
Harry Cicma
recently chatted with Johnson about his future - as well as his college tennis memories.
Questions and Answers
Harry Cicma (HC): How is life after college going on the ATP Tour?
Steve Johnson (SJ): It's been fun, I've definitely enjoyed my time on the ATP Tour - traveling to many different places and seeing new cities. It has been great, I've had a blast, and I am enjoying every minute.
HC: How is the competition on the ATP Tour?
SJ: It is definitely tough - these guys are working hard every day to make a living. The talent is very high, and I've definitely had to raise my game to compete at the highest level. But I've been working hard to get better every day, and I have enjoyed it.
HC: Have you had any mentors - such as Andre Agassi, Pete Sampras or John McEnroe - try to help you as a fellow American?
SJ: It hasn't been any one of those guys per say, but they have helped at times. I will definitely take any advice that they give me and will absorb it.
HC: What were some of your best memories playing for USC, and what advice would you give a young player looking to make it in college tennis?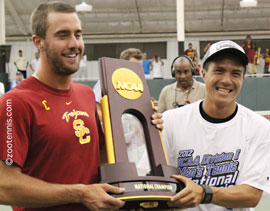 SJ:
Just winning the four team championships and the two singles titles, just being part of a very special team, with a very special coach. I hope they can keep going and continue their amazing success.
I would tell a young junior to do what you love to do, work hard, and always remember to have fun doing what you enjoy to do.
HC: What are your goals on the ATP Tour?
SJ: I'd love to get in the top 100 as soon as possible. I'd also be grateful to represent America in the Davis Cup one day - in another team environment. I just want to keep working hard and playing in as many tournaments as possible - and continue to improve.
Leave a Comment
More College Coverage
17-Mar-2017
Countdown: Amritraj Oversees USTA's College Commitment
As the Director of Collegiate Tennis for the USTA, Stephen Amritraj is committed to raising the profile of and appreciation for college tennis in this country. His focus is not just on juniors who aspire to play at the next level, but on creating community connections and fan bases for the hundreds of collegiate teams, from junior colleges to Division I. Colette Lewis of ZooTennis.com talks with Amritraj about many topics around college tennis.
1-Mar-2017
CWRU's C.J. Krimbill Receives NCAA Today's Top 10 Award
Recent Case Western Reserve University graduate and former men's tennis player C.J. Krimbill received the NCAA Today's Top 10 Award, recognizing former student-athletes for their successes on the field, in the classroom and in the community at the Honors Celebration during the NCAA Convention in Nashville, Tennessee in January.
22-Feb-2017
Virginia Wins ITA National Indoor Team Title
When you think of teams that are really great at playing indoor tennis, the top two that would come to most people's minds are Virginia and Ohio State. Coming into the ITA National Team Indoors, Virginia and Ohio State had made a combined 11 finals appearances over the previous 12 years, so it shouldn't have been a surprise when they stood on opposite sides of the net on Monday morning. In the end, the Cavaliers brought home the hardware.
About Harry Cicma
When it comes to college tennis, Harry Cicma is your man. Cicma covers tennis and other athletic stories for
NBC Sports
, writing articles and producing video segments.
He is co-founder and host of World Tennis a weekly tennis show on NESN, and host of of Tennis Live Radio's College Corner.
Cicma competed as a junior in USTA/New England and went on to play college tennis at Rutgers University. As a professional, Cicma competed at the ATP Newport tournament and the San Jose Siebel Open. He reached a career-high #75 in the ATP doubles team rankings and #1262 in the ATP Entry System.
In media, Cicma has run the gamut. He has worked for NBC, CBS, ABC, ESPN, FOX Sports Net, the Tennis Channel, and World Team Tennis. Cicma has announced NCAA sports as well as the US Open Tennis Championships on both TV and radio.