College Feature
Talking with James Blake
by
Harry Cicma
, 6 June 2013
Follow Harry on
Twitter
Former Harvard standout and ATP pro James Blake is one of the most prominent American tennis professionals. Currently ranked No. 96 on the ATP tour, Blake has won 10 professional titles and reached a career-high ranking of No. 4 in the world.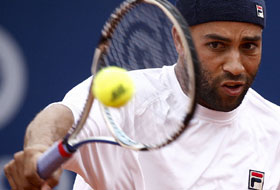 American Professional Tennis Player James Blake
courtesy, Jose Goulao,
Wikimedia Commons
Blake played two years of college tennis at
Harvard
, and he finished his sophomore year at the top of the singles rankings and reached the singles final at the 1999 NCAA Championships.
NBC's Harry Cicma, who was the primary commentator for the 2012 and 2013 NCAA Championship broadcasts, got the chance to talk with Blake about college tennis, American tennis, and his charitable works.
Questions and Answers
Harry Cicma (HC): Tennis got you to Harvard, and it got you to Top 4 in the world. How has tennis helped you as a person?
James Blake (JB): Tennis has done so much for me. It has opened a million doors for me, and I'm very thankful for that.
Both my parents played. Tennis is a lifetime sport, and it was something fun for us to do on Sunday afternoons. It kept us together, and I kept improving. The better I got, the more doors opened for me, and it has helped me get to where I am now.
HC: You're helping with the USTA's initiative with Mt. Sinai Medical Center. Could you tell me about that?
JB: Mt. Sinai is promoting health and wellness, and the USTA has always taken a big part of that. They've tried to get kids playing, and they've done a lot with the Let's Play initiative.
Playing tennis helps kids get healthy, and it encourages them to participate in a sport that they can play their whole lives. It's a great partnership.
HC: You and your brother, Thomas, got involved with tennis in New York City at a young age. When you see so many young kids out here playing 10-and-under tennis, like you and your brother did, what does that tell you about the youth getting into tennis?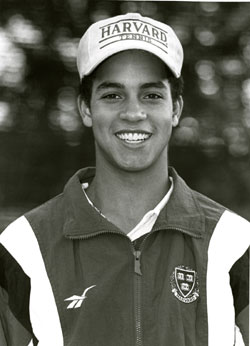 JB:
It's really inspiring - it shows me that the future of tennis is still in good hands. Kids are really excited about playing. Whether it's on a shorter court with 10-and-under tennis - or on a normal court - kids are just excited. It shows me that there are going to be a lot of great players for years to come.
HC: What are your thoughts on American tennis? At the NCAA Championships, there were two American women in the singles finals, and Jarmere Jenkins from Virginia was in the men's final. What do you think about the USTA and American tennis?
JB: It's a good sign. I don't know where the USTA stands on kids going to college, but I think it's a great way for them to get a team atmosphere and to improve their game before they're ready to go pro.
I know that college tennis helped me. I know I wouldn't have had the same career if I hadn't gone to college for two years. And John Isner is out there having success after going to college, so I think we're in good hands having Americans at the top level in NCAAs.
Leave a Comment
More College Coverage
22-Sep-2016
Virginia's Collins and Kwiatkowski Earn Titles at American Collegiate Invitational
The University of Virginia picked up where UCLA left off last year at the third annual American Collegiate Invitational, played at the end of the second week of the US Open. After Bruins Mackenzie McDonald and Robin Anderson had swept the titles in 2015, the Cavaliers dominated the proceedings this year, with recent graduate Danielle Collins taking the women's title and senior Thai Kwiatkowski capturing the men's championship.
19-Jul-2016
College Tennis Players Spending the Summer with BB&T Atlanta Open
While most college students are spending their summer break working at summer camps, house sitting or maintaining lawns, there a half-dozen or so college tennis players giving a needed assist to the BB&T Atlanta Open, an ATP World Tour 250 event that is one of eight summer tournaments in the Emirates Airline US Open Series. These student athletes are getting to interact with names like Isner, Agassi and Kyrgios.
8-Jun-2016
Talking with Division III Men's Singles Champion Skyler Butts
Skyler Butts of Claremont-Mudd-Scripps ended his career on a high note last month in Kalamazoo, claiming the Division III men's singles title after reaching the final in 2015, the same year the Stags claimed their first team championship since 1981. Colette Lewis of ZooTennis.com talked with the 22-year-old Californian about his tennis background, postgraduate plans, one-handed backhand, hobbies and why Division III was the right choice for him.
About Harry Cicma
When it comes to college tennis, Harry Cicma is your man. Cicma covers tennis and other athletic stories for
NBC Sports
, writing articles and producing video segments.
He is co-founder and host of World Tennis a weekly tennis show on NESN, and host of of Tennis Live Radio's College Corner.
Cicma competed as a junior in USTA/New England and went on to play college tennis at Rutgers University. As a professional, Cicma competed at the ATP Newport tournament and the San Jose Siebel Open. He reached a career-high #75 in the ATP doubles team rankings and #1262 in the ATP Entry System.
In media, Cicma has run the gamut. He has worked for NBC, CBS, ABC, ESPN, FOX Sports Net, the Tennis Channel, and World Team Tennis. Cicma has announced NCAA sports as well as the US Open Tennis Championships on both TV and radio.