Website News
Best Wishes, Class of 2013
by Dallas Oliver, 29 August 2013
Every year, people congratulate their graduating seniors, wishing them well as they move on from their high school days to bigger and better things. Saying goodbye to the Class of 2013 at TennisRecruiting.net is no different. This week's rankings are the last listings for the 2012-13 year - and they are also our final rankings for the outgoing Class of 2013.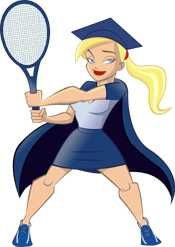 Boys' Class of 2013
Girls' Class of 2013
The Class of 2013 is sending many great players off to the college and professional ranks, and we wish them all the best of luck in the future. Hopefully, we will get a chance to catch up with several of them in our Where Are They Now? series somewhere down the line. We at Tennis Recruiting wish you the best of luck in your future endeavors!
Next week starts a new year... come by the website on Monday - as the Tennis Recruiting Network welcomes the Class of 2020!
Leave a Comment
More Website News
11-Aug-2014
Hard Court Championship Week
Last week, the best American juniors were competing for gold balls at the USTA National Championships all across the country. National titles were awarded for both boys and girls in all four age divisions. TennisRecruiting.net announces its Championship Week coverage - with photo galleries and articles that celebrate the best of the best in junior tennis.
21-Jul-2014
Clay Court Championship Week
The USTA Clay Court Championships have concluded around the country. This week, TennisRecruiting.net has roundups of all the action from the Boys' 12s to the Girls' 18s - from Virginia Beach to Fort Lauderdale. Check out coverage of all the tournaments - and meet the latest gold ball winners of all ages. Get ready... for Clay Court Championship Week.
7-Jul-2014
Fall Top Prospects Ratings
Twice a year, TennisRecruiting.net updates its Top Prospect ratings - sometimes known as "The Stars". Our next update to the Top Prospects comes in late September - and those ratings will be based on players' rankings during the eight-week period from the week of July 21 to the week of September 8, 2014. Learn what you can do to ensure your rating is accurate - and learn about important changes coming this fall.