Ask the Experts
Talking with Wisconsin Assistant Coach Matt Manasse
by
Harry Cicma
, 2 October 2013
Follow Harry on
Twitter
Matt Manasse has done well for himself in his two years since finishing up college in 2011. Manasse was a two-year letter-winner at Purdue.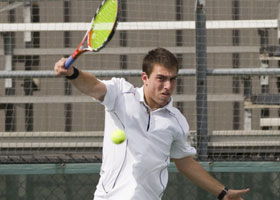 After a two-year stint with
Babolat
in charge of their Competition Team, Manasse is back to the Big 10 - having accepted a position as assistant coach for the women's tennis program at
Wisconsin
.
NBC's Harry Cicma, who was the primary commentator for the broadcast of the 2013 NCAA Championships this past spring, caught up with Manasse last month.
Questions and Answers
Harry Cicma (HC): What are you most excited about with regard to joining the Wisconsin Tennis Program?
Matt Manasse (MM): That is a tough question. There were so many things that led me to the University of Wisconsin and the great city of Madison.
First of all, Tina Samara brings a wealth of experience as a coach and player, and I know building this program with her will be an amazing opportunity for me. The facilities, resources, and overall support the Wisconsin Athletic Department has allotted us in order to succeed in the Big 10 and nationally is incredible.
But most of all, I am just really excited to work with the student-athletes to ensure they reach their goals on and off the tennis court. Wisconsin offers the combination of incredible academics and a top notch athletic program, so I know these girls can win on the tennis court and do well in the classroom.
I am just excited to be a part of it all, and I know we will take the program to the next level.
HC: What will it take to succeed in the very competitive Big 10 Conference?
MM: As you know, the Big 10 Conference is one of the toughest the NCAA has to offer. Tina and I really want to develop the players we have and make sure we are not only working hard but working smart. It is going to take plenty of work in the gym and on the court to make sure we are strong and mentally tough enough to outlast our opponents. I know our girls will be up to the task, but it all starts on the practice courts.
HC: How will your experience at Babolat help you as a D-I Assistant College Coach?
MM: My time at Babolat was amazing, and I can't thank them enough for the opportunity they had originally afforded me. I was able to travel the country recruiting for both the Competition and National Teams, and I was able to meet so many parents, coaches, and players. We always tried to sign the top kids that represented themselves just as well on the court as off of it.
We will take a similar approach at Wisconsin. Being able to evaluate talent and build so many relationships with great people over the last year and a half will definitely help in the recruiting process moving forward. Plus I know way too much about racquets and string now!
HC: What are your goals for the team this year?
MM: I have talked to Tina many times about our goals for this year, and I think we agreed that it is important to build a culture based around a strong work ethic and playing the right kind of tennis. After watching so much junior tennis this year, I think the women's game has really become one dimensional, and we want to develop players that can get to net and use all areas of the court. If we can do this - and the girls buy into working hard and having fun in the process - I think the wins will come.
HC:What characteristics are you looking for in young players who you may be recruiting?
MM: We are looking for athletic players that want to develop their game throughout their four years with us. We really want players who love the game and are willing to come and make an impact right away and do whatever it takes to meet the team goals.
We are also looking for players who are well rounded. College is a great place to improve on the tennis court, in the classroom, and grow as a person. When kids can take ownership of the recruiting process and call/email us on their own and show initiative, that is a big sign in letting us know it's them that cares about their future. Of course we both encourage and welcome the participation of parents in the process, but it is also so important to let the kids take ownership of the recruiting process so they can decide whether the school and team are a great fit for them.
Leave a Comment
More College Coverage
22-Sep-2016
Virginia's Collins and Kwiatkowski Earn Titles at American Collegiate Invitational
The University of Virginia picked up where UCLA left off last year at the third annual American Collegiate Invitational, played at the end of the second week of the US Open. After Bruins Mackenzie McDonald and Robin Anderson had swept the titles in 2015, the Cavaliers dominated the proceedings this year, with recent graduate Danielle Collins taking the women's title and senior Thai Kwiatkowski capturing the men's championship.
19-Jul-2016
College Tennis Players Spending the Summer with BB&T Atlanta Open
While most college students are spending their summer break working at summer camps, house sitting or maintaining lawns, there a half-dozen or so college tennis players giving a needed assist to the BB&T Atlanta Open, an ATP World Tour 250 event that is one of eight summer tournaments in the Emirates Airline US Open Series. These student athletes are getting to interact with names like Isner, Agassi and Kyrgios.
8-Jun-2016
Talking with Division III Men's Singles Champion Skyler Butts
Skyler Butts of Claremont-Mudd-Scripps ended his career on a high note last month in Kalamazoo, claiming the Division III men's singles title after reaching the final in 2015, the same year the Stags claimed their first team championship since 1981. Colette Lewis of ZooTennis.com talked with the 22-year-old Californian about his tennis background, postgraduate plans, one-handed backhand, hobbies and why Division III was the right choice for him.
About Harry Cicma
When it comes to college tennis, Harry Cicma is your man. Cicma covers tennis and other athletic stories for
NBC Sports
, writing articles and producing video segments.
He is co-founder and host of World Tennis a weekly tennis show on NESN, and host of of Tennis Live Radio's College Corner.
Cicma competed as a junior in USTA/New England and went on to play college tennis at Rutgers University. As a professional, Cicma competed at the ATP Newport tournament and the San Jose Siebel Open. He reached a career-high #75 in the ATP doubles team rankings and #1262 in the ATP Entry System.
In media, Cicma has run the gamut. He has worked for NBC, CBS, ABC, ESPN, FOX Sports Net, the Tennis Channel, and World Team Tennis. Cicma has announced NCAA sports as well as the US Open Tennis Championships on both TV and radio.