Showcase Announcement
WAM Sports College Showcase to be held December 5-6
Press Release, 24 November 2013
Players and Coaches - Attend the WAM Sports College Tennis Camp and Showcase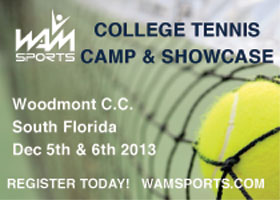 The WAM Sports College Tennis Camp and Showcase is a great way to get exposed to and recruited by 40+ U.S. college tennis coaches. College coaches from all divisions across country will be in attendance to educate you about the college tennis recruiting process and spend time with you on court during exposure camp day on Dec 5th. In addition, you will have an opportunity to showcase your talent and be scouted & recruited by coaches in a competitive setting on Dec 6th. Further, your player profiles will be sent to numerous colleges in the WAM Sports network.
Open to all competitive tennis players' ages 14+ that want to play college tennis
Open to all college coaches - NCAA Div 1, 2, 3, NJCAA & NAIA
The 2013 WAM Sports Camp on December 5 includes:
Classroom presentations / Q&A session with college coaches
Get tips & hints from college coaches to improve your game
Learn about the college recruiting process
Understand the different divisions & levels of college tennis
Train like a college tennis player
Interact with top college coaches from across the U.S.
The 2013 WAM Sports Showcase on December 6 includes:
Round-Robin Match-Ups
College coaches will receive your "Personal Recruiting Profile"
Your opportunity to get scouted & recruited on site!
Information Seminar - "simplifying the college recruiting process"
Certificate of Participation
*Event t-shirt & lunch included on both days
For more details, and to find out who will be attending, please email Tarek Merchant at [email protected] or call us at 786-309-3885.
Click here to learn more and register online.
College Coaches - Please pass this information to current recruits that you want to see in action!
*If you are attending the Orange Bowl - This is a great opportunity to see 60+ additional players.
Leave a Comment
More Special Features
24-May-2017
Hall of Famer Tracy Austin's Two Roles: Tennis Mom and Tennis Commentator
Tracy Austin was the definition of a tennis prodigy, with the former WTA No. 1 still holding records as both the youngest US Open women's champion (16) and youngest inductee into the International Tennis Hall of Fame. Today, Austin stays involved with tennis professionally as a commentator - and also as the parent of three boys who have all played tennis. Colette Lewis had the chance to talk with Austin at the Ojai in April on a wide range of topics.
13-May-2017
Tennis Community Mourns Loss of Steve Johnson, Sr.
Steve Johnson, Sr., a beloved figure in the tennis community and father of professional Steve Johnson Jr., died Thursday morning in his sleep at age 58. Johnson's death elicited an outpouring of sympathy from friends, students and colleagues across the country.
24-Apr-2017
Talking About the USTA All-American Combine
Today with chat with Scott Treibly of the USTA about the upcoming USTA All-American Combine that will take place at the USTA's Lake Nona facility in June.