Showcase Announcement
WAM Sports College Showcase to be held December 5-6
Press Release, 24 November 2013
Players and Coaches - Attend the WAM Sports College Tennis Camp and Showcase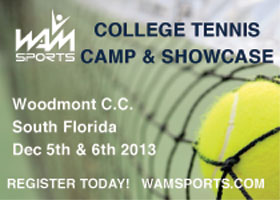 The WAM Sports College Tennis Camp and Showcase is a great way to get exposed to and recruited by 40+ U.S. college tennis coaches. College coaches from all divisions across country will be in attendance to educate you about the college tennis recruiting process and spend time with you on court during exposure camp day on Dec 5th. In addition, you will have an opportunity to showcase your talent and be scouted & recruited by coaches in a competitive setting on Dec 6th. Further, your player profiles will be sent to numerous colleges in the WAM Sports network.
Open to all competitive tennis players' ages 14+ that want to play college tennis
Open to all college coaches - NCAA Div 1, 2, 3, NJCAA & NAIA
The 2013 WAM Sports Camp on December 5 includes:
Classroom presentations / Q&A session with college coaches
Get tips & hints from college coaches to improve your game
Learn about the college recruiting process
Understand the different divisions & levels of college tennis
Train like a college tennis player
Interact with top college coaches from across the U.S.
The 2013 WAM Sports Showcase on December 6 includes:
Round-Robin Match-Ups
College coaches will receive your "Personal Recruiting Profile"
Your opportunity to get scouted & recruited on site!
Information Seminar - "simplifying the college recruiting process"
Certificate of Participation
*Event t-shirt & lunch included on both days
For more details, and to find out who will be attending, please email Tarek Merchant at info@wamsports.com or call us at 786-309-3885.
Click here to learn more and register online.
College Coaches - Please pass this information to current recruits that you want to see in action!
*If you are attending the Orange Bowl - This is a great opportunity to see 60+ additional players.
Leave a Comment
More Special Features
20-Jan-2015
Racquet Customization a Growing Trend in Junior and College Tennis
As if tennis parents, junior and college tennis players didn't have enough expense in buying frames, strings, shoes and high tech apparel, many are choosing to shell out even more cash to have their racquets customized to preferred specifications.
16-Jan-2015
Eight Intriguing Questions for 2015
It's January... so it must be time for another edition of "Intriguing Questions" from columnist Colette Lewis. Today, in the tenth article in as many years, Colette poses eight questions about junior and college tennis that should be answered over the coming months.
9-Jan-2015
An interview with Nick Saviano
Nick Saviano began his storied coaching career at age 28 after winning two NCAA titles at Stanford and playing the ATP circuit for several years. After 15 years with the USTA, Saviano started his own tennis academy, where he can still be found feeding balls to eight-year-olds with grand slam dreams. Colette Lewis got the chance to talk with Saviano about many topics around tennis coaching and the game in general.