Showcase Announcement
WAM Sports College Showcase to be held December 5-6
Press Release, 24 November 2013
Players and Coaches - Attend the WAM Sports College Tennis Camp and Showcase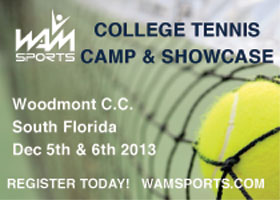 The WAM Sports College Tennis Camp and Showcase is a great way to get exposed to and recruited by 40+ U.S. college tennis coaches. College coaches from all divisions across country will be in attendance to educate you about the college tennis recruiting process and spend time with you on court during exposure camp day on Dec 5th. In addition, you will have an opportunity to showcase your talent and be scouted & recruited by coaches in a competitive setting on Dec 6th. Further, your player profiles will be sent to numerous colleges in the WAM Sports network.
Open to all competitive tennis players' ages 14+ that want to play college tennis
Open to all college coaches - NCAA Div 1, 2, 3, NJCAA & NAIA
The 2013 WAM Sports Camp on December 5 includes:
Classroom presentations / Q&A session with college coaches
Get tips & hints from college coaches to improve your game
Learn about the college recruiting process
Understand the different divisions & levels of college tennis
Train like a college tennis player
Interact with top college coaches from across the U.S.
The 2013 WAM Sports Showcase on December 6 includes:
Round-Robin Match-Ups
College coaches will receive your "Personal Recruiting Profile"
Your opportunity to get scouted & recruited on site!
Information Seminar - "simplifying the college recruiting process"
Certificate of Participation
*Event t-shirt & lunch included on both days
For more details, and to find out who will be attending, please email Tarek Merchant at [email protected] or call us at 786-309-3885.
Click here to learn more and register online.
College Coaches - Please pass this information to current recruits that you want to see in action!
*If you are attending the Orange Bowl - This is a great opportunity to see 60+ additional players.
Leave a Comment
More Special Features
7-Dec-2016
Don't Pass on Playing in a Pro Am
While it may not possess the prestige of a national tournament or high school state tournament, it is possible that one of the most important matches you might play, even as a junior, could be in a pro am. While it might seem trivial, it can be a unique chance to make a lasting friendship - or a chance to catch the eye of a college tennis coach.
7-Oct-2016
ImRecruitable College Showcase Events Nov 30 to Dec 1
ImRecruitable will host its 5th Annual College Tennis Showcase November 30th and December 1st 2016 at Patch Reef Park Tennis Center in Boca Raton, FL. This unique, one-of-a-kind event combines both on-court training with college coaches as well as showcase match play in front of observing coaches. This event allows players the opportunity to gain maximum exposure and networking with college coaches.
30-Sep-2016
What an Agent Does: Interview with Topnotch Management's Sam Duvall
Sam Duvall played high-level tennis as a junior outside of Louisville, Ky., and he played college tennis at Bates College. As a senior, Duvall had an internship at Octagon, a sports management firm. After several years at SFX, Duvall started his own firm, Topnotch Management. Colette Lewis of ZooTennis.com spoke with Duvall about many issues around sports management - and what advice he would give top juniors and their families.