Showcase Announcement
WAM Sports College Showcase to be held December 5-6
Press Release, 24 November 2013
Players and Coaches - Attend the WAM Sports College Tennis Camp and Showcase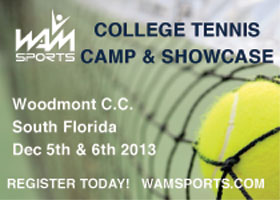 The WAM Sports College Tennis Camp and Showcase is a great way to get exposed to and recruited by 40+ U.S. college tennis coaches. College coaches from all divisions across country will be in attendance to educate you about the college tennis recruiting process and spend time with you on court during exposure camp day on Dec 5th. In addition, you will have an opportunity to showcase your talent and be scouted & recruited by coaches in a competitive setting on Dec 6th. Further, your player profiles will be sent to numerous colleges in the WAM Sports network.
Open to all competitive tennis players' ages 14+ that want to play college tennis
Open to all college coaches - NCAA Div 1, 2, 3, NJCAA & NAIA
The 2013 WAM Sports Camp on December 5 includes:
Classroom presentations / Q&A session with college coaches
Get tips & hints from college coaches to improve your game
Learn about the college recruiting process
Understand the different divisions & levels of college tennis
Train like a college tennis player
Interact with top college coaches from across the U.S.
The 2013 WAM Sports Showcase on December 6 includes:
Round-Robin Match-Ups
College coaches will receive your "Personal Recruiting Profile"
Your opportunity to get scouted & recruited on site!
Information Seminar - "simplifying the college recruiting process"
Certificate of Participation
*Event t-shirt & lunch included on both days
For more details, and to find out who will be attending, please email Tarek Merchant at [email protected] or call us at 786-309-3885.
Click here to learn more and register online.
College Coaches - Please pass this information to current recruits that you want to see in action!
*If you are attending the Orange Bowl - This is a great opportunity to see 60+ additional players.
Leave a Comment
More Special Features
22-Apr-2016
ITA Summer Circuit Schedule
The ITA Summer Circuit provides college, junior, and alumni tennis players the opportunity to compete in organized events virtually year round. Although the primary focus of the circuit is to provide incoming freshmen and collegiate players the chance to play in the summer months, these events are "open", so anyone is eligible to compete.
6-Apr-2016
College Tennis Weekly Features USTA, ITA
Earlier this year, the Fox College Sports Network premiered a new television series - College Tennis Weekly. The TV show, hosted by former LSU coach Tony Minnis and produced by Harry Cicma Productions, is a welcome addition to the cable airwaves. This week, a new episode that highlights USTA and ITA involvement in college tennis makes its debut, and anyone with an interest in college tennis should check it out ...
31-Mar-2016
ITA Forms Alliance with Arizona State
Arizona State University and the Intercollegiate Tennis Association, the governing body for college tennis, announced a strategic alliance that will leverage the resources of a research-based University to grow the sport of tennis locally, nationally and globally.