Showcase Announcement
WAM Sports College Showcase to be held December 5-6
Press Release, 24 November 2013
Players and Coaches - Attend the WAM Sports College Tennis Camp and Showcase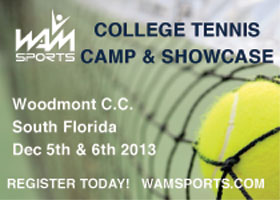 The WAM Sports College Tennis Camp and Showcase is a great way to get exposed to and recruited by 40+ U.S. college tennis coaches. College coaches from all divisions across country will be in attendance to educate you about the college tennis recruiting process and spend time with you on court during exposure camp day on Dec 5th. In addition, you will have an opportunity to showcase your talent and be scouted & recruited by coaches in a competitive setting on Dec 6th. Further, your player profiles will be sent to numerous colleges in the WAM Sports network.
Open to all competitive tennis players' ages 14+ that want to play college tennis
Open to all college coaches - NCAA Div 1, 2, 3, NJCAA & NAIA
The 2013 WAM Sports Camp on December 5 includes:
Classroom presentations / Q&A session with college coaches
Get tips & hints from college coaches to improve your game
Learn about the college recruiting process
Understand the different divisions & levels of college tennis
Train like a college tennis player
Interact with top college coaches from across the U.S.
The 2013 WAM Sports Showcase on December 6 includes:
Round-Robin Match-Ups
College coaches will receive your "Personal Recruiting Profile"
Your opportunity to get scouted & recruited on site!
Information Seminar - "simplifying the college recruiting process"
Certificate of Participation
*Event t-shirt & lunch included on both days
For more details, and to find out who will be attending, please email Tarek Merchant at [email protected] or call us at 786-309-3885.
Click here to learn more and register online.
College Coaches - Please pass this information to current recruits that you want to see in action!
*If you are attending the Orange Bowl - This is a great opportunity to see 60+ additional players.
Leave a Comment
More Special Features
7-Oct-2015
USTA Adds Brad Stine to National Collegiate Coaching Staff
Brad Stine has coached tennis for 30 years, and he was recently appointed as the newest member of the USTA Player Development's collegiate division. Colette Lewis of ZooTennis.com recently talked with Stine about many topics - including the reasons he decided to pursue coaching, the five requirements for success as a pro, the value of the college pathway and the ITF's push for more prize money at the lower levels.
23-Sep-2015
Billie Jean King on American Junior and College Tennis
Tennis legend Billie Jean King has never been shy about voicing her opinions on American tennis. Any complaints she registers usually come with suggested solutions. Contributor Marcia Frost sat down with King to discuss the future of tennis - with a focus on American junior and college tennis - during the celebration of the 40th anniversary of Mylan World TeamTennis in August.
8-Sep-2015
World TeamTennis at 40: Supporting Junior and College Players
It's been 40 years since Billie Jean and Larry King launched World TeamTennis - an unusual team tennis concept that would bring together men and women in a fun, yet competitive, atmosphere. WTT, which has been sponsored by Mylan since 2012, has been an especially popular launching pad for top juniors and players just out of college who are looking to make their way into the pros.