by TennisRecruiting.net, 8 January 2014
"College tennis is one of the best-kept secrets in college sports."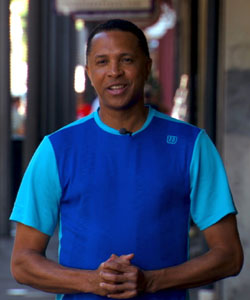 So says Tony Minnis, who knows a thing or two about these things. Minnis competed at a high level in the college tennis world as both a coach and a player. Minnis is the winningest women's tennis coach in
LSU
history, leading the team to fifteen NCAA tournament appearances. As a player at
Louisiana Lafayette
, Minnis helped lead the Ragin' Cajuns to four consecutive Top 25 finishes and an appearance in the Sweet 16.
Fast forward to today, and Minnis is about to make his debut on the small screen - hosting a new television series on the Tennis Channel that will highlight college tennis.
Inside College Tennis with Tony Minnis will be a 30-minute program that gives you an insider's look at top college tennis programs and their coaches and facilities. Minnis also talks with coaches about the recruiting process - and what players and parents should know about college tennis and recruiting. The first show - featuring the TCU men's and women's programs - will premiere January 14 at 9pm EST / 6pm PST on the Tennis Channel.
We talked with Minnis about this exciting new program that should appeal to the regular visitors of TennisRecruiting.net.
Questions and Answers
Tennis Recruiting (TR): College tennis is largely an unknown - even to people in the tennis world. Your upcoming show - Inside College Tennis with Tony Minnis - will help to address that issue by giving viewers a look at college tennis programs around the country. Can you tell us about the format that the show will use?
Tony Minnis (TM): The idea is to cover a single institution each week - spending equal time with the men's and women's programs. Featuring both the men's and women's teams should broaden our base and make the show appealing to everyone. We talk to the coaches, check out the facilities, spend time at a practice - that sort of thing.
Also, a big aspect of the show is education - we want to answer the questions that come up again and again with respect to college tennis. Many players and parents do not know much about college tennis or what it takes to get there, and our show should be very appealing to that crowd.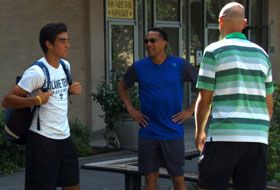 TR: Does your program have a mission statement? Do you have particular goals for your program?
TM: Our mission would be to educate and inform the public about college tennis. There should be a lot of information both for potential student athletes as well as the casual tennis fan.
I have always found tennis to be one of college athletics' best kept secrets. When I was at LSU, fans that attended a match for the first time often sought me out to tell me how exciting it was - especially the doubles play. It should be a win-win to shine a light directly on college tennis and give it more exposure.
TR: One of the first colleges you are featuring - Tulane - is obviously a great story since Hurricane Katrina literally wiped its tennis programs off the map. What do you look for when choosing programs to profile?
TM: Of course, we are always looking for a compelling story. We are just starting out, and our first two shows will feature Tulane and TCU. Those schools were relatively close by and have great stories. Tulane has the hurricane angle that you mentioned, and TCU has fantastic coaches as well - with [women's coach] Dave Borelli earning seven career NCAA titles and [men's coach] David Roditi who left his position as a USTA Lead National Coach to coach at his alma mater.
As we move forward, we are looking to feature schools all across the country. And we don't want to feature just the top schools. College tennis programs come in all shapes and sizes, and we look forward to profiling lots of different kinds of schools with interesting stories.
TR: As a fan of college tennis, are there any programs you are dying to profile?
TM: Wow, that's a tough one. You can imagine that in my position I don't want to burn any bridges. (Laughs)
One thing that I have learned so far is that it is great to visit other schools and learn their stories. When I was coaching and recruiting at LSU, I was always selling my program, my school, and Baton Rouge. It has been very nice to take a step back and to appreciate what other programs have - and how different they are from one another.
TR: Where can people get more information online about Inside College Tennis?
TM: Well, we just put up our Facebook page in November, and we have been posting photos and videos there.
You can also check out our sizzle reel. The production staff at Bill Rodman Production Shoppe has done a fantastic job putting that together. I have been so impressed with their production work - as well as their knowledge of the sport.
Inside College Tennis with Tony Minnis will premiere January 14 at 9pm EST / 6pm PST on the Tennis Channel.
Stay tuned for another Q&A session with Minnis as we get closer to the first broadcast. For more information and previews, make sure to visit the Inside College Tennis
Facebook page
.
Leave a Comment
More Special Features
28-Feb-2015
Talking with Michael Joyce - Part 2
Colette Lewis of ZooTennis.com got the chance to talk with former tennis player and now coach Michael Joyce earlier this month in Midland, Michigan at the $100,000 Dow Corning Tennis Classic. This is Part 2 of their conversation.
27-Feb-2015
Talking with Michael Joyce - Part 1
Michael Joyce is best known to tennis fans now as the former coach of five-time slam champion Maria Sharapova. Prior to his coaching stint with Sharapova however, the 42-year-old Southern Californian had his own distinguished career, winning the USTA Boys 18s Nationals in 1991 and reaching an ATP career-high ranking of 64 five years later. Colette Lewis of ZooTennis.com got the chance to talk with Joyce about about his years with Sharapova, his coaching philosophy, his current work at a tennis academy, and much more...
4-Feb-2015
Inside College Tennis with Tony Minnis Returns
This weekend, Inside College Tennis with Tony Minnis returns with the first of three all-new episodes on The Tennis Channel. The television program, which highlights college tennis programs around the country of all shapes and sizes, should appeal to the entire TennisRecruiting.net community. We caught up with host Tony Minnis to learn what is coming...