Special Announcement
The Invaluable Experience - New Kindle Book by Lao and Limpert
Press Release, 8 December 2013
Two-time USC All-American Tennis Player Says College Sports are the Experience of a Lifetime
Reflecting on her successful college tennis career, Danielle Lao, a two-time All-American at USC thought she might have some valuable information to share with others either enrolled at colleges and universities around the country, thinking about playing college sports, or even sports fans wondering what the college experience is like for a elite athlete.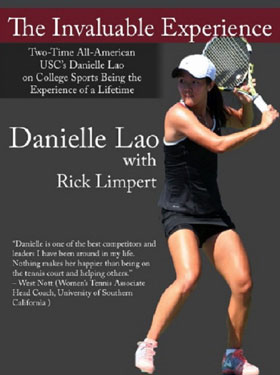 Months ago, Lao started putting her thoughts down in an online Tumblr blog that started gaining more and readers. The blog didn't talk about any one topic, but Lao answered questions many student-athletes might have.
After a little prodding, Lao decided to turn her writings into a Kindle book.
"Turning my blog posts in a book was a great way to organize my scattered thoughts that I was slowly collecting since the end of my collegiate career," explained Lao.
The recent USC graduate thinks the lessons that can be learned from playing sports are "invaluable" life experiences.
"College tennis was such a pivotal part in my development as a player as well as a person and my hope is to share with as many people as I can, how college is such an invaluable experience," adds Lao. "Whether it is reaching out to the upcoming generation entering college, reassuring current student-athletes,or making graduates smile about the sense of deja vu they feel from reading this book, I want to be able to be a voice that says college sports packs something incredibly special."
This fall, Lao embarked on a professional tennis career, and wants to stress the fact that playing college sports is a privilege that select few get to experience.
Lao says get the most of the experience.
"College sports are something so unique. My biggest desire is that the world can grow to appreciate what it takes for student athletes to excel at what they do. More importantly, I hope that every student athlete grows to know how blessed and privileged they are to acquire such a title."
"The Invaluable Experience" is available as a Kindle download on Amazon.com.
About Danielle Lao:
Danielle Lao was a member of the USC Women's Tennis Team (2009-2013). During her time there, she lead the Trojans to back to back PAC 12 Team championships and was team captain her senior year. She wraps up her collegiate career as a two time singles All-American, 3 time ITA title holder, and a recipient of both the Southwest Region Rookie and Senior of the Year. Danielle is currently pursuing a professional career.
About Rick Limpert:
Rick Limpert is an Atlanta-based freelance writer who covers tennis and sports technology for the likes of Yahoo, Examiner.com, TennisRecruiting.net, the Atlanta-Journal Constitution and others. He hosts the popular "Tech Tuesday" gadget segment on Sirius/XM PGA Tour Radio and he is the 2013 USTA Georgia "Tennis Writer of the Year" and won the 2013 USTA Southern Section Marc Kaplan Media Excellence Award.
For more information:
PR Contact: Rick Limpert (209) 920-7425 or email: [email protected] and Danielle Lao
Social Media:
Danielle Lao Twitter: @TheLittleGiant
Rick Limpert Twitter: @RickRoswell
Leave a Comment
More Special Features
23-Sep-2015
Billie Jean King on American Junior and College Tennis
Tennis legend Billie Jean King has never been shy about voicing her opinions on American tennis. Any complaints she registers usually come with suggested solutions. Contributor Marcia Frost sat down with King to discuss the future of tennis - with a focus on American junior and college tennis - during the celebration of the 40th anniversary of Mylan World TeamTennis in August.
16-Sep-2015
Revisiting the US Open Forecast
The US Open is the premiere event on American soil, and so Tennis Recruiting pulled out its heat maps once again to forecast the tournament. There were lots of upsets (Wait, Serena lost?), but let's take a look at how our predictions played out...
8-Sep-2015
World TeamTennis at 40: Supporting Junior and College Players
It's been 40 years since Billie Jean and Larry King launched World TeamTennis - an unusual team tennis concept that would bring together men and women in a fun, yet competitive, atmosphere. WTT, which has been sponsored by Mylan since 2012, has been an especially popular launching pad for top juniors and players just out of college who are looking to make their way into the pros.