College Feature
Conversation with South Dakota's Malcolm Gilreath
by
Harry Cicma
, 10 February 2014
Follow Harry on
Twitter
Malcolm Gilreath is now in his tenth season at the helm of the University of South Dakota women's tennis team.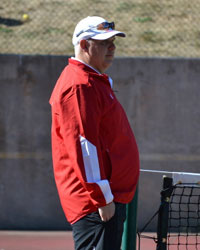 Gilreath is one of the most successful coaches in Coyote history - leading the program to 110 dual match victories in his first nine years. His 2012-13 team finished the season at 16-11 and reached the semifinals of the Summit League conference tournament.
NBC's Harry Cicma talked with Gilreath about coaching and recruiting at USD.
Questions and Answers
Harry Cicma (HC): What are your goals for University of South Dakota women's tennis - for this year, and for the future?
Malcolm Gilreath (MG): Our goal - this year and every year - is to be an ITA Academic All-American team along with earning as many individual awards as we can. On the court we want to be competitive and improve each and every time we perform. We continue to bring in ladies that are competitive in the classroom and on the court - which really has had a positive impact on our team.
Last year we were one of top four teams in our conference and would like to continue to improve in the standings both now and in the future.
HC: What do you look for in a recruit when you're analyzing players to join the USD tennis program?
MG: I look at how they do academically to see if they would be a good fit at our University. We want to ensure the ladies have the initial skill set to be successful both in the classroom and on the court. We discuss the importance of balance in life and how getting that in order during their college years will pay dividends for them in whatever career path they choose once they graduate. Since it is now truly a global economy we need to prepare the ladies to be able to compete not only against who they see, but who may be on the other side of the world competing for whatever they are pursuing.
On the court I like to have different types of players that work and play smart - and that enjoy the game we all love.
HC: USD is relatively new to Division I. How exciting has it been for you to see your team build and improve at this level?
MG: It's been very exciting to be a part of the transition from Division II to Division I. Last year was the first year we were eligible for the conference tournament, and when I announced to the ladies that they had qualified [only four of the eight Summit League teams play in the conference tournament], it was a sight and sound in that hotel that the ladies and I will always remember. Each year we continue to improve on the court while maintaining the academic integrity which is most important.
HC: What are you most excited about for the upcoming spring season?
MG: We have quite a few players returning from last year, had a few players join us in the fall, and the chemistry on the team is wonderful. We have a motto this year of "Coyotes with a Cause" which applies to the classroom, the court, and also the community.
One of the highlights of our spring schedule is our annual spring break trip to Florida. The competition is always good, the weather is wonderful, and the memories that come from there will be with everybody forever.
HC: What do you enjoy most about coaching at USD?
MG: I thoroughly enjoy giving back to the game and making a difference in our little corner of the world. I have learned so much from the ladies that have been on the team over the years. We are a very diversified, team and I have learned more about this world visiting with the ladies during our travels than I could ever have possibly imagined. We have a very supportive administration and all of the departments are very supportive of the ladies and myself - which we greatly appreciate.
Leave a Comment
More College Coverage
22-Sep-2016
Virginia's Collins and Kwiatkowski Earn Titles at American Collegiate Invitational
The University of Virginia picked up where UCLA left off last year at the third annual American Collegiate Invitational, played at the end of the second week of the US Open. After Bruins Mackenzie McDonald and Robin Anderson had swept the titles in 2015, the Cavaliers dominated the proceedings this year, with recent graduate Danielle Collins taking the women's title and senior Thai Kwiatkowski capturing the men's championship.
19-Jul-2016
College Tennis Players Spending the Summer with BB&T Atlanta Open
While most college students are spending their summer break working at summer camps, house sitting or maintaining lawns, there a half-dozen or so college tennis players giving a needed assist to the BB&T Atlanta Open, an ATP World Tour 250 event that is one of eight summer tournaments in the Emirates Airline US Open Series. These student athletes are getting to interact with names like Isner, Agassi and Kyrgios.
8-Jun-2016
Talking with Division III Men's Singles Champion Skyler Butts
Skyler Butts of Claremont-Mudd-Scripps ended his career on a high note last month in Kalamazoo, claiming the Division III men's singles title after reaching the final in 2015, the same year the Stags claimed their first team championship since 1981. Colette Lewis of ZooTennis.com talked with the 22-year-old Californian about his tennis background, postgraduate plans, one-handed backhand, hobbies and why Division III was the right choice for him.
About Harry Cicma
When it comes to college tennis, Harry Cicma is your man. Cicma covers tennis and other athletic stories for
NBC Sports
, writing articles and producing video segments.
He is co-founder and host of World Tennis a weekly tennis show on NESN, and host of of Tennis Live Radio's College Corner.
Cicma competed as a junior in USTA/New England and went on to play college tennis at Rutgers University. As a professional, Cicma competed at the ATP Newport tournament and the San Jose Siebel Open. He reached a career-high #75 in the ATP doubles team rankings and #1262 in the ATP Entry System.
In media, Cicma has run the gamut. He has worked for NBC, CBS, ABC, ESPN, FOX Sports Net, the Tennis Channel, and World Team Tennis. Cicma has announced NCAA sports as well as the US Open Tennis Championships on both TV and radio.