College Feature
Michigan Women Defeat Yale to Return to Team Indoor in Charlottesville
by
Colette Lewis
, 30 January 2014
A new format and a key player's injury didn't keep the University of Michigan women from their customary trip to Charlottesville, Virginia in February. On Sunday, the Wolverines defeated Yale 4-0, advancing to the Intercollegiate Tennis Association National Team Indoor Championships for the fifth consecutive year.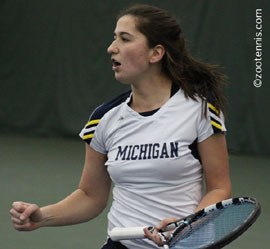 The
Varsity Tennis Center
in Ann Arbor hosted four teams over the cold and snowy weekend, with No. 11 Michigan defeating No. 54
Virginia Tech
6-1 in the first round, and No. 36 Yale taking out No. 28
Tulsa
4-3, with a match tiebreaker in lieu of a third set at No. 1 singles deciding it.
This season's ITA experimental formats are different for men and women, with the women opting for traditional scoring in both doubles and singles, but playing only one standard set for doubles and a match tiebreaker in lieu of a third set in singles. (The men are playing no-ad, with tiebreakers at 5-5 instead of 6-6, in singles and doubles).
While the match tiebreaker did not come into play in the final, its existence loomed over every match.
"It's definitely different," said Michigan's Emina Bektas, whose 7-6(6), 6-4 win over Yale's Madeleine Hamilton clinched the victory for the Wolverines. "You can be ahead the entire time in the match, slip up a little bit in a game, and boom, you can be in that breaker and lose. So you definitely have to keep focus a lot more, because you don't have an entire set to get yourself back into it."
After winning the doubles point, Michigan took two first sets 6-0, with Kristen Dodge blanking Amber Li at No. 6 and Sarah Lee shutting out Sherry Li at No. 2. But with a match tiebreaker possible, the dynamics differed from the best-of-three-sets format.
"It's really a little bit unnerving, to be honest," said Michigan head coach Ronni Bernstein, in her seventh year as coach of the Wolverines. "Kristy is up 6-0, 5-4 and in ten minutes it could go the other way, even with her totally dominating, I thought, the match. We're happy to get through here, because it easily could have been ten pointers going around."
Due to a shoulder injury, Michigan was playing without Ronit Yurovsky, ranked No. 20 and the Wolverines' No. 2 singles player, as well as a member of the nation's No. 11 doubles team. The injury required that Bernstein juggle her doubles lineup, but the new combinations came through.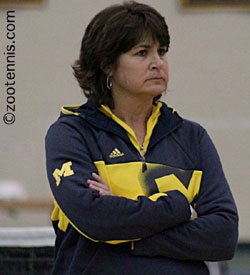 Dodge and freshman Laura Ucros beat Yale freshmen Sherry Li and Caroline Lynch 6-3 at No. 3, the only break of the match coming in the eighth game. Yale reconfigured its doubles lineup as well, with sophomores ReeRee Li and Hamilton tying the score with a 6-2 win over ninth-ranked Brooke Bolender and Bektas at No 1. With the score 1-1, Michigan's Lee and Amy Zhu were up a break at No. 2, leading Annie Sullivan and Hannah Yu 5-3, before Yu held to force Zhu to serve out the match.
Zhu had no difficulty doing so, getting three good first serves in play, then finishing the love hold with a gorgeous backhand slice volley to give Michigan the first point, only 38 minutes into the match.
The second point for the Wolverines came just over an hour later, when Lee closed out her match 6-0, 6-3 over Sherry Li. The Bulldogs still had hope however, with Sullivan having secured the first set from Bolender at No. 3, and Ree Ree Li up a set over Sara Remynse at No. 5. But when Zhu won a 65-minute first set from Yu at No. 4, and Bektas, who had won the first set from Hamilton in a tiebreaker, got a break in the second set at No. 1, the prospect of another trip to Charlottesville looked likely.
At No. 6, Dodge led Amber Li 6-0, 5-4, with Li serving to her fellow junior. Back-to-back double faults by Li gave Dodge a match point, and when Li netted a forehand, Michigan led 3-0.
By this time Bektas, ranked No. 21, was serving for the match against Hamilton to clinch the Michigan victory. The junior from Indianapolis had seen a 5-2 lead slip away in the first set, so even with her huge serve, the outcome was in doubt, although Bektas was confident.
"I was actually a lot more nervous closing out that first set than I was the second set," said Bektas, who broke Hamilton serving for the opening set at 6-5. "I think when I got those jitters out, and I was able to close it out in a tiebreaker, I knew I was going to be able to do that. I just had to get a higher percentage of first serves in and get to the net, and I knew I was going to close it out."
Bektas missed a forehand long to start the final game, but hit an ace to make it 15-15, and after a forehand error from Hamilton, cracked another good first serve to make it 40-15. Bektas elected to serve and volley on her first match point, not an unusual choice for her, and she executed perfectly, ending the contest with a forehand volley winner.
Bernstein said her team's depth helped overcome the loss of Yurovsky.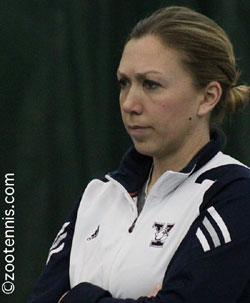 "Without Ronit, it's a big loss," said Bernstein. "She's one of our best players and helps us a ton in doubles too. But we have kids we can put in there and feel comfortable with. It's a little bit of a different team, but we're going to compete. We're going to fight, and try to get four points on the board."
Yale coach Danielle Lund McNamara, who played for Michigan from 1996-2000, gave credit to the Wolverines.
"Michigan's a great team," said McNamara, in her eighth year at Yale. "It was pretty close. Even though the score was 4-0, we were in so many of these others, and the doubles point was obviously really close. It was a fun match, I just wish we could have had a little more time. You just can't replicate this in practice, this feeling, this environment, so I think both matches this weekend were a great experience. It shows we can play with the best teams, and we just have to keep believing that."
Michigan co-captian Brooke Bolender will have been to Charlottesville, Virginia for the Team Indoor Championships four straight years after the win over Yale.
"It feels really good," said Bolender, a senior. "When you lose someone like Ro, who's had such a good year, obviously it hurts, but it gives other people time to shine. Today was a whole team effort; everybody stepped up in certain spots. Yale's a really feisty team, so it was good to get through."
For more on the ITA Kick-off Weekend, see the ITA website, which has links to match recaps here.
Leave a Comment
More College Coverage
28-Jan-2015
Oklahoma State Women down Georgia Tech 4-3 in ITA Kickoff
Oklahoma State Coach Chris Young usually counts on his No. 19 ranked Cowgirls when it comes to the doubles point. But after dropping the point against the host and No. 18 Georgia Tech at the ITA Kickoff Weekend in Atlanta, he had to challenge his players. His team responded - coming back to defeat the Yellow Jackets 4-3 with the deciding point coming from a come-from-behind victory at No. 6 singles.
27-Jan-2015
Columbia Upsets Notre Dame, 4-2, in ITA Kickoff Weekend
The University of Notre Dame men's tennis team knew they would face stiff competition as they prepared to host the ITA Kickoff Weekend; what they couldn't have foreseen was a come-from behind upset victory by another top-16 team. Sunday afternoon, in a match that lasted almost four full hours, the Irish were toppled by Columbia, 4-2, who advanced to the ITA Indoor Championships in February with the win.
15-Jan-2015
Q&A with Ed Silver of Penn
Edward Silver was a standout junior tennis player and student when he enrolled at the University of Pennsylvania for the 2002-03 season. Silver was known for his work ethic and perserverance as a member of the Penn squad. Harry Cicma of NBC Sports recently got the chance to talk with Silver about topics around college tennis.
About Colette Lewis
Colette Lewis
has covered topflight U.S. and international junior events as a freelance journalist for the better part of a decade. Her work has earned her contracts with such organizations as the Tennis Channel, USTA Florida and the Junior Orange Bowl, as well as
TENNIS
,
SMASH
,
USTA
,
Tennis Championships
and
Racquet Sports Industry
magazines. Lewis is active on
Twitter
, and she writes a weekly column right here at TennisRecruiting.net.
Lewis, based out of Kalamazoo, Michigan, has seen every National Championship final played there since 1977, and her work on the tournament's ustaboys.com website led her to establish ZooTennis, where she comments on junior and college tennis daily.