College Feature
Conversation with UNLV's Owen Hambrook
by
Harry Cicma
, 11 March 2014
Follow Harry on
Twitter
UNLV's Owen Hambrook is now in his eleventh season as head coach of the Runnin' Rebels men's tennis program.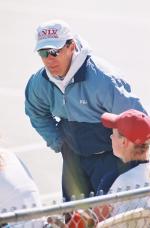 Hambrook, who led the program to its first-ever Mountain West championship, took the 2012-13 squad to a 17-7 overall record and a final ranking of No. 62. NBC's
Harry Cicma
caught up with Hambrook to talk tennis, Las Vegas, and recruiting.
Questions and Answers
Harry Cicma (HC): Coach, you have a great year coming up with the Runnin' Rebels, what are you most excited about, and what do you love the most about College Tennis?
Owen Hambrook (OH): We have a lot to be excited about, with an exciting new team this year - with four new guys coming in - so things are looking good.
I just love the fact that guys can go to college as student athletes and pursue a degree while at the same time working on their game. With the coaching and the extra help they get in the weight room and with fitness, they have the chance to turn professional if that is something they want to try. It might work out for them, but if not, they still leave with a great college degree.
HC: Las Vegas is a great city for tennis. Andre Agassi became a champion from here, and Sam Querrey also trains in the city. There's even a new World TennisTennis team - with the NEON coming to Vegas. What do you like about tennis here?
OH: Las Vegas is such an international city, so when you tell recruits about the city, they all know where it is. It also has a great location near Southern California, so that helps out with the recruiting. Teams always want to come out here and play us as well, so it's really a win-win situation for us and for UNLV Tennis.
HC: What does UNLV offer to top recruits looking to come here?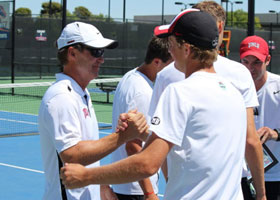 OH:
UNLV is an excellent school. We have one of the best hotel management programs in the world, and our business program is very strong. More than 50% of the people who graduate choose to stay in Las Vegas. With the economy coming back, it's just a great place to live and go to school.
HC: The Mountain West Conference is very competitive. What are your thoughts on the upcoming competition?
OH: Boise State is strong, and there are a lot of other good teams like San Diego State and New Mexico. All the teams are tough. It's definitely a challenge in each match, and quite a few teams have a shot at taking the conference title.
HC: What are you looking for when you recruit kids to come to UNLV?
We need to make sure they will do well academically, so we evaluate them academically first. We then look at the tennis. We also place a huge emphasis on the character of the person, how the team likes him, and how he interacts with the coaches and and the administration. There is a lot that goes into finding the right recruits.
We have five principals that we look for with our team: honesty, appreciation, positivity, family, and accountability. Everything comes back to those five principals. If our guys can live by those five principals day in and day out, we are confident they will do well in the classroom and on the courts, and we will keep building as a team.
Leave a Comment
More College Coverage
28-Jan-2015
Oklahoma State Women down Georgia Tech 4-3 in ITA Kickoff
Oklahoma State Coach Chris Young usually counts on his No. 19 ranked Cowgirls when it comes to the doubles point. But after dropping the point against the host and No. 18 Georgia Tech at the ITA Kickoff Weekend in Atlanta, he had to challenge his players. His team responded - coming back to defeat the Yellow Jackets 4-3 with the deciding point coming from a come-from-behind victory at No. 6 singles.
27-Jan-2015
Columbia Upsets Notre Dame, 4-2, in ITA Kickoff Weekend
The University of Notre Dame men's tennis team knew they would face stiff competition as they prepared to host the ITA Kickoff Weekend; what they couldn't have foreseen was a come-from behind upset victory by another top-16 team. Sunday afternoon, in a match that lasted almost four full hours, the Irish were toppled by Columbia, 4-2, who advanced to the ITA Indoor Championships in February with the win.
15-Jan-2015
Q&A with Ed Silver of Penn
Edward Silver was a standout junior tennis player and student when he enrolled at the University of Pennsylvania for the 2002-03 season. Silver was known for his work ethic and perserverance as a member of the Penn squad. Harry Cicma of NBC Sports recently got the chance to talk with Silver about topics around college tennis.
About Harry Cicma
When it comes to college tennis, Harry Cicma is your man. Cicma covers tennis and other athletic stories for
NBC Sports
, writing articles and producing video segments.
He is co-founder and host of World Tennis a weekly tennis show on NESN, and host of of Tennis Live Radio's College Corner.
Cicma competed as a junior in USTA/New England and went on to play college tennis at Rutgers University. As a professional, Cicma competed at the ATP Newport tournament and the San Jose Siebel Open. He reached a career-high #75 in the ATP doubles team rankings and #1262 in the ATP Entry System.
In media, Cicma has run the gamut. He has worked for NBC, CBS, ABC, ESPN, FOX Sports Net, the Tennis Channel, and World Team Tennis. Cicma has announced NCAA sports as well as the US Open Tennis Championships on both TV and radio.