College Feature
Conversation with UNLV's Owen Hambrook
by
Harry Cicma
, 11 March 2014
Follow Harry on
Twitter
UNLV's Owen Hambrook is now in his eleventh season as head coach of the Runnin' Rebels men's tennis program.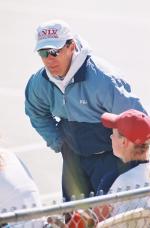 Hambrook, who led the program to its first-ever Mountain West championship, took the 2012-13 squad to a 17-7 overall record and a final ranking of No. 62. NBC's
Harry Cicma
caught up with Hambrook to talk tennis, Las Vegas, and recruiting.
Questions and Answers
Harry Cicma (HC): Coach, you have a great year coming up with the Runnin' Rebels, what are you most excited about, and what do you love the most about College Tennis?
Owen Hambrook (OH): We have a lot to be excited about, with an exciting new team this year - with four new guys coming in - so things are looking good.
I just love the fact that guys can go to college as student athletes and pursue a degree while at the same time working on their game. With the coaching and the extra help they get in the weight room and with fitness, they have the chance to turn professional if that is something they want to try. It might work out for them, but if not, they still leave with a great college degree.
HC: Las Vegas is a great city for tennis. Andre Agassi became a champion from here, and Sam Querrey also trains in the city. There's even a new World TennisTennis team - with the NEON coming to Vegas. What do you like about tennis here?
OH: Las Vegas is such an international city, so when you tell recruits about the city, they all know where it is. It also has a great location near Southern California, so that helps out with the recruiting. Teams always want to come out here and play us as well, so it's really a win-win situation for us and for UNLV Tennis.
HC: What does UNLV offer to top recruits looking to come here?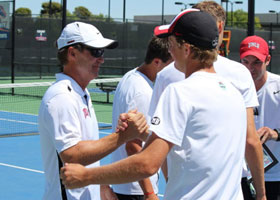 OH:
UNLV is an excellent school. We have one of the best hotel management programs in the world, and our business program is very strong. More than 50% of the people who graduate choose to stay in Las Vegas. With the economy coming back, it's just a great place to live and go to school.
HC: The Mountain West Conference is very competitive. What are your thoughts on the upcoming competition?
OH: Boise State is strong, and there are a lot of other good teams like San Diego State and New Mexico. All the teams are tough. It's definitely a challenge in each match, and quite a few teams have a shot at taking the conference title.
HC: What are you looking for when you recruit kids to come to UNLV?
We need to make sure they will do well academically, so we evaluate them academically first. We then look at the tennis. We also place a huge emphasis on the character of the person, how the team likes him, and how he interacts with the coaches and and the administration. There is a lot that goes into finding the right recruits.
We have five principals that we look for with our team: honesty, appreciation, positivity, family, and accountability. Everything comes back to those five principals. If our guys can live by those five principals day in and day out, we are confident they will do well in the classroom and on the courts, and we will keep building as a team.
About ASICS
College Content at TennisRecruiting.net is sponosored by ASICS and the ASICS BZ 100.
The All-New ASICS BZ100 Racquet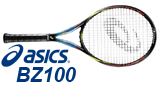 The ASICS BZ 100 is designed to meet the needs of players who desire controllable power. The patent pending bending zone optimizes the flex of the racquet to achieve the ideal level of controlled power for groundstrokes. Increased velocity on serve is derived from the bending zone configuration, which allows the racquet to move through the air with less friction.
Connect with ASICS on Facebook, Twitter, YouTube, and Pintrest - or on their website.
Leave a Comment
More College Coverage
17-Jun-2015
Talking with ITA Rookie of the Year Noah Rubin
Wake Forest freshman Noah Rubin was determined to experience college tennis, even after capturing the Wimbledon boys title and 18s National title in Kalamazoo prior to starting classes last fall. After a stellar season that saw him named ITA Rookie of the Year, Rubin has announced that he will be leaving Wake to focus on a professional career. Colette Lewis got the chance to talk with Rubin at the NCAA Tournament and then again briefly after his announcement.
10-Jun-2015
An Interview with ITA Rookie of the Year Brooke Austin
Freshmen, even those who are ranked No. 1 in their senior year by the Tennis Recruiting Network, often need a semester to adjust to life in a top Division I program. Not the University of Florida's Brooke Austin. Proving a quick study, the 19-year-old Indianapolis resident excelled throughout her freshman year, ending it as the Intercollegiate Tennis Association's Rookie of the Year.
28-May-2015
Ryan Shane and Jamie Loeb Claim NCAA Singles Titles
A tournament plagued by rain ended with a tornado warning and two ACC champions: North Carolina's Jamie Loeb and Virginia's Ryan Shane. In championship matches started outdoors Monday at the Hurd Tennis Center on the Baylor University campus and completed indoors, Loeb defeated Carol Zhao of Stanford 6-2, 4-6, 6-1, while Shane downed Noah Rubin of Wake Forest 3-6, 7-6(4), 6-1.
About Harry Cicma
When it comes to college tennis, Harry Cicma is your man. Cicma covers tennis and other athletic stories for
NBC Sports
, writing articles and producing video segments.
He is co-founder and host of World Tennis a weekly tennis show on NESN, and host of of Tennis Live Radio's College Corner.
Cicma competed as a junior in USTA/New England and went on to play college tennis at Rutgers University. As a professional, Cicma competed at the ATP Newport tournament and the San Jose Siebel Open. He reached a career-high #75 in the ATP doubles team rankings and #1262 in the ATP Entry System.
In media, Cicma has run the gamut. He has worked for NBC, CBS, ABC, ESPN, FOX Sports Net, the Tennis Channel, and World Team Tennis. Cicma has announced NCAA sports as well as the US Open Tennis Championships on both TV and radio.