College Feature
Conversation with UNLV's Owen Hambrook
by
Harry Cicma
, 11 March 2014
Follow Harry on
Twitter
UNLV's Owen Hambrook is now in his eleventh season as head coach of the Runnin' Rebels men's tennis program.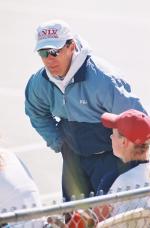 Hambrook, who led the program to its first-ever Mountain West championship, took the 2012-13 squad to a 17-7 overall record and a final ranking of No. 62. NBC's
Harry Cicma
caught up with Hambrook to talk tennis, Las Vegas, and recruiting.
Questions and Answers
Harry Cicma (HC): Coach, you have a great year coming up with the Runnin' Rebels, what are you most excited about, and what do you love the most about College Tennis?
Owen Hambrook (OH): We have a lot to be excited about, with an exciting new team this year - with four new guys coming in - so things are looking good.
I just love the fact that guys can go to college as student athletes and pursue a degree while at the same time working on their game. With the coaching and the extra help they get in the weight room and with fitness, they have the chance to turn professional if that is something they want to try. It might work out for them, but if not, they still leave with a great college degree.
HC: Las Vegas is a great city for tennis. Andre Agassi became a champion from here, and Sam Querrey also trains in the city. There's even a new World TennisTennis team - with the NEON coming to Vegas. What do you like about tennis here?
OH: Las Vegas is such an international city, so when you tell recruits about the city, they all know where it is. It also has a great location near Southern California, so that helps out with the recruiting. Teams always want to come out here and play us as well, so it's really a win-win situation for us and for UNLV Tennis.
HC: What does UNLV offer to top recruits looking to come here?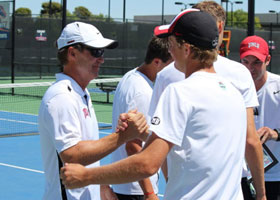 OH:
UNLV is an excellent school. We have one of the best hotel management programs in the world, and our business program is very strong. More than 50% of the people who graduate choose to stay in Las Vegas. With the economy coming back, it's just a great place to live and go to school.
HC: The Mountain West Conference is very competitive. What are your thoughts on the upcoming competition?
OH: Boise State is strong, and there are a lot of other good teams like San Diego State and New Mexico. All the teams are tough. It's definitely a challenge in each match, and quite a few teams have a shot at taking the conference title.
HC: What are you looking for when you recruit kids to come to UNLV?
We need to make sure they will do well academically, so we evaluate them academically first. We then look at the tennis. We also place a huge emphasis on the character of the person, how the team likes him, and how he interacts with the coaches and and the administration. There is a lot that goes into finding the right recruits.
We have five principals that we look for with our team: honesty, appreciation, positivity, family, and accountability. Everything comes back to those five principals. If our guys can live by those five principals day in and day out, we are confident they will do well in the classroom and on the courts, and we will keep building as a team.
About ASICS
College Content at TennisRecruiting.net is sponosored by ASICS and the ASICS BZ 100.
The All-New ASICS BZ100 Racquet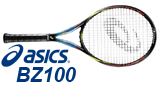 The ASICS BZ 100 is designed to meet the needs of players who desire controllable power. The patent pending bending zone optimizes the flex of the racquet to achieve the ideal level of controlled power for groundstrokes. Increased velocity on serve is derived from the bending zone configuration, which allows the racquet to move through the air with less friction.
Connect with ASICS on Facebook, Twitter, YouTube, and Pintrest - or on their website.
Leave a Comment
More College Coverage
28-Apr-2015
Reviewing the UAA, and Previewing the NESCAC and SCIAC
Yesterday, our team at Division3Tennis.com brought you a series of in-depth previews for the upcoming women's conference tournaments, and it is our pleasure to bring you the men's conference previews and recaps today. We have a few conferences to cover, so I won't waste any time on this introduction and get to the meat of this article!
27-Apr-2015
SCIAC/NESCAC Women's Preview and UAA Recap
This is D3NorthEastWomen's, and I'm more than excited to do a joint article with D3WestWomen's for a preview of the SCIAC and NESCAC Conference Championships, a recap of the UAA Conference Championships, as well as a bonus section of a couple of other conference championships.
5-Mar-2015
Trinity, Hopkins Take Titles
It's been a whirlwind the past two weeks with both the Men's and Women's Indoor Nationals being completed in the Midwest. This article will go through some details regarding the tournament, but I do think this was the best Men's Indoors to date, and the Women's Indoors provided some amazing matches as well. Without further ado, let's get into the details behind both awesome weekends just in case you missed them!
About Harry Cicma
When it comes to college tennis, Harry Cicma is your man. Cicma covers tennis and other athletic stories for
NBC Sports
, writing articles and producing video segments.
He is co-founder and host of World Tennis a weekly tennis show on NESN, and host of of Tennis Live Radio's College Corner.
Cicma competed as a junior in USTA/New England and went on to play college tennis at Rutgers University. As a professional, Cicma competed at the ATP Newport tournament and the San Jose Siebel Open. He reached a career-high #75 in the ATP doubles team rankings and #1262 in the ATP Entry System.
In media, Cicma has run the gamut. He has worked for NBC, CBS, ABC, ESPN, FOX Sports Net, the Tennis Channel, and World Team Tennis. Cicma has announced NCAA sports as well as the US Open Tennis Championships on both TV and radio.