College Feature
Match Tiebreaker for Third Set Not Popular with Top Division I Coaches in Charlottesville
by
Colette Lewis
, 19 February 2014
The experimental phase for ITA Division I formats is over, concluding with the men's and women's ITA Team Indoor Championships.* The men's experimental format, which employed no-ad, and the women's experimental format, which used a match tiebreaker in lieu of a third set, will now be evaluated for their effectiveness in providing an improved fan experience and shortening match times.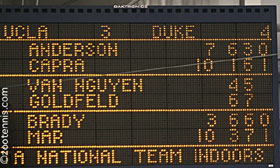 An odd-looking scoreboard at the end of the Indoor final
©
ZooTennis
At the
Women's Team Indoor
earlier this month in Charlottesville, Virginia, I spoke to 13 of the 16 head coaches there, as well as
Dustin Taylor
, the USTA's National Coach for Collegiate Tennis, and Mitchell Frank, the
University of Virginia
's No. 1 player, who is leading the student-athlete opposition to any change of format. In part one of this two-part series, eight top Division I women's coaches give their thoughts on the experiment.
* The USTA College Match Day format, with doubles last and only played if the score is 3-3, will continue, with 20 matches scheduled in the next two months.
Mark Guilbeau, head coach, Virginia
It was something we had to do. I think all of the players handled it really well. It's very hectic, and I give the kids all the credit in the world, but I think it takes away a little bit of the fun. They need to focus in there, enjoy what they're doing instead of rushing through it.
Personally, I prefer the other format. I think we had made some great changes about ten years ago (the women changed to the men's format, with three 8-game pro set doubles matches followed by six best of three singles matches, in 2000), that the people that have been in it long enough can understand. At that time, it seemed like a massive change to go to the eight-game pro set for dubs, play the doubles first, all the things we've transitioned to. I thought the format, which we'll play the rest of the year, our current format from last year, is absolutely the best way to go.
I certainly respect all of the decisions that are made, what the ITA's trying to do with the big picture, TV and whatnot, but I think tennis is a pretty pure sport, and I'd like to make sure we keep it that way from a scoring standpoint.
Geoff Macdonald, head coach, Vanderbilt
The 10-point breaker is, in a way, an equalizer. It's almost like a four-point shot in basketball - you're down a little bit, you make a couple of those, and all of a sudden it gets very interesting. I know we need to condense it somewhat, but this is a little extreme. I'm not a fan of it. I would really like to see a third set, just for the conditioning and what players need to do mentally. Long haul, I think it's just more true to the game of tennis. I thought no-ad doubles worked really well, and I don't think we need 10 minutes between doubles and singles, five minutes is fine, and you hold the fans, and that seems better.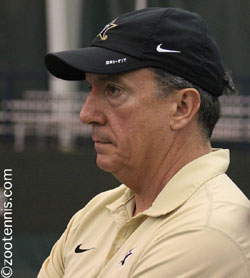 The no-warmup, I worry about. It's fine indoors, but when you get outside and it's cold, I worry about shoulders, elbows and wrists - you get hurt more when it's cold and you're hitting balls. A really punctual well-run three-minute warmup is fine.
When I was in college we played no-ad, and I liked it. It's preferable to this. I know we have to experiment, and I think it's neat to do it during the indoor season, but it's not something where I'm going to say, wow, this is great. I like innovation, but the nature of tennis is that it's a longer game.
I know that some of this is driven by TV. We had ESPN coming into Southeastern conference coaches' meetings and they said this is a really hard sport to film. Because of the format and six courts, it's really, really difficult. So I would like to see them go back to what we had with the eight-game pro set in doubles, and look at no-ad as a way to speed it [doubles] up.
Ronnie Bernstein, head coach, Michigan
I'm a thumbs-down. It definitely makes it more exciting, it's quicker, but the players are used to playing a different sort of match, where if you win a second set, you get into a third and sort of grind it out. Now, you need to win one set, and if you can win ten points you can win the match. I think the kids can get used to it, but I want to play like we used to play. It takes the mental grind out of it now, I think. You've got to play a few good points, win a set; it's a different sort of game.
If we could get a smaller amount of teams at the final (NCAA) site, I think that controls the problem, rather than change the scoring format.
I played no-ad when I was in college, and if I had to choose, I'd rather play that way - doubles to eight and three sets in singles. Even though it's no-ad, you're playing a whole third set, and you can kind of figure it out. This is just so quick, it's a crapshoot.
Amanda Augustus, head coach, Cal
I'm not a fan. I think the doubles is too short. I'm a big proponent of doubles. When I played, I played the two-out-of-three in doubles and then the pro set doubles. I understand the need in a team match for a pro set, but I just think a set's too short. It's something the fans like to come see, at our matches for sure. They love the doubles.
The biggest thing I don't like is no warmup with the opponent. I'm worried about student-athlete welfare, with them getting hurt. We're indoors, it's okay, but going into a match cold and serving, it's three minutes. I think that's the first thing we really need to take off the table.
We tried it, and we all tried to be open and give it a try, but I wouldn't vote for it, no.
Jamie Ashworth, head coach, Duke
In singles, if you can find a way to scrap out a set, anything can happen in a breaker, so I definitely think it favors the underdog a little bit. The more time you have on the court, the better chance the better player is going to win.
I think the doubles (both men and women played just one set, to six games) is too quick. You can eliminate a server if you win the toss. I don't know that we really thought that out as much as we could have. For example, playing a Michigan, you can take someone like (Emina) Bektas, who has a great serve, and have her serve less games, just based on a coin toss. So I think that just needs to be a little more thought out.
The speed of the matches is just too quick. I'm more of a traditionalist. These kids grew up playing, and I'd rather play, and let the best player win.
It definitely teaches you to get off to quick starts, so from that aspect it may help. Long-term effects, I don't know.
We have a College Match Day coming up, and I don't want to see the elimination of doubles. Although they all think they're going to be great singles players, when you look at the success of a lot of the college players, they're doing really well in doubles, with a (Megan) Moulton-Levy, or (Raquel) Kops-Jones, those kinds of players developing their skills in college, so I think we'd like to see that continue.
Brian Kalbas, head coach, North Carolina
It's not good. First sets mean nothing, and the momentum of a match can change just like that. I think it takes away from what tennis is supposed to be. It's supposed to be about endurance, mental toughness - not a flip-of-the-coin type of a thing with a match tiebreaker deciding the third set. It's going to send me into early retirement (if it is adopted).
In doubles, I really think an eight-game pro set, with a tiebreaker at 7-all, is the way to go. We played no-ad in doubles here last year, and I'm not opposed to that at all, but it needs to be eight games.
We asked our fans in the last couple of matches, and they were unanimous that they didn't like it. They came to watch tennis, not the shortened format.
Jenny Mainz, head coach, Alabama
I appreciate that we're trying new things, and we need to be open-minded as coaches. I would agree that our matches are too long, but that's the sport of tennis. To me, it's like going to a baseball game and seeing five innings instead of nine. You compromise the integrity of the sport. That's one side of it.
We play four-hour matches, on average. In the Kickoff Weekend when we played Oklahoma to get here, we played four and a half hours with the experimental format. When we clinched against Oklahoma, which was a very exciting match, after starting with maybe 350 fans, at the end there were maybe a hundred. It's hard for people to give up that much time, so that's the other side of it.
The 10-point tiebreaker seems a little panicky. All it encourages is a player to play one good set, and that in itself compromises the game of tennis. Fitness is such a big part of it. I know a lot of people would say the best players are probably going to win, but I don't know, in this short of a format, that I would agree with that. Again, I'm glad we tried it just to see, and the men are trying no-ad, and seem to really like that. I don't know what the answer is, but I don't think this is the answer.
Jeff Wallace, head coach, Georgia
If I had my way, it's not the one that I'd pick. It's hard to get 16 coaches to agree on anything, but we took a straw vote at the coaches meeting and it was 16-0 that nobody liked this format.
Doubles needs to be an eight-game pro set; one set is just too short and anything can happen in that. I always felt an eight-game pro set was short when we used to play two out of three sets.
Ten-point tiebreakers for the third set is just not enough. I would much rather play the no-ad, play two out of three sets, like the guys. That's a much better format. But if I had my way, we'd just stick to what we've been doing - regular scoring, eight-game pro sets and two out of three sets in singles.
Leave a Comment
More College Coverage
22-Aug-2014
Musings on Proposed ITA/NCAA Division I Format Changes
The ITA recently announced a number of changes to NCAA Division I competition starting this fall. The most notable changes are a move to "no-ad" rather than traditional scoring and shortening doubles from an eight-game pro set to one standard six-game set. These changes have been met with strong feelings on both sides, and there are many coaches and players on both sides of this debate. This article offers our thoughts - in the context of many other articles on the issue.
21-Aug-2014
ITA Announces New Division I Dual Match Format
The ITA will be inaugurating a new, shorter dual meet format for Division I college tennis beginning at the start of the 2014-15 season. Highlighting the format changes are switches to no-ad scoring from regular scoring, one set of doubles rather than an 8-game pro set and no warm-up with opponents.
24-Jun-2014
American Collegiate Invitational to Debut at US Open
When sixteen American collegians take the courts late in the second week of this year's American Collegiate Invitational at the US Open, they will enjoy the same perks and surroundings as professionals Serena Williams and Rafael Nadal. The college players will not share in the millions of dollars of prize money, but they can collect something the pros cannot - a guarantee of entry for the following year.
About Colette Lewis
Colette Lewis
has covered topflight U.S. and international junior events as a freelance journalist for the better part of a decade. Her work has earned her contracts with such organizations as the Tennis Channel, USTA Florida and the Junior Orange Bowl, as well as
TENNIS
,
SMASH
,
USTA
,
Tennis Championships
and
Racquet Sports Industry
magazines. Lewis is active on
Twitter
, and she writes a weekly column right here at TennisRecruiting.net.
Lewis, based out of Kalamazoo, Michigan, has seen every National Championship final played there since 1977, and her work on the tournament's ustaboys.com website led her to establish ZooTennis, where she comments on junior and college tennis daily.