by Benjamin Bucca, Rutgers University Tennis, 6 May 2014
A huge issue for college tennis today is figuring out how to reduce the time it takes to complete a match while at the same time ensuring that doubles continues to be an integral part of a match.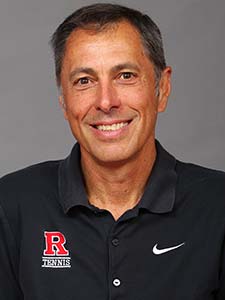 The motivation for change is driven by the fact that college sports today are being broadcast on TV at record levels. Today a person can watch on ESPNU a live broadcast of college bowling, field hockey, softball and lacrosse. College tennis is lagging far behind these sports in TV time. Without in any way disparaging the college sports mentioned above, it is a travesty that ESPNU televises the above sports significantly more than it televises college tennis. None of those sports have the participation levels of tennis and none of those sports have professional TV viewership remotely close to tennis.
We need to get college tennis on TV and at the same time enhance the fan experience.
The main obstacle to accomplishing this is our scoring format. Simply stated our format is outdated.
Presently a college tennis match consists of three doubles matches being played first and then six singles matches being played thereafter. This can be described as playing two individual matches within one team match. The playing of two matches within a single team match was created when there was little or no interest in fan experience and TV/internet viewing. The result is that competitive matches are way too long and fans do not stay for an entire match. Times have changed and we are on the brink of a major breakthrough for fan experience and TV/internet viewing. Matches must be shortened to maximize fan experience and potential TV revenue.
Although originally both the doubles and singles matches were played with a two out of three sets, regular scoring format, in an effort to reduce the time of a match, rule changes were made over the years which altered the two out of three set format. The most significant change was doubles now playing an 8 game pro set. Presently further experimentation is taking place regarding when tiebreakers are to be played, how much time is spent during game breaks, warming up with the opponent, playing a match tiebreaker in lieu of a third set and playing no ad.
The most recent change for women's tennis called for one set to be played for doubles and the third set in singles being a ten point match tie-breaker. The overwhelming response has been that a one set match for doubles is way too short. Also much criticism was provided to playing the third set match tiebreaker in that it arguably made the first set meaningless. In addition, the experimental format did not in a meaningful way reduce the length of a competitive match.
To date the various experimental formats have only focused on altering the 2 out of 3 set, regular scoring format, while maintaining the two individual matches being played within a team match structure. The result has been that competitive matches are still too long. Also, it is obvious that the two matches within a single team match structure will not result in fans staying at a match and will more likely than not never result in any meaningful TV coverage.
We can do better, and we need to do better.
The problem of the length of matches can be easily resolved by having both doubles and singles matches played at the same time, the simultaneous format. This will result in most matches being played within two hours, which is a significant match time reduction from the present format. The simultaneous format will have one completion moment as opposed to the present format that has two completion moments, doubles then singles. Furthermore, all matches will be played using the optimal scoring format, two out of three sets, regular scoring.
There would also be the added benefit of the following:
The format is simple so anyone watching a match will understand immediately the scoring of a college match, which presently is not the case.


Since the matches will be significantly shorter, they will be physically less demanding which will promote better play and reduce risk of injury. Furthermore, this will facilitate scheduling two matches in one day.


The structure will resemble all other televised college sports with one completion moment. This can only result in a huge impact of the viability of TV/internet viewing and even live viewing.


One proposal is to have the simultaneous format consist of 5 singles matches and 1 doubles match with the doubles point worth 2 points. Personal experience with this format is that the players, when they actually play this format, enjoy it very much. With added emphasis on doubles, the team scoring remains in doubt, which adds excitement. The benefits also include:
The doubles point will have a greater impact on a match, resulting in greater emphasis on doubles. Furthermore, the doubles match will be played using the optimal format of two out of three sets, regular scoring.


7 players will be needed to play a match which will increase opportunities to play college tennis.


The outcome of a competitive match will most likely be decided at the very end of the team match. This will only add excitement and provide a meaningful incentive for fans to stay and watch an entire match. This will also facilitate TV/internet coverage and live coverage as well.


This format is very similar to our present scoring format in that if one team wins the doubles point the other team will have to win 4 singles matches to win the team match.
Ultimately the simultaneous format will:
Reduce significantly the time it will take to play a competitive match.


Provide for a scoring format that has been tested over time to best determine who is the better player or doubles team.


Increase the importance of doubles. Provide a more "fan friendly" environment.


Promote better play while reducing the risk of injury.


Allow for greater opportunities for participation in college tennis.


Best promote a format that can be televised or streamed on the internet.
Benjamin Bucca is head coach of women's tennis at Rutgers University in New Jersey.
About K-Swiss
College Content at TennisRecruiting.net is sponosored by K-Swiss.
At K-Swiss we are 100% invested in the sport of Tennis and committed to helping players play their very best and win at every level. From a competitive junior or adult player to the greatest doubles team of all-time, Mike and Bob Bryan. For over 50 years we have been making some of the most innovative, high quality tennis footwear in the game featuring the very best in comfort with a consistent fit.
K-Swiss was founded by two Swiss brothers, entrepreneurs who moved to California to pursue their dream of starting their own footwear company. They created the first all-leather tennis shoe in the industry. This is how the K-Swiss Classic was born, and it remains one of the most influential sneakers of all-time. Today, we continue with unrivaled craftsmanship when we make every shoe which is the key to our success. An example of this is our recent launch of the new men's Knitshot shoe featuring an engineered knit upper construction, innovative midsole and outsole for optimal comfort, support, and durability.
We encourage you to try the K-Swiss shoe that is best for your game.
Connect with K-Swiss on Facebook, Twitter, and YouTube - or on their website.
Leave a Comment
More College Coverage
22-Feb-2017
Virginia Wins ITA National Indoor Team Title
When you think of teams that are really great at playing indoor tennis, the top two that would come to most people's minds are Virginia and Ohio State. Coming into the ITA National Team Indoors, Virginia and Ohio State had made a combined 11 finals appearances over the previous 12 years, so it shouldn't have been a surprise when they stood on opposite sides of the net on Monday morning. In the end, the Cavaliers brought home the hardware.
15-Feb-2017
Florida Women Claim First ITA National Indoors Title Since 1999
For sixteen of the best women's college tennis teams in the country, the ITA National Team Indoor Championship was a chance to make a statement for the rest of the season. For Roland Thornqvist and his No. 1 Florida Gators, a win in New Haven, Connecticut, achieved a new first. Thornqvist won his first-ever NTI championship - and UF won its first title since 1999.
9-Feb-2017
TRN/SLAM·Tennis College Rankings
The USTA Collegiate Division recently announced new weekly polls ranking the Top 25 NCAA Division I Men's and Women's College Teams, and TRN is one of the organizations with a vote. Since we are a ranking company, we decided to use our rating and ranking system on college tennis teams to help us in our voting. Take a look at our independent rankings of college programs at the NCAA D-I, D-II, D-III and NAIA levels ...