Special Feature
The Value of Front Court Skills in College Tennis
by Marc Vartabedian, UCSB Men's Tennis, 27 June 2014
I've had several recruits ask for training suggestions as they make the transition to college. A common theme between the three programs I've been part of the past few years has been the amount of work put into developing doubles skills, especially with freshmen. As tennis moves more and more toward baseline oriented play, recruiting players who can make immediate contributions to the doubles lineup has become harder to do. My suggestion to young players in general is to develop the ability to play the net early on and, as you transition to college tennis, you'll be better equipped in learning to play college level doubles.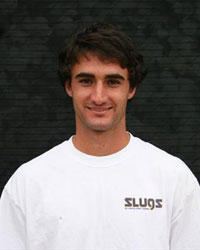 UCSB
Coach Marc Vartabedian talks about net play in college tennis
courtesy,
UCSB Athletics
First off, juniors should be aware of the importance of doubles to college tennis. The doubles portion of a dual match is one of the greatest displays of teamwork in our sport, requiring teams to mix and match their players to put forth their three best combinations. In addition to the teamwork involved, the lively spirit of college matches is established early in doubles where rowdy crowds concentrate around 3 courts.
For recruiting purposes, a player with doubles skills has an added attractiveness. For scholarship hopefuls, it's more inviting to give money to a player who can impact both the singles and doubles lineup.
Coaches love to have a skilled net player at their disposal for singles; since today's juniors play so heavily from the baseline, a player who is capable of changing strategy to rush the net can cause nightmare matchups for other teams. Coaches will point out the difficulty in defending against such strategy in singles because it's so rarely seen.
Here is advice for getting a head start in doubles before getting to college:
Think about the attention to detail juniors give their groundstroke game, they pour over every nuance of swing technique and footwork. Do the same for the volley. The proper footwork for the volley is so often overlooked.


COMPETE in doubles. I've seen too many juniors play half a pro-set during the final 20 minutes of a training session without a real sense of urgency. Play with the same emotion as you would in singles.


Play lots of tournament doubles. If your best friend can't play with you, ask around and partner with whoever you can find- you'll be glad you did when you step up to the line your freshman year to serve out the doubles point against your rival school.


Spend time at net. Skilled net players have great court sense coming in because they've spent lots of time up there. Think about the ratio of training from the baseline versus time spent training at net- the imbalance for most juniors is huge.
Marc Vartabedian is assistant coach of men's tennis at UC Santa Barbara.
Leave a Comment
More Special Features
26-Nov-2014
Breakdowns Before Breakthroughs
Andre Agassi survived. So did Novak and Serena. And it brought Andy Murray to tears on center court at Wimbledon It is considered one of tennis' greatest challenges. The phenomenon called breakdowns before breakthroughs.
8-Oct-2014
Interview with USTA National Collegiate Coach Stephen Amritraj
Stephen Amritraj joined the USTA as a National Coach in January of this year and was recently named its National Collegiate coach. Amritraj played at Duke from 2002-2006, and after a brief stint on the tour, began coaching ATP professionals in Southern California, where he grew up. Colette Lewis of ZooTennis.com talked with Amritraj about the USTA Collegiate Team program which assists American college players as they transition to professional careers.
23-Aug-2014
Premiere of Inside College Tennis with Tony Minnis at Wichita State
The Bill Rodman Production Shoppe has completed production of the 4th episode of Inside College Tennis and premieres on Tennis Channel featuring Wichita State University. The show premieres tonight, Saturday, August 23rd at 10pm ET, on The Tennis Channel. Meet Colin Foster, Head Women's Coach and Brad Louderback, Head Men's Coach is this episode and come to understand why each coach says: "Our team is a like family."