Where Are They Now?
Conversation with UConn's Sam Sutherland
by
Harry Cicma
, 29 June 2014
Follow Harry on
Twitter
Stability has been a watchword of UConn tennis. Glenn Marshall, who now serves as Director of Tennis, has overseen the tennis programs for 21 years. Michael Louis '04 took over as head coach of the men's tennis program prior to the 2013-14 season.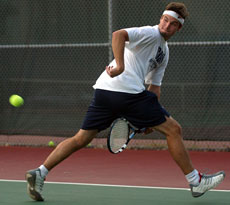 UConn
Standout Sam Sutherland
One of Louis' teammates as a player at UConn was Sam Sutherland '05, who a standout from Tampa, Florida, who served as team captain his senior season. Sutherland trained at Saddlebrook Tennis Academy before moving on to the college ranks, and he was a regular player in the Husky lineup during his college career.
Harry Cicma of NBC Sports, who served as the commentator for the live webcast of the 2014 NCAA Tournament, recently got the chance to talk with Sutherland.
Questions and Answers
Harry Cicma (HC): What did you enjoy the most about playing D-I Tennis at UConn?
Sam Sutherland (SS): It was a true honor to be recruited by and play Division I tennis at UConn. As a fellow member of the Big East at Rutgers, you understand the commitment it takes to balance playing high level D-I tennis and juggling school work. I was very fortunate to have a great supporting cast of teammates and a head coach in Glenn Marshall that fought for his players.
My experiences at UConn gave me a great foundation to help me as a business professional in New York City, and I wouldn't trade it for the world. Go Huskies!!
HC: You spent most of your high school years training and living away from home at Saddlebrook Resort in Wesley Chapel Florida, with some of the world's best ATP pros, how was that experience?
SS: Saddlebrook was another once-in-a-lifetime experience and I can't thank my parents enough for investing in my future. Not many young tennis prospects get that opportunity, and I feel extremely fortunate. Aside from the great tennis, I met a lot of life-long friends that I still talk to on a regular basis. My junior and senior seasons our team made it to the Florida State Finals.
HC: You competed in USTA New England and Florida juniors. What are your best memories from junior tennis in both sections?
SS: My best memories are of traveling to all the tournaments with my mom, Caroline. She was always my rock, and I can't believe I didn't give her a heart attack with some of my matches... and antics. I also met a lot of great lifelong friends - like you Harry - and our fellow Florida Gator brother Ryan Sherry.
When In New England making the doubles finals of the boys 16's New England Open was cool. My partner and I had match point, and it still hurts, but that was a great run. Winning several matches at the Florida Open and being a Top-30 ranked player in the state was great in that section.
HC: UConn's basketball tradition is second to none. How did that inspire you as a tennis player?
SS: There is a certain toughness about Jim Calhoun and now Kevin Ollie, and they instill that toughness in their players. I can honestly say UConn basketball is my favorite sport, and they inspire me to this day. I'm actually probably a little too obsessed with it.
As a tennis player I would just think about how much preparation and dedication guys like Ray Allen put into it. I mean the guy does his warmups six hours before tip-off. Nobody else does that. There is something so pure about the way they compete as student-athletes - just for the love of the game and the University - not for money. On the other hand, UConn does have a long history of producing millionaires in the NBA. (Laughs)
HC: What advice would you give a junior tennis player looking to play college tennis?
SS: Stick with it, set goals, and - most importantly - have fun. Tennis is the most mentally challenging of all sports, and it's so easy to get discouraged. Very few matches go exactly as planned, and you need to make adjustments. If you have a bad point, put it out of your mind and focus on the task ahead. As long as you compete your absolute hardest, win or lose you have reason to be proud.
Leave a Comment
More "Where Are They Now?" Features
26-Sep-2014
NCAA Champion Nicole Gibbs Moves Up
Nicole Gibbs won her first ITF Women's Circuit title at the age of 14, finished high school a year early and joined the Stanford Cardinal in the fall of 2010. After an illustrious career at Stanford where she won the NCAA team, singles, and doubles titles, Gibbs elected to forego her senior year and begin her professional career. Fresh off two main-draw wins at the US Open, Gibbs is now ranked in the Top 100. Colette Lewis of ZooTennis chatted with Gibbs at the Open.
18-Jul-2014
Conversation with Former D-III Champion William Boe-Wiegaard
Former Bates standout William Boe-Wiegaard had one of the more amazing runs in NCAA Division III tennis. He is the only Bobcat ever to be an All-American all four years in college, and he capped things off with an amazing run to the NCAA singles title his senior year as an unseeded player. Since graduating, Boe-Wiegaard has been involved with tennis as an instructor, and he has been competing professionally since 2011. Harry Cicma of NBC Sports caught up with Boe-Wiegaard.
22-Jun-2014
SFA Interviews Danielle Lao
Jake Hartman of SFA sat down with Danielle Lao a former USC women's tennis player. Danielle is currently on the professional tennis tour, and she recently wrote a book about her college tennis experience titled The Invaluable Experience. She was interviewed about her recruiting process, how she chose USC, and how her time there has benefited her today.
About Harry Cicma
When it comes to college tennis, Harry Cicma is your man. Cicma covers tennis and other athletic stories for
NBC Sports
, writing articles and producing video segments.
He is co-founder and host of World Tennis a weekly tennis show on NESN, and host of of Tennis Live Radio's College Corner.
Cicma competed as a junior in USTA/New England and went on to play college tennis at Rutgers University. As a professional, Cicma competed at the ATP Newport tournament and the San Jose Siebel Open. He reached a career-high #75 in the ATP doubles team rankings and #1262 in the ATP Entry System.
In media, Cicma has run the gamut. He has worked for NBC, CBS, ABC, ESPN, FOX Sports Net, the Tennis Channel, and World Team Tennis. Cicma has announced NCAA sports as well as the US Open Tennis Championships on both TV and radio.