Coverage Announcement
Clay Court Championship Week
by Dallas Oliver, 21 July 2014
Late July is the heart of the American junior tennis calendar, with championships abounding at the district, section, and national levels. At the highest level, gold balls are available in both July and August. The first of these tournaments are the clay court nationals.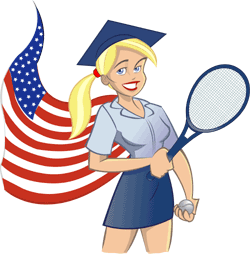 Last week, top American juniors headed south to Florida, Tennessee, North Carolina, and Virginia for the USTA National Clay Court Championships. National titles were awarded for both boys and girls in all four age divisions.
The Tennis Recruiting Network is back with another edition of Clay Court Championship Week - with wrapups of all eight tournaments. From the boys to the girls - from the 12s to the 18s - all the gold ball winners will be featured on TennisRecruiting.net. We are proud to celebrate the top athletes in American junior tennis.
Here is our planned coverage schedule:
Clay Court Championship Week Series
We hope you enjoy our complete coverage schedule of Clay Court Championship Week. Check in each day for coverage of the top boys and girls from across the country.
Leave a Comment
More Website News
30-Mar-2015
Gamma Partners with Tennis Recruiting Network on Countdown to Signing Day
GAMMA Sports (GAMMA) is continuing its sponsorship of Tennis Recruiting Network by becoming the title sponsor of "Countdown to Signing Day" and "Signing Week" featured content areas.
13-Mar-2015
Countdown to Signing Day
It's that time of year... Signing Day is approaching. April 15 is the first day of the Spring Signing Period - when seniors from around the nation can sign on to play college tennis at Division I or Division II schools. And once again, The Tennis Recruiting Network and GAMMA are ready with the Countdown to Signing Day.
2-Mar-2015
Top Prospects '14-'15 - Spring Edition
Three Star Recruit? Or Four Star? You can find out right now, as The Tennis Recruiting Network proudly presents the Top Prospects for Spring 2015.