Website News
Best Wishes, Class of 2014
by Dallas Oliver, 28 August 2014
The High School Class of 2014 had their ceremonies back in June - and many of those young men and women are now heading off to college. Today is the day that the Tennis Recruiting Network bids them farewell. This week's rankings are our final edition for the 2013-14 year - and the final rankings for the outgoing Class of 2014.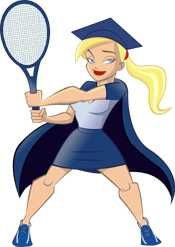 Boys' Class of 2014
Girls' Class of 2014
The Class of 2014 sends talented players off to compete at the college and professional level. Tennis Recruiting has enjoyed covering your progress through the junior ranks, and we wish you the best of luck in your future endeavors!
Come by the website next week - as the Tennis Recruiting Network welcomes the Class of 2021!
Leave a Comment
More Website News
21-Jun-2015
IMG Academy Foundation Taking Applications for New Nick Bollettieri Scholarship
Nearly four decades ago, legendary tennis coach Nick Bollettieri created a unique training environment for aspiring athletes to develop into leaders on and off the court. This year, through the IMG Academy Foundation, aspiring tennis student-athletes will have the opportunity to apply for the Nick Bollettieri Scholarship, created in honor of his legacy of providing development opportunities for young student-athletes.
28-Apr-2015
Now Open... May Madness Bracket Challenge
Nothing beats the excitement of the NCAA tournament! For college tennis fans, May is the time for Madness, and this is your chance to demonstrate knowledge of the game. With the right combination of skill and luck, you can earn bragging rights - and great prizes - by making your picks for the Big Dance!
25-Apr-2015
Coming Soon... May Madness Bracket Challenge
March is so passe. In the world of college tennis, it's all about May - and May Madness. This coming Tuesday evening, the NCAA will announce the teams participating in the NCAA Division I Men's and Women's Tennis Championships. Later that night, you can submit your picks in our fourth annual May Madness Bracket Challenge.