News & Features
Website News
Best Wishes, Class of 2014
by Dallas Oliver, 28 August 2014
The High School Class of 2014 had their ceremonies back in June - and many of those young men and women are now heading off to college. Today is the day that the Tennis Recruiting Network bids them farewell. This week's rankings are our final edition for the 2013-14 year - and the final rankings for the outgoing Class of 2014.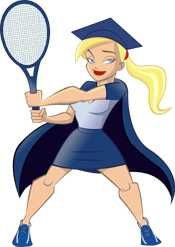 Boys' Class of 2014
Girls' Class of 2014
The Class of 2014 sends talented players off to compete at the college and professional level. Tennis Recruiting has enjoyed covering your progress through the junior ranks, and we wish you the best of luck in your future endeavors!
Come by the website next week - as the Tennis Recruiting Network welcomes the Class of 2021!
Leave a Comment
More Website News
13-Mar-2015
Countdown to Signing Day
It's that time of year... Signing Day is approaching. April 15 is the first day of the Spring Signing Period - when seniors from around the nation can sign on to play college tennis at Division I or Division II schools. And once again, The Tennis Recruiting Network and GAMMA are ready with the Countdown to Signing Day.
2-Mar-2015
Top Prospects '14-'15 - Spring Edition
Three Star Recruit? Or Four Star? You can find out right now, as The Tennis Recruiting Network proudly presents the Top Prospects for Spring 2015.
13-Feb-2015
PlaySight to Live Stream the ITA Division I National Men's Team Indoor Championship
With a long history dating back to 1973, the National Team Indoor Championship hosts the top 16 teams in the country, all of whom qualified for the event by beating other top ranked teams in two qualifying rounds. PlaySight will be live streaming the event from February 13 - 16. Find out more here...