News & Features
Website News
Best Wishes, Class of 2014
by Dallas Oliver, 28 August 2014
The High School Class of 2014 had their ceremonies back in June - and many of those young men and women are now heading off to college. Today is the day that the Tennis Recruiting Network bids them farewell. This week's rankings are our final edition for the 2013-14 year - and the final rankings for the outgoing Class of 2014.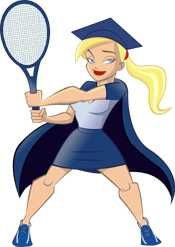 Boys' Class of 2014
Girls' Class of 2014
The Class of 2014 sends talented players off to compete at the college and professional level. Tennis Recruiting has enjoyed covering your progress through the junior ranks, and we wish you the best of luck in your future endeavors!
Come by the website next week - as the Tennis Recruiting Network welcomes the Class of 2021!
Leave a Comment
More Website News
15-Sep-2014
Top Prospects '14-'15 - Fall Edition
After months of waiting, here they are... the Top Prospects. Find out right now how many stars you have - as The Tennis Recruiting Network proudly presents the Fall Top Prospects for 2014-15.
11-Aug-2014
Hard Court Championship Week
Last week, the best American juniors were competing for gold balls at the USTA National Championships all across the country. National titles were awarded for both boys and girls in all four age divisions. TennisRecruiting.net announces its Championship Week coverage - with photo galleries and articles that celebrate the best of the best in junior tennis.
21-Jul-2014
Clay Court Championship Week
The USTA Clay Court Championships have concluded around the country. This week, TennisRecruiting.net has roundups of all the action from the Boys' 12s to the Girls' 18s - from Virginia Beach to Fort Lauderdale. Check out coverage of all the tournaments - and meet the latest gold ball winners of all ages. Get ready... for Clay Court Championship Week.