News & Features
Website News
Best Wishes, Class of 2014
by Dallas Oliver, 28 August 2014
The High School Class of 2014 had their ceremonies back in June - and many of those young men and women are now heading off to college. Today is the day that the Tennis Recruiting Network bids them farewell. This week's rankings are our final edition for the 2013-14 year - and the final rankings for the outgoing Class of 2014.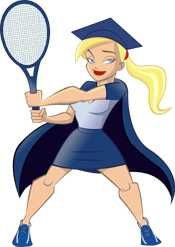 Boys' Class of 2014
Girls' Class of 2014
The Class of 2014 sends talented players off to compete at the college and professional level. Tennis Recruiting has enjoyed covering your progress through the junior ranks, and we wish you the best of luck in your future endeavors!
Come by the website next week - as the Tennis Recruiting Network welcomes the Class of 2021!
Leave a Comment
More Website News
1-Dec-2014
College Recruiting List Ranking Algorithm Changes
Fifty-two weeks a year, Tennis Recruiting publishes College Recruiting List rankings on Tuesdays and Wednesdays. Over the coming months, we are making some modifications to our ranking algorithm that should make our lists better. Take a look at the changes that start getting phased in this week.
10-Oct-2014
Countdown to Signing Day
In the world of junior tennis, Fall means Signing Day. November 12th is is the first day of the one-week fall signing period - the only opportunity this calendar year for seniors to sign a National Letter of Intent with a Division I or Division II school. As always, The Tennis Recruiting Network is here to keep you up to date on all the happenings.
15-Sep-2014
Top Prospects '14-'15 - Fall Edition
After months of waiting, here they are... the Top Prospects. Find out right now how many stars you have - as The Tennis Recruiting Network proudly presents the Fall Top Prospects for 2014-15.