Recruiting Feature
2016 Top Mid-Major Women's Classes
by TennisRecruiting.net, 10 June 2016
On Monday, the Tennis Recruiting Network and YTEX Strings published their list of the top men's mid-major recruiting classes. Today, we take a look at the women.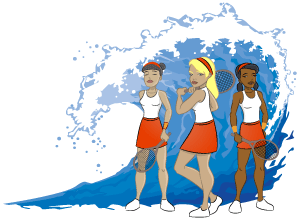 Almost 900 senior girls have reported their commitments at TennisRecruiting.net, and the bulk of these commitments have been to schools outside the so-called "power" conferences that get automatic bids to the College Football Playoff. In tennis, we consider the power conferences to be the ACC, Big 10, Big 12, Pac-12, and SEC - as well as the Ivy League.
The rankings in this article include all teams outside of those conferences.
Top 25 Mid-Major Women's Recruiting Classes (through May 23)
The Tennis Recruiting Network and YTEX are excited to present the Top 25 Mid-Major Women's Recruiting Classes for 2016. This list is based on commitments reported on or before May 23, 2016. As is our policy, these rankings do not consider incoming transfer students.
So here they are - the Top 25...
Honorable Mention
Other women's programs that received strong consideration from our experts are (listed alphabetically): Bowling Green, Cal Poly, James Madison, UC Davis, UMass, Williams, and Winthrop.
Surging Waves
Life is always picturesque in Malibu, but things look especially good if you are talkng about the Pepperdine women's tennis program.
Fresh off their fourth straight WCC Tournament Title, the Waves were awarded the No. 8 national seed in the NCAA Championships. After defeating Idaho and in-state rival Southern California on their home courts, Pepperdine knocked out Texas in Tulsa to advance to the Elite Eight for the first time since 1994 - closing out the season with a No. 9 mark in the Oracle/ITA rankings.
The Waves' success continued in the individual NCAA events, where two Pepperdine doubles tandems reached the NCAA doubles round of 16 before freshman standout Luisa Stefani, who was awarded ITA National Rookie of the Year honors, advanced to the semifinals of last week's NCAA singles tournament.
With the 2016 season in the books, Pepperdine has a lot to look forward to in 2017 - with the No. 1 mid-major recruiting class coming to town this Fall.
Only three Blue Chip seniors committed to programs from mid-major conferences, and two of those are heading to Pepperdine. Both Hanna Chang and Ashley Lahey have been ranked in the Top 10 of the senior class, and they will be teammates next year for the Waves. The pair combined for a whopping twelve victories at last year's Hardcourt Nationals in San Diego, and they have 28 collective wins over Blue Chip opponents. Chang recently advanced to the semifinals of the Easter Bowl - defeating several big-time opponents along the way.
2016 marks the second straight year that Head Coach Per Nilsson has brought in the top-ranked recruiting class in our mid-major rankings, and this is the fourth time overall that Pepperdine has been ranked No. 1.
Take Five
At No. 2 in our rankings is Fresno State. The Bulldogs are notable in that 2016 marks their first-ever appearance in our recruiting class rankings that started back in 2006. Three strong international recruits - all with UTRs above 10 - should bolster the Bulldogs lineup in 2017 and beyond.
At No. 3, Head Coach Tyler Thomson has brought in the strongest recruiting class that William & Mary has seen since earning the top-ranked mid-major class back in 2006. New Zealand recruit Rosie Cheng headlines a three-woman class that is complemented by two strong recruits from Pennsylvania.
Rounding out our Top 5 are the USD Torreros and Furman Paladins.
State Breakdowns
The twenty five teams in our rankings represent fifteen different states. Not surprisingly, the state with the most ranked recruiting classes is California. The Golden State has four ranked classes - all in the Top 10 and three of the Top 4.
As we mentioned before, Pepperdine (No. 1), Fresno State (2), and San Diego (4) all have ranked classes, and they are joined by Loyola Marymount who check in at No. 10.
Two other states have three ranked classes: Virginia and Florida. Virginia actually has two classes in our Top 10 - William & Mary - who breaks up the Cali party at No. 3 - and Richmond (No. 9). Old Dominion is just outside the Top 10 at No. 11.
Ranked recruiting classes from Florida include Florida International (No. 12), Florida Atlantic (19), and State College of Florida (22).
Conference Call
These ranked classes hail from twelve different conferences - including ten conferences from NCAA Division I. The two D-I conferences that stand out from the rest are Conference USA and the West Coast Conference.
Conference USA leads all others with a whopping seven ranked classes, albeit none in the Top 10. The Old Dominion Monarchs lead the charge for C-USA at No. 11, and they are joined by conference bretheren Florida International (No. 12), Louisiana Tech (14), Florida Atlantic (19), Rice (23), North Texas (24), and Western Kentucky (25).
The West Coast Conference has four recruiting classes in our rankings with three in the Top 10. The WCC is paced by California schools Pepperdine (No. 1), San Diego (4), and Loyola Marymount (10) - and they are joined by BYU (15).
Outside NCAA Division I
As mentioned above, there are two programs on our list that do not come from NCAA Division I: the Chicago Maroons and SCF Manatees.
The University of Chicago is no stranger to our recruiting class rankings, appearing in our Division III recruiting class rankings every year since 2011. However, this is the first time that head coach Jay Tee has put together a women's recruiting class that made our mid-major list. Three Four-Star recruits -
Marjorie Antohi
,
Estefania Navarro
, and
Alyssa Rudin
are heading to the Windy City from the tennis-rich states of Texas, Florida, and California, respectively, to join a squad that reached the Elite Eight of the NCAA tournament in 2016.
Perhaps more notable is the State College of Florida. Head Coach Clayton Taylor and Assistant Coach Sam Johnson are bringing the first-ever nationally-ranked recruiting class to a junior college. The SCF class consists of international players Jovana Petrovic and Minja Gligic. Petrovic is a national champion from Sweden who has participated in the European Championships and won a mixed doubles title at the Eddie Herr International, while Gligic of Serbia has been ranked No. 1 in her home country and reached the singles final of the Serbian Nation Championship.
On Deck: NCAA Division III Rankings
Recruiting class ranking season continues at Tennis Recruiting. This coming Monday, TennisRecruiting.net and YTEX will release rankings of the Top 25 men's recruiting classes in NCAA Division III. Soon after we will wrap up our spring recruiting class rankings with the top D-III women.
About YTEX Strings
YTEX Strings is proud to sponsor Recruiting Class Rankings at TennisRecruiting.net.
Are you Interested in becoming a YTEX Sponsored Player/Ambassador?
Check out our sponsorship page and apply to see if you're eligible to any of the positions at the YTEX Strings Team sharing some information with us about yourself. Once submitted, our YTEX Strings team staff will review your application and respond within 24-72 hours to the email provided in the form. We appreciate your interest on being a YTEX Strings partner
YTEX Sponsored Player
Ranked Tennis players willing to show their best on the courts having YTEX Strings as their primary weapon can apply to be rewarded with an awesome wholesale prices account so you can get as many strings as you like at an unique price along with additional apparel benefits depending on ranking.
Connect with YTEX on Facebook, Twitter, and Instagram - or on their website.
Leave a Comment
More Recruiting Class Rankings
16-Jun-2017
2017 Top NCAA Division III Women's Classes
The Tennis Recruiting Network wraps up its spring recruiting class rankings with a look at the NCAA Division III women. Today we present our list of the Top 25 NCAA D-III women's recruiting classes for 2017. Flying high at the top of the list? The Emory Eagles.
12-Jun-2017
2017 Top NCAA Division III Men's Classes
The Tennis Recruiting Network presents its recruiting class rankings for NCAA Division III conferences. Today we present our Top 25 D-III men's recruiting classes for 2017. Holding down the No. 1 spot is the Chicago Maroons.
9-Jun-2017
2017 Top Mid-Major Women's Classes
The recruiting class rankings just keep on coming. Today, The Tennis Recruiting Network is proud to present the Top 25 mid-major women's recruiting classes for 2017. Attacking the top of our list is the Central Florida Knights.