Recruiting Update
Countdown: Nze heads to Duke
by Julie Wrege, 30 March 2007
Many of the very top juniors drift away from junior tennis and start playing futures events - to challenge themselves and to earn points on the Sony Ericsson WTA Tour. One of these players is Blue Chip senior Ellah Nze (Delray Beach, FL). With a pro tournament title under her belt and a Top-500 WTA ranking, Nze plans to head to Durham, North Carolina this Fall as a Duke Blue Devil.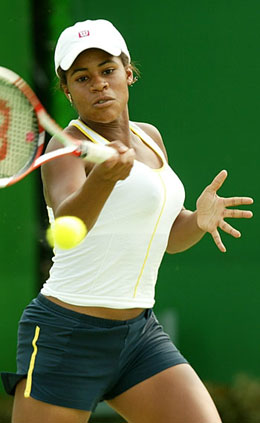 "I am really excited to be heading to Duke. The combination of great athletics and academics is second to none. But the biggest factor for me in my decision was the team. When I first arrived on my visit, the team automatically accepted me and went out of their way to make me feel welcomed. Each team member individually showed me around the campus and answered any questions I had about the school, community and tennis - without the coaches' initiative."
Duke coach Jamie Ashworth is lucky to be adding such an experienced player with a strong work ethic. Nze travelled the world last year and picked up twenty-four singles wins - including three over players in the Top 500. A career highlight was her tournament title at a $10K tournament in Obregon, Mexico, where she ousted three of the top four seeds.
Players at Nze's level are looking for a college program that can help them to the next level. One of the top programs in the country, Duke had several factors in its favor - world-class teammates, alumnae who went on to have professional tournament success, and a couple of connections. These factors make her confident about her decision.
"During my visit, I had the opportunity to speak with [former Duke player and pro] Ansley Cargill, someone I have played and admire. She spent time with me and helped me put all of my concerns in the proper perspective.
"I also know most of the current team members. I have played ITF's around the world with
Liz Plotkin
, and have seen Jessi Robinson and Melissa Mang at junior tournaments. Most importantly, I am really excited that my friend
Reka Zsilinska
will be a freshman with me! We are both interested in the same major and have already talked about living on same floor in the dorms."
Nze and Zsilinska - who both rank among the top ten prospects in the country - form the #2 group in our winter rankings of the top recruiting classes.
Born and raised in Baltimore, Maryland, Nze has spent the past few years as a Florida resident. She is excited about returning to a more seasonal environment.
"I love Durham, and I also love the weather in North Carolina. Since moving to Florida, I have been unable to experience the four seasons. North Carolina is similar to Baltimore without all of the snow. My favorite season is fall, and I especially enjoy seeing the fall foliage."
Countdown to Signing Day Coverage
April arrives this weekend, and with it the arrival of Signing Week. We wrap up our Countdown next week by chatting with Dartmouth commit Curtis Roby. Review all of our Countdown articles with a look at our Countdown Calendar.
Leave a Comment
More Recruiting Profiles
18-Nov-2014
Daniel Gealer Commits to the Bruins
Because of his hard work and results on the court, Danny Gealer has earned the opportunity to play in prestigious events like the Ojai Championships, Junior Davis Cup and Junior Boys Nationals. As Danny Gealer prepares to make the transition from a highly-recruited junior player to college freshman, the Los Angeles resident recently announced he has committed to play college tennis at UCLA starting in the fall of 2015.
15-Nov-2014
Fall Signing Week '14: Presbyterian College Banks on Belsito
Since starting tennis at age twelve, Daniel Belsito has been making up for lost time. He started playing tournaments within a week of first picking up a racquet, and started hitting with coaches a year later. After winning a state championship and making huge strides in his game, Belsito took a visit to Presbyterian College - a small liberal arts school two hours from home. Before long, he realized that joining the Presbyterian Blue Hose "was the obvious choice."
14-Nov-2014
Fall Signing Week '14: Cameron Klinger Signs with Vandy
Cameron Klinger always played tennis because he enjoyed playing tennis. He wasn't playing just for the sake of getting a college scholarship. But as he grew older and showcased his potential, Klinger started to realize the possibility existed. Klinger's vision became a reality when the blue chip recruit recently committed to play at Vanderbilt University in Nashville.