Special Announcement
USTA Announces Campus Showdowns
Press Release - 23 September 2008
The USTA announces the start of Campus Showdowns across the nation.
The USTA is teaming with the ITA to promote Campus Showdowns on college campuses throughout the United States. Over 50 schools have already signed up to host events this fall.
What are Campus Showdowns?
Campus Showdowns are one-day, short-format tournaments open to juniors, college players, professionals, and adults. These tournaments are non-sanctioned, non-ranking events and are considered "Open Events" under NCAA legislation.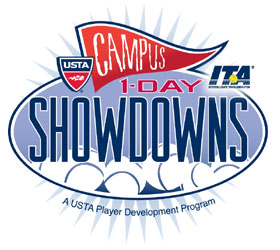 For junior players, it is a chance to compete against high-level collegiate competition on a college campus, which is not only great preparation for an upcoming junior event but also helps in laying a foundation for a future college career. It is the goal of the USTA and the ITA to make Campus Showdowns an integral part of junior and collegiate competition, further strengthening American Tennis.
The tournaments are run on college campuses with the college coach acting as tournament director. Both ITA Membership and USTA Organizational Membership are required to run a Campus Showdown. Entry Fees are kept low to provide access to a full range of players; to ensure this access, the USTA is providing a stipend to the first 100 schools that sign up to host an event. Generally entry fees run $10 for singles, $5 for doubles, and $15 for both.
Events utilize compass draws for both singles and doubles, guaranteeing 3-4 matches for each draw, and ensuring competitive match play throughout. Matches are usually one set with a tiebreaker at 5-5, although format and scoring is at the discretion of the director. Events can be men's, women's, or coed.
How do I sign up for a Campus Showdown?
Click here to access the latest Campus Showdown schedule. For more information or to sign up for a Campus Showdown near you, please e-mail the listed tournament director.
More Questions?
To learn more about Campus Showdowns, check out the USTA Varsity Collegiate Website.
Leave a Comment
More Special Features
7-Oct-2015
USTA Adds Brad Stine to National Collegiate Coaching Staff
Brad Stine has coached tennis for 30 years, and he was recently appointed as the newest member of the USTA Player Development's collegiate division. Colette Lewis of ZooTennis.com recently talked with Stine about many topics - including the reasons he decided to pursue coaching, the five requirements for success as a pro, the value of the college pathway and the ITF's push for more prize money at the lower levels.
23-Sep-2015
Billie Jean King on American Junior and College Tennis
Tennis legend Billie Jean King has never been shy about voicing her opinions on American tennis. Any complaints she registers usually come with suggested solutions. Contributor Marcia Frost sat down with King to discuss the future of tennis - with a focus on American junior and college tennis - during the celebration of the 40th anniversary of Mylan World TeamTennis in August.
8-Sep-2015
World TeamTennis at 40: Supporting Junior and College Players
It's been 40 years since Billie Jean and Larry King launched World TeamTennis - an unusual team tennis concept that would bring together men and women in a fun, yet competitive, atmosphere. WTT, which has been sponsored by Mylan since 2012, has been an especially popular launching pad for top juniors and players just out of college who are looking to make their way into the pros.