Special Announcement
USTA Announces Campus Showdowns
Press Release - 23 September 2008
The USTA announces the start of Campus Showdowns across the nation.
The USTA is teaming with the ITA to promote Campus Showdowns on college campuses throughout the United States. Over 50 schools have already signed up to host events this fall.
What are Campus Showdowns?
Campus Showdowns are one-day, short-format tournaments open to juniors, college players, professionals, and adults. These tournaments are non-sanctioned, non-ranking events and are considered "Open Events" under NCAA legislation.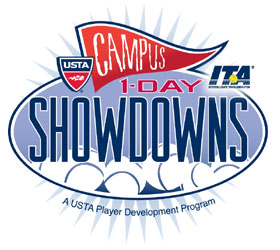 For junior players, it is a chance to compete against high-level collegiate competition on a college campus, which is not only great preparation for an upcoming junior event but also helps in laying a foundation for a future college career. It is the goal of the USTA and the ITA to make Campus Showdowns an integral part of junior and collegiate competition, further strengthening American Tennis.
The tournaments are run on college campuses with the college coach acting as tournament director. Both ITA Membership and USTA Organizational Membership are required to run a Campus Showdown. Entry Fees are kept low to provide access to a full range of players; to ensure this access, the USTA is providing a stipend to the first 100 schools that sign up to host an event. Generally entry fees run $10 for singles, $5 for doubles, and $15 for both.
Events utilize compass draws for both singles and doubles, guaranteeing 3-4 matches for each draw, and ensuring competitive match play throughout. Matches are usually one set with a tiebreaker at 5-5, although format and scoring is at the discretion of the director. Events can be men's, women's, or coed.
How do I sign up for a Campus Showdown?
Click here to access the latest Campus Showdown schedule. For more information or to sign up for a Campus Showdown near you, please e-mail the listed tournament director.
More Questions?
To learn more about Campus Showdowns, check out the USTA Varsity Collegiate Website.
Leave a Comment
More Special Features
15-Aug-2015
Revisiting the USTA Nationals Forecast
For the second time in as many national championship events, Tennis Recruiting put out heat maps forecasting last week's USTA National Championships. We put our rankings on the line - making predictions about how the tournaments would play out. It's time to take another look at those predictions to see how we did...
1-Aug-2015
Forecasting the USTA National Championships
We had so much fun with the Clay Courts that we decided to do it all again. The USTA National Championships start today all around the country, and Tennis Recruiting once again forecasts the tournament with its Heat Maps - showing predictings for every player in the draws. Let's take a look at the best players in American junior tennis...
25-Jul-2015
Analysis of Junior Ratings and Rankings
The Tennis Recruiting ranking system provides a predictive measure of junior tennis players. For the recent Clay Court Championships, our rankings correctly predicted 77.2% of the match results. So - is that a good number? This article compares the Tennis Recruiting ranking system with other junior tennis ranking and rating systems.