Special Announcement
USTA Announces Campus Showdowns
Press Release - 23 September 2008
The USTA announces the start of Campus Showdowns across the nation.
The USTA is teaming with the ITA to promote Campus Showdowns on college campuses throughout the United States. Over 50 schools have already signed up to host events this fall.
What are Campus Showdowns?
Campus Showdowns are one-day, short-format tournaments open to juniors, college players, professionals, and adults. These tournaments are non-sanctioned, non-ranking events and are considered "Open Events" under NCAA legislation.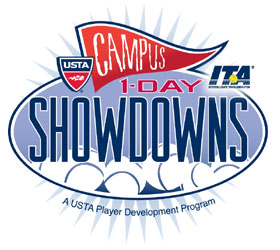 For junior players, it is a chance to compete against high-level collegiate competition on a college campus, which is not only great preparation for an upcoming junior event but also helps in laying a foundation for a future college career. It is the goal of the USTA and the ITA to make Campus Showdowns an integral part of junior and collegiate competition, further strengthening American Tennis.
The tournaments are run on college campuses with the college coach acting as tournament director. Both ITA Membership and USTA Organizational Membership are required to run a Campus Showdown. Entry Fees are kept low to provide access to a full range of players; to ensure this access, the USTA is providing a stipend to the first 100 schools that sign up to host an event. Generally entry fees run $10 for singles, $5 for doubles, and $15 for both.
Events utilize compass draws for both singles and doubles, guaranteeing 3-4 matches for each draw, and ensuring competitive match play throughout. Matches are usually one set with a tiebreaker at 5-5, although format and scoring is at the discretion of the director. Events can be men's, women's, or coed.
How do I sign up for a Campus Showdown?
Click here to access the latest Campus Showdown schedule. For more information or to sign up for a Campus Showdown near you, please e-mail the listed tournament director.
More Questions?
To learn more about Campus Showdowns, check out the USTA Varsity Collegiate Website.
Leave a Comment
More Special Features
27-Feb-2015
Talking with Michael Joyce - Part 1
Michael Joyce is best known to tennis fans now as the former coach of five-time slam champion Maria Sharapova. Prior to his coaching stint with Sharapova however, the 42-year-old Southern Californian had his own distinguished career, winning the USTA Boys 18s Nationals in 1991 and reaching an ATP career-high ranking of 64 five years later. Colette Lewis of ZooTennis.com got the chance to talk with Joyce about about his years with Sharapova, his coaching philosophy, his current work at a tennis academy, and much more...
4-Feb-2015
Inside College Tennis with Tony Minnis Returns
This weekend, Inside College Tennis with Tony Minnis returns with the first of three all-new episodes on The Tennis Channel. The television program, which highlights college tennis programs around the country of all shapes and sizes, should appeal to the entire TennisRecruiting.net community. We caught up with host Tony Minnis to learn what is coming...
20-Jan-2015
Racquet Customization a Growing Trend in Junior and College Tennis
As if tennis parents, junior and college tennis players didn't have enough expense in buying frames, strings, shoes and high tech apparel, many are choosing to shell out even more cash to have their racquets customized to preferred specifications.