Special Announcement
USTA Announces Campus Showdowns
Press Release - 23 September 2008
The USTA announces the start of Campus Showdowns across the nation.
The USTA is teaming with the ITA to promote Campus Showdowns on college campuses throughout the United States. Over 50 schools have already signed up to host events this fall.
What are Campus Showdowns?
Campus Showdowns are one-day, short-format tournaments open to juniors, college players, professionals, and adults. These tournaments are non-sanctioned, non-ranking events and are considered "Open Events" under NCAA legislation.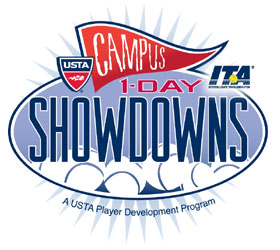 For junior players, it is a chance to compete against high-level collegiate competition on a college campus, which is not only great preparation for an upcoming junior event but also helps in laying a foundation for a future college career. It is the goal of the USTA and the ITA to make Campus Showdowns an integral part of junior and collegiate competition, further strengthening American Tennis.
The tournaments are run on college campuses with the college coach acting as tournament director. Both ITA Membership and USTA Organizational Membership are required to run a Campus Showdown. Entry Fees are kept low to provide access to a full range of players; to ensure this access, the USTA is providing a stipend to the first 100 schools that sign up to host an event. Generally entry fees run $10 for singles, $5 for doubles, and $15 for both.
Events utilize compass draws for both singles and doubles, guaranteeing 3-4 matches for each draw, and ensuring competitive match play throughout. Matches are usually one set with a tiebreaker at 5-5, although format and scoring is at the discretion of the director. Events can be men's, women's, or coed.
How do I sign up for a Campus Showdown?
Click here to access the latest Campus Showdown schedule. For more information or to sign up for a Campus Showdown near you, please e-mail the listed tournament director.
More Questions?
To learn more about Campus Showdowns, check out the USTA Varsity Collegiate Website.
Leave a Comment
More Special Features
15-Jun-2016
Joyce, Daavettila Repeat as Champions at US Open Midwest Playoffs
The location had changed, but the results were the same as teenagers Martin Joyce and Sara Daavettila defended their titles at the US Open Midwest Playoffs at the University of Notre Dame Monday.
7-Jun-2016
USTA Midwest Section to Hold College Showcase in Indianapolis
On Friday, June 24, the USTA Midwest Section will host its 2016 College Showcase, giving students from the region a chance to learn about the wide range of opportunities in college tennis. The showcase will be held at the Barbara S. Wynne Tennis Center, North Central High School in Indianapolis, Indiana, and will include both information and on-court sessions for high school players.
11-May-2016
Asics Easter Bowl ITF Tournament Pioneers Travel Grants
In its nearly fifty years on the United States junior tennis scene, the Easter Bowl has developed a reputation for innovation. This year saw a new initiative emerge for those participating in the International Tennis Federation's Grade B1 event at the Indian Wells Tennis Garden: travel vouchers for boys and girls who reached the round of 16 in their respective 64-player draws.