Special Announcement
USTA Announces Campus Showdowns
Press Release - 23 September 2008
The USTA announces the start of Campus Showdowns across the nation.
The USTA is teaming with the ITA to promote Campus Showdowns on college campuses throughout the United States. Over 50 schools have already signed up to host events this fall.
What are Campus Showdowns?
Campus Showdowns are one-day, short-format tournaments open to juniors, college players, professionals, and adults. These tournaments are non-sanctioned, non-ranking events and are considered "Open Events" under NCAA legislation.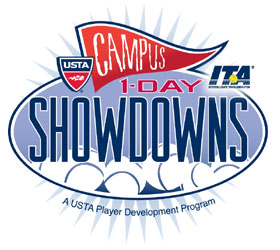 For junior players, it is a chance to compete against high-level collegiate competition on a college campus, which is not only great preparation for an upcoming junior event but also helps in laying a foundation for a future college career. It is the goal of the USTA and the ITA to make Campus Showdowns an integral part of junior and collegiate competition, further strengthening American Tennis.
The tournaments are run on college campuses with the college coach acting as tournament director. Both ITA Membership and USTA Organizational Membership are required to run a Campus Showdown. Entry Fees are kept low to provide access to a full range of players; to ensure this access, the USTA is providing a stipend to the first 100 schools that sign up to host an event. Generally entry fees run $10 for singles, $5 for doubles, and $15 for both.
Events utilize compass draws for both singles and doubles, guaranteeing 3-4 matches for each draw, and ensuring competitive match play throughout. Matches are usually one set with a tiebreaker at 5-5, although format and scoring is at the discretion of the director. Events can be men's, women's, or coed.
How do I sign up for a Campus Showdown?
Click here to access the latest Campus Showdown schedule. For more information or to sign up for a Campus Showdown near you, please e-mail the listed tournament director.
More Questions?
To learn more about Campus Showdowns, check out the USTA Varsity Collegiate Website.
Leave a Comment
More Special Features
26-Nov-2014
Breakdowns Before Breakthroughs
Andre Agassi survived. So did Novak and Serena. And it brought Andy Murray to tears on center court at Wimbledon It is considered one of tennis' greatest challenges. The phenomenon called breakdowns before breakthroughs.
8-Oct-2014
Interview with USTA National Collegiate Coach Stephen Amritraj
Stephen Amritraj joined the USTA as a National Coach in January of this year and was recently named its National Collegiate coach. Amritraj played at Duke from 2002-2006, and after a brief stint on the tour, began coaching ATP professionals in Southern California, where he grew up. Colette Lewis of ZooTennis.com talked with Amritraj about the USTA Collegiate Team program which assists American college players as they transition to professional careers.
23-Aug-2014
Premiere of Inside College Tennis with Tony Minnis at Wichita State
The Bill Rodman Production Shoppe has completed production of the 4th episode of Inside College Tennis and premieres on Tennis Channel featuring Wichita State University. The show premieres tonight, Saturday, August 23rd at 10pm ET, on The Tennis Channel. Meet Colin Foster, Head Women's Coach and Brad Louderback, Head Men's Coach is this episode and come to understand why each coach says: "Our team is a like family."