Special Announcement
USTA Announces Campus Showdowns
Press Release - 23 September 2008
The USTA announces the start of Campus Showdowns across the nation.
The USTA is teaming with the ITA to promote Campus Showdowns on college campuses throughout the United States. Over 50 schools have already signed up to host events this fall.
What are Campus Showdowns?
Campus Showdowns are one-day, short-format tournaments open to juniors, college players, professionals, and adults. These tournaments are non-sanctioned, non-ranking events and are considered "Open Events" under NCAA legislation.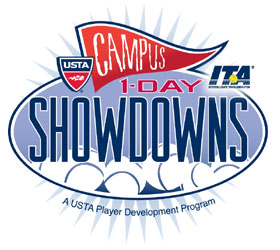 For junior players, it is a chance to compete against high-level collegiate competition on a college campus, which is not only great preparation for an upcoming junior event but also helps in laying a foundation for a future college career. It is the goal of the USTA and the ITA to make Campus Showdowns an integral part of junior and collegiate competition, further strengthening American Tennis.
The tournaments are run on college campuses with the college coach acting as tournament director. Both ITA Membership and USTA Organizational Membership are required to run a Campus Showdown. Entry Fees are kept low to provide access to a full range of players; to ensure this access, the USTA is providing a stipend to the first 100 schools that sign up to host an event. Generally entry fees run $10 for singles, $5 for doubles, and $15 for both.
Events utilize compass draws for both singles and doubles, guaranteeing 3-4 matches for each draw, and ensuring competitive match play throughout. Matches are usually one set with a tiebreaker at 5-5, although format and scoring is at the discretion of the director. Events can be men's, women's, or coed.
How do I sign up for a Campus Showdown?
Click here to access the latest Campus Showdown schedule. For more information or to sign up for a Campus Showdown near you, please e-mail the listed tournament director.
More Questions?
To learn more about Campus Showdowns, check out the USTA Varsity Collegiate Website.
Leave a Comment
More Special Features
8-Dec-2013
The Invaluable Experience - New Kindle Book by Lao and Limpert
Reflecting on her successful college tennis career, Danielle Lao, a two-time All-American at USC thought she might have some valuable information to share with others either enrolled at colleges and universities around the country, thinking about playing college sports, or even sports fans wondering what the college experience is like for a elite athlete. With the help of Rick Limpert, Lao has
24-Nov-2013
WAM Sports College Showcase to be held December 5-6
The WAM Sports College Tennis Camp and Showcase is a great way to get exposed to and recruited by 40+ U.S. college tennis coaches. College coaches from all divisions across country will be in attendance to educate you about the college tennis recruiting process and spend time with you on court.
22-Nov-2013
College Tennis Camps and Showcases - A Must for College-Bound Prospects
What are College Tennis Camps and Showcases? Who are they for? What can they do for me? Junior tennis players, parents and coaches alike often do not know much about either type of event. Therefore, they are hesitant and unsure of the benefits. But the chance to talk to a college coach, to be scouted and educated by them, to even be recruited by college coaches is always a valuable experience for any student athlete, regardless of who you are.