Special Announcement
USTA Announces Campus Showdowns
Press Release - 23 September 2008
The USTA announces the start of Campus Showdowns across the nation.
The USTA is teaming with the ITA to promote Campus Showdowns on college campuses throughout the United States. Over 50 schools have already signed up to host events this fall.
What are Campus Showdowns?
Campus Showdowns are one-day, short-format tournaments open to juniors, college players, professionals, and adults. These tournaments are non-sanctioned, non-ranking events and are considered "Open Events" under NCAA legislation.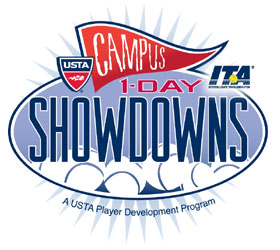 For junior players, it is a chance to compete against high-level collegiate competition on a college campus, which is not only great preparation for an upcoming junior event but also helps in laying a foundation for a future college career. It is the goal of the USTA and the ITA to make Campus Showdowns an integral part of junior and collegiate competition, further strengthening American Tennis.
The tournaments are run on college campuses with the college coach acting as tournament director. Both ITA Membership and USTA Organizational Membership are required to run a Campus Showdown. Entry Fees are kept low to provide access to a full range of players; to ensure this access, the USTA is providing a stipend to the first 100 schools that sign up to host an event. Generally entry fees run $10 for singles, $5 for doubles, and $15 for both.
Events utilize compass draws for both singles and doubles, guaranteeing 3-4 matches for each draw, and ensuring competitive match play throughout. Matches are usually one set with a tiebreaker at 5-5, although format and scoring is at the discretion of the director. Events can be men's, women's, or coed.
How do I sign up for a Campus Showdown?
Click here to access the latest Campus Showdown schedule. For more information or to sign up for a Campus Showdown near you, please e-mail the listed tournament director.
More Questions?
To learn more about Campus Showdowns, check out the USTA Varsity Collegiate Website.
Leave a Comment
More Special Features
22-Aug-2017
Tennis Mentors Aims To Give Back
Trent Bryde, Patrick Kypson, Gianni Ross and Sam Riffice are trying to give back to the next generation of players through their newly-created company Tennis Mentors. They are offering advice, hitting sessions and analysis through their website.
24-May-2017
Hall of Famer Tracy Austin's Two Roles: Tennis Mom and Tennis Commentator
Tracy Austin was the definition of a tennis prodigy, with the former WTA No. 1 still holding records as both the youngest US Open women's champion (16) and youngest inductee into the International Tennis Hall of Fame. Today, Austin stays involved with tennis professionally as a commentator - and also as the parent of three boys who have all played tennis. Colette Lewis had the chance to talk with Austin at the Ojai in April on a wide range of topics.
13-May-2017
Tennis Community Mourns Loss of Steve Johnson, Sr.
Steve Johnson, Sr., a beloved figure in the tennis community and father of professional Steve Johnson Jr., died Thursday morning in his sleep at age 58. Johnson's death elicited an outpouring of sympathy from friends, students and colleagues across the country.