Special Announcement
USTA Announces Campus Showdowns
Press Release - 23 September 2008
The USTA announces the start of Campus Showdowns across the nation.
The USTA is teaming with the ITA to promote Campus Showdowns on college campuses throughout the United States. Over 50 schools have already signed up to host events this fall.
What are Campus Showdowns?
Campus Showdowns are one-day, short-format tournaments open to juniors, college players, professionals, and adults. These tournaments are non-sanctioned, non-ranking events and are considered "Open Events" under NCAA legislation.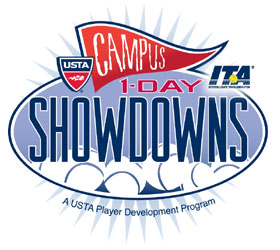 For junior players, it is a chance to compete against high-level collegiate competition on a college campus, which is not only great preparation for an upcoming junior event but also helps in laying a foundation for a future college career. It is the goal of the USTA and the ITA to make Campus Showdowns an integral part of junior and collegiate competition, further strengthening American Tennis.
The tournaments are run on college campuses with the college coach acting as tournament director. Both ITA Membership and USTA Organizational Membership are required to run a Campus Showdown. Entry Fees are kept low to provide access to a full range of players; to ensure this access, the USTA is providing a stipend to the first 100 schools that sign up to host an event. Generally entry fees run $10 for singles, $5 for doubles, and $15 for both.
Events utilize compass draws for both singles and doubles, guaranteeing 3-4 matches for each draw, and ensuring competitive match play throughout. Matches are usually one set with a tiebreaker at 5-5, although format and scoring is at the discretion of the director. Events can be men's, women's, or coed.
How do I sign up for a Campus Showdown?
Click here to access the latest Campus Showdown schedule. For more information or to sign up for a Campus Showdown near you, please e-mail the listed tournament director.
More Questions?
To learn more about Campus Showdowns, check out the USTA Varsity Collegiate Website.
Leave a Comment
More Special Features
22-Dec-2014
Halbauer Makes the Most of Opportunity in Macon
17-year old Ellie Halbauer discovered something about her game at the USTA Pro Circuit's 50K, Tennis Classic of Macon event in October, and it is something that all young tennis players would do well to remember - sometimes it's easier to play when you are down.
15-Dec-2014
DTS College Exposure Series
The 2015 DTS College Exposure Series kicks off with the 10th Annual DTS Southern California Showcase January 3rd & 4th at the Claremont Colleges in Claremont, CA. Other lefs in the series will be held next summer in New Haven and Boston. Events in the series are the longest running of their kind - boasting an impressive list of college coaches. These college exposure events prove to be an invaluable resource for both student-athletes and college coaches.
10-Dec-2014
Minor Leagues of Tennis a Proving Ground for Officials as Well as Players
Known mainly for his booming voice over a Stadium Court microphone and his laid back demeanor, chair umpire Jake Garner is the face of tennis officiating here in the United States. But in October, Garner took a break from his regular duties to head to Macon, Ga., to observe and scout officials at a 50K women's pro event - which is good news for tennis players of all levels...