News & Features
Tournament Schedule
USTA/ITA Campus Showdown Schedule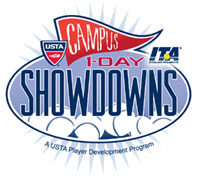 The USTA is teaming with the ITA to promote Campus Showdowns on college campuses throughout the United States. Campus Showdowns are one-day, short-format tournaments open to juniors, college players, professionals, and adults. These events give junior players a chance to compete against college competition on a college campus.
Learn more about these Showdowns here, and then check the schedule below to find a Showdown in your area - or at a school of interest for you. Just email the listed tournament director for more information.


There are no Schowdowns currently scheduled


Leave a Comment
More Special Features
15-Jun-2016
Joyce, Daavettila Repeat as Champions at US Open Midwest Playoffs
The location had changed, but the results were the same as teenagers Martin Joyce and Sara Daavettila defended their titles at the US Open Midwest Playoffs at the University of Notre Dame Monday.
7-Jun-2016
USTA Midwest Section to Hold College Showcase in Indianapolis
On Friday, June 24, the USTA Midwest Section will host its 2016 College Showcase, giving students from the region a chance to learn about the wide range of opportunities in college tennis. The showcase will be held at the Barbara S. Wynne Tennis Center, North Central High School in Indianapolis, Indiana, and will include both information and on-court sessions for high school players.
11-May-2016
Asics Easter Bowl ITF Tournament Pioneers Travel Grants
In its nearly fifty years on the United States junior tennis scene, the Easter Bowl has developed a reputation for innovation. This year saw a new initiative emerge for those participating in the International Tennis Federation's Grade B1 event at the Indian Wells Tennis Garden: travel vouchers for boys and girls who reached the round of 16 in their respective 64-player draws.