News & Features
Tournament Schedule
USTA/ITA Campus Showdown Schedule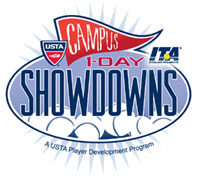 The USTA is teaming with the ITA to promote Campus Showdowns on college campuses throughout the United States. Campus Showdowns are one-day, short-format tournaments open to juniors, college players, professionals, and adults. These events give junior players a chance to compete against college competition on a college campus.
Learn more about these Showdowns here, and then check the schedule below to find a Showdown in your area - or at a school of interest for you. Just email the listed tournament director for more information.


There are no Schowdowns currently scheduled


Leave a Comment
More Special Features
24-Apr-2017
Talking About the USTA All-American Combine
Today with chat with Scott Treibly of the USTA about the upcoming USTA All-American Combine that will take place at the USTA's Lake Nona facility in June.
26-Mar-2017
Collegiate Exposure Camps - Summer Series 2017
Want to play college tennis? Join the Collegiate Exposure Camps - Taught Exclusively by College Coaches. These camps are designed for competitive boys and girls entering grades 8-12 next year and hosted at prestigious schools around the nation.
24-Mar-2017
Countdown: Fitting In Doubles Proves Challenging
Doubles is fun, helps players to improve their games, key in college tennis, and a scheduling nightmare. For these reasons, settling on one scoring format for the four-person version of the game has proven impossible.