News & Features
Tournament Schedule
USTA/ITA Campus Showdown Schedule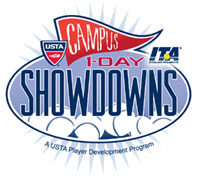 The USTA is teaming with the ITA to promote Campus Showdowns on college campuses throughout the United States. Campus Showdowns are one-day, short-format tournaments open to juniors, college players, professionals, and adults. These events give junior players a chance to compete against college competition on a college campus.
Learn more about these Showdowns here, and then check the schedule below to find a Showdown in your area - or at a school of interest for you. Just email the listed tournament director for more information.
Leave a Comment
More Special Features
23-Aug-2014
Premiere of Inside College Tennis with Tony Minnis at Wichita State
The Bill Rodman Production Shoppe has completed production of the 4th episode of Inside College Tennis and premieres on Tennis Channel featuring Wichita State University. The show premieres tonight, Saturday, August 23rd at 10pm ET, on The Tennis Channel. Meet Colin Foster, Head Women's Coach and Brad Louderback, Head Men's Coach is this episode and come to understand why each coach says: "Our team is a like family."
27-Jun-2014
The Value of Front Court Skills in College Tennis
I've had several recruits ask for training suggestions as they make the transition to college. A common theme between the three programs I've been part of the past few years has been the amount of work put into developing doubles skills, especially with freshmen. Recruiting players who can make immediate contributions to the doubles lineup has become harder to do, so my suggestion to young players in general is to develop the ability to play the net.
18-Jun-2014
ITA Summer Circuit Schedule
The ITA Summer Circuit provides college, junior, and alumni tennis players the opportunity to compete in organized events virtually year round. Although the primary focus of the circuit is to provide incoming freshmen and collegiate players the chance to play in the summer months, these events are "open", so anyone is eligible to compete.