News & Features
Tournament Schedule
USTA/ITA Campus Showdown Schedule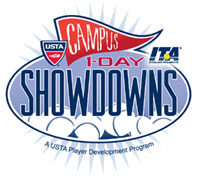 The USTA is teaming with the ITA to promote Campus Showdowns on college campuses throughout the United States. Campus Showdowns are one-day, short-format tournaments open to juniors, college players, professionals, and adults. These events give junior players a chance to compete against college competition on a college campus.
Learn more about these Showdowns here, and then check the schedule below to find a Showdown in your area - or at a school of interest for you. Just email the listed tournament director for more information.


There are no Schowdowns currently scheduled


Leave a Comment
More Special Features
24-Mar-2017
Countdown: Fitting In Doubles Proves Challenging
Doubles is fun, helps players to improve their games, key in college tennis, and a scheduling nightmare. For these reasons, settling on one scoring format for the four-person version of the game has proven impossible.
27-Feb-2017
In Search of Tennis Gadgets at CES 2017
Each January, 185,000 people descend on Las Vegas for the annual Consumer Electronics Show. While the masses aren't there to look for the latest tennis training aid or wearable device, potential gadgets for tennis players and fans are found in just about every corner of the city.
24-Feb-2017
USTA's Blackman Settles in at Player Development
Martin Blackman completed his first full calendar year as USTA General Manager of Player Development in December, undoubtedly relieved that his department's transition to the USTA's National Campus was in its final stages. Colette Lewis visited the recently-opened Lake Nona facility earlier this month and got the chance to catch up with Blackman regarding a wide array of topics.