News & Features
Tournament Schedule
USTA/ITA Campus Showdown Schedule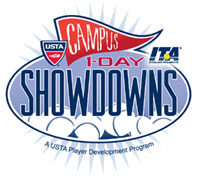 The USTA is teaming with the ITA to promote Campus Showdowns on college campuses throughout the United States. Campus Showdowns are one-day, short-format tournaments open to juniors, college players, professionals, and adults. These events give junior players a chance to compete against college competition on a college campus.
Learn more about these Showdowns here, and then check the schedule below to find a Showdown in your area - or at a school of interest for you. Just email the listed tournament director for more information.


There are no Schowdowns currently scheduled


Leave a Comment
More Special Features
22-Apr-2016
ITA Summer Circuit Schedule
The ITA Summer Circuit provides college, junior, and alumni tennis players the opportunity to compete in organized events virtually year round. Although the primary focus of the circuit is to provide incoming freshmen and collegiate players the chance to play in the summer months, these events are "open", so anyone is eligible to compete.
6-Apr-2016
College Tennis Weekly Features USTA, ITA
Earlier this year, the Fox College Sports Network premiered a new television series - College Tennis Weekly. The TV show, hosted by former LSU coach Tony Minnis and produced by Harry Cicma Productions, is a welcome addition to the cable airwaves. This week, a new episode that highlights USTA and ITA involvement in college tennis makes its debut, and anyone with an interest in college tennis should check it out ...
31-Mar-2016
ITA Forms Alliance with Arizona State
Arizona State University and the Intercollegiate Tennis Association, the governing body for college tennis, announced a strategic alliance that will leverage the resources of a research-based University to grow the sport of tennis locally, nationally and globally.