News & Features
Tournament Schedule
USTA/ITA Campus Showdown Schedule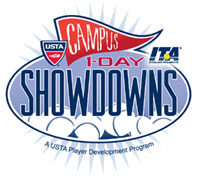 The USTA is teaming with the ITA to promote Campus Showdowns on college campuses throughout the United States. Campus Showdowns are one-day, short-format tournaments open to juniors, college players, professionals, and adults. These events give junior players a chance to compete against college competition on a college campus.
Learn more about these Showdowns here, and then check the schedule below to find a Showdown in your area - or at a school of interest for you. Just email the listed tournament director for more information.


There are no Schowdowns currently scheduled


Leave a Comment
More Special Features
25-Jul-2015
Analysis of Junior Ratings and Rankings
The Tennis Recruiting ranking system provides a predictive measure of junior tennis players. For the recent Clay Court Championships, our rankings correctly predicted 77.2% of the match results. So - is that a good number? This article compares the Tennis Recruiting ranking system with other junior tennis ranking and rating systems.
25-Jul-2015
Revisiting the Clay Court Forecast
Before the USTA Clay Court Championships began, Tennis Recruiting put out heat maps forecasting the chances players had to make runs through the tournament. So, how did we do? Let's take a look now that the tournaments are complete...
14-Jul-2015
Introduction to Junior Tennis Rankings
There are many ranking and rating systems in junior tennis - systems that assign values to players for purposes of comparing them. Each system has different properties and goals. Each system also has its followers, and there are arguments about which systems are "best". But what does "best" mean? This article opens a discussion about the various ranking systems in American junior tennis today.