Tennis On Campus
An Inside Look at Tennis On Campus: Western Washington
by Jason Franks, 13 April 2009
Western Washington University, located in Bellingham, Wash., just twenty minutes from the Canadian border, is home to one of the oldest and most talented Tennis On Campus club teams in the nation. The Vikings are the only team to have attended all nine of the USTA National Campus Championship tournaments hosted annually in April around the nation, from San Diego to Austin to Daytona Beach. Every year the Western team collects numerous accolades en route to expanding the size and popularity of club tennis in the Pacific Northwest.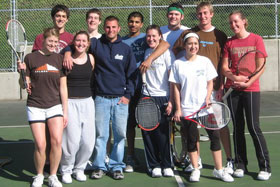 When I first decided on WWU as my university of choice, it was without knowledge that our club team even existed. The University of Washington was too close to home, and private schools with Div III teams were financially out of the question, so I packed my bags and drove north to chill B-ham, as it is locally known.
Upon learning of the club team, I thought that I had found an opportunity to continue my high school playing days with some talented players from around the state. What I received was an opportunity to play highly competitive tennis not only in Washington or the Pacific Northwest - but all over the country. For a much more feasible financial option to playing Division III and higher level tennis, look no further than Tennis On Campus.
Freshman Year
I was one of six new players to join the team my freshman year, becoming part of a squad of 16 men and 12 women (nearly all State Tournament competitors) led by Captains Justin Cooper, Jennifer Richardson and Sarah Martin. As you may or may not know, TOC plays by World Team Tennis rules, and so every club team is coed.
The Western team quickly became a great social network for meeting people from all areas of the school. My first year on the team was spent mostly at practices - with a few matches against local schools. Our traveling team went on to win the Bronze Medal at the USTA National Campus Championship at the University of Texas - Austin.
Sophomore Year
My second year on the team I started playing in the Fall to prepare for our fall tournament season, and thus I was able to earn a spot on the traveling squad. During the Fall we traveled to Portland, Oregon for the annual USTA Campus Championship - Pacific Northwest to play other club teams from our section in hopes of earning a bid at Nationals.
The following winter, our team hosted its annual tournament - the Viking Showdown - for the top schools in the PNW section. We followed up this tournament with a trip to Los Angeles for Spring Break, where we participated in a Southern California regional tournament, playing schools like USC, UCLA, Davis, and Irvine - all schools with prominent varsity squads and very talented club teams.
The year concluded with a trip to Cary, N.C. for the USTA National Campus Championship, where Western entered the silver bracket for its first time, losing in the quarterfinals to eventual Silver Medalist University of Illinois - Urbana Champaign.
Junior Year
My third year on the team I was elected president, and this was when the true strengths of the Tennis On Campus program appeared. I equate being president of the club with being CEO of a small business with a 40-employee staff and a $15 thousand budget. I scheduled practices, managed recruiting and advertising, developed off court training, planned and ran tournaments, purchased and arranged flights and travel accommodations, and filled out and filed mountains of paperwork. It may sound like a lot of work not having to do with me playing on the court, but it provided me with a an unparalleled look at every aspect of collegiate tennis, an experience that NCAA players do not usually have.
With the help of all my teammates, colleagues at WWU Campus Recreation, and USTA Tennis On Campus, I was able to be a part of Western's second Bronze Medal final appearance at Nationals as well as act as one fourth of a national focus group for the recently-launched Tennis On Campus website. I met tennis players from nearly every state in the country, was part of a network of fellow club captains and players at Western, and developed strong friendships with the club players in the PNW section - every tournament inevitably ends in a big celebration for all to enjoy.
Concluding Thoughts
More than the tennis, the competition, and the management experience, the biggest prize of Tennis On Campus was something much more subtle. Every ounce of stress was well worth it when I had three recently-recruited freshmen players tell me that the team is what convinced them to stay at Western after difficulty and doubt during their first quarter and the possibility of transferring. That the Western team is able to contribute such a positive experience and influence in helping our fellow teammates and friends gain confidence in their college choice is the true strength and reward of the Tennis On Campus program at Western Washington University, and one I encourage all future college students to discover.
Coming Soon... Tennis On Campus Nationals
The 2009 USTA National Campus Championship gets started in Surprise, Arizona at the Surprise Tennis & Racquet Complex this Thursday, April 16th. Check out the event homepage and the schedule for pool play.
We hope to have a wrap-up of the tournament here at TennisRecruiting.net.
Leave a Comment
More Special Features
24-May-2017
Hall of Famer Tracy Austin's Two Roles: Tennis Mom and Tennis Commentator
Tracy Austin was the definition of a tennis prodigy, with the former WTA No. 1 still holding records as both the youngest US Open women's champion (16) and youngest inductee into the International Tennis Hall of Fame. Today, Austin stays involved with tennis professionally as a commentator - and also as the parent of three boys who have all played tennis. Colette Lewis had the chance to talk with Austin at the Ojai in April on a wide range of topics.
13-May-2017
Tennis Community Mourns Loss of Steve Johnson, Sr.
Steve Johnson, Sr., a beloved figure in the tennis community and father of professional Steve Johnson Jr., died Thursday morning in his sleep at age 58. Johnson's death elicited an outpouring of sympathy from friends, students and colleagues across the country.
24-Apr-2017
Talking About the USTA All-American Combine
Today with chat with Scott Treibly of the USTA about the upcoming USTA All-American Combine that will take place at the USTA's Lake Nona facility in June.