Getting Started
NCAA Rule Change - Enrolling After Graduation
by
Dede Allen
, 12 February 2010
The NCAA recently passed bylaws that are relevant to college-bound junior tennis players. These bylaws specify new rules: how long a high school graduate can wait before enrolling in college - and the kinds of competition in which the student-athlete can engage. Dede Allen discusses these new bylaws.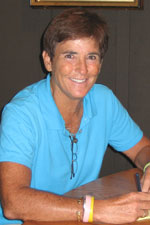 Question: I heard that the NCAA is making a major change to the eligibility rules for tennis. Can you tell me what it is and when it will take effect?
Answer:
It used to be that Division I recruits were allowed to take a year off without penalty before enrolling as a freshman. However, that will change for players starting this year - for the Class of 2010.
New NCAA bylaw 14.2.3.2.2 takes effect on August 1, 2010. Simply put, it states that players may only take 6 months off after high school graduation (as determined by the first year of high school enrollment) or the first opportunity to enroll after six months have elapsed.
Players who choose to go this route and do NOT enroll during the 6 month time frame will be charged with a season of intercollegiate eligibility for each calendar year after the 6 months (or next opportunity to enroll) per bylaw 14.02.9
After the 6 month period, if the student-athlete has engaged in "organized competition" the student-athlete must fulfill an academic year in residence for each calendar year after the 6-month period has elapsed. These years must be fulfilled before the student-athlete will be allowed to represent the school in competition.
What is considered "organized competition"?
If any one of the following circumstances exist, it will be considered organized competition.
Competition is scheduled and publicized in advance
Official score is kept
Individual or team standings are maintained
Official timer or game officials are used
Admission is charged
Teams are regularly formed or team rosters are predetermined
Team uniforms are used
A team in privately or commercially sponsored OR
The competition is either directly or indirectly sponsored, promoted or administered by an individual, an organization or any other agency.
Other tennis concerns - effective August 1, 2010
A prospective tennis student-athlete may compete on a professional team prior to enrolling in a Division I school provided that he or she does not receive more than actual and necessary expenses to participate on the team.
A prospective tennis student-athlete may enter into an agreement to compete on a professional team prior to enrolling in a Division I school provided that the agreement does not guarantee or promise payment (at any time) in excess or actual and necessary expenses.
Contact Dede Allen at [email protected] for further information.
Leave a Comment
More Recruiting 101 Articles
13-Apr-2017
Spring Signing Week '17: Realistic Expectations When Choosing a College
You might not remember that first time you hit a perfect tennis shot, but your parents probably do. They were thinking about whether you would be a tennis star - or, at least, whether there was a college scholarship in your future. By now you may be more realistic about your chances of going straight to the pros, but it is important to also keep your expectations realistic when it comes to where you are going to play college tennis.
11-Apr-2017
Spring Signing Week '17: Get Recruited Faster
I get anywhere from 5-15 emails a day from student athletes struggling with the recruiting process. Ninety nine percent of the time it's because the athlete does not understand how college coaches recruit. This article provides advice and recommendations that will help athletes understand how coaches evaluate prospects - and what they need to do to get recruited faster and easier.
6-Apr-2017
Countdown: Preparing for College Tennis
As many junior tennis players are preparing for college tennis, they need to learn certain aspects of the game so they are ready to perform at the next level. Many players want to attend prestigious universities, and they need to make a plan to do so. There is no cookie-cutter plan - each individual needs to make sure they are getting what they need in their training in a variety of area.
About Dede Allen
Dede Allen
is a world-renowned college recruiting expert who is intimately familiar with both college and junior tennis. Allen was head coach of the Wake Forest University women's tennis team for seven years, and she was named ACC Coach of the Year in 1987. Since her college coaching days, Allen served the USTA for over 14 years as Administrator for USA Tennis Junior Competition and liaison to the NCAA, NAIA, and NJCAA. Allen is the author of three books on recruiting, including the
USTA Guide for Prospective College Athletes
, the recently-revised
Collegiate Guide for High School Tennis Players
, and the
Collegiate Guide for High School Athletes
. Today, Allen presents seminars throughout the country to prospective college tennis players.
Allen writes a periodic column at TennisRecruiting.net where she provides advice and answers your questions. You can submit a question to Dede for her to answer directly - or in a future column.