NCAA Compliance
NCAA Rules Update - Enrolling After Graduation
by USTA Staff (with permission), USTA Junior & Collegiate Competition, 26 April 2010
This winter, the NCAA passed bylaws changing how long high school graduates can wait before enrolling at a Division I institution. The NCAA bylaw in question - 14.2.3.2.2 - specifies that tennis players must enroll in college within six months of high school graduation. Organized competition after those six months have elapsed will cause tennis prospective student-athletes to be charged with a season of competition and be required to sit out a year in residence upon enrollment.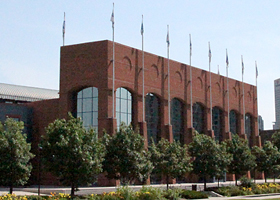 As originally written, those bylaws would impact all graduating classes - starting with this year's class of 2010. High school seniors who had already planned to take time off after graduation would risk losing eligibility.
Date Change
There is some good news on the status of changing the effective date for this legislation.
The NCAA Legislative council has approved amending the effective date to August 1, 2012. What this will do is protect the graduating class of 2010 - and those players who had decided pre-legislation to take a year off. As of right now, it looks promising that those players will be able to take that year off as planned. With this change, the class of 2011 will be the first class subject to the 6 month grace period.
Do keep in mind that the amending of the effective date is considered a new proposal, so it is subject to the 60-day override period (dating from mid-April). Secondly, though it does not happen often, the NCAA Board of Directors can further amend this action if it chooses at its April 29 meeting.
Before members of the Class of 2010 affected by this legislation get too excited about the possible effective date change, remember that there a couple more steps in the process before it is official. In other words, this year's seniors should still have a back-up plan in place that allows for them to comply with the current effective date (Aug. 1, 2011) for the 6 month grace period - for most that would be Fall '10 or Spring '11 enrollment.
There is an article on NCAA.org about these changes as well for reference.
Leave a Comment
More Special Features
7-Oct-2015
USTA Adds Brad Stine to National Collegiate Coaching Staff
Brad Stine has coached tennis for 30 years, and he was recently appointed as the newest member of the USTA Player Development's collegiate division. Colette Lewis of ZooTennis.com recently talked with Stine about many topics - including the reasons he decided to pursue coaching, the five requirements for success as a pro, the value of the college pathway and the ITF's push for more prize money at the lower levels.
23-Sep-2015
Billie Jean King on American Junior and College Tennis
Tennis legend Billie Jean King has never been shy about voicing her opinions on American tennis. Any complaints she registers usually come with suggested solutions. Contributor Marcia Frost sat down with King to discuss the future of tennis - with a focus on American junior and college tennis - during the celebration of the 40th anniversary of Mylan World TeamTennis in August.
8-Sep-2015
World TeamTennis at 40: Supporting Junior and College Players
It's been 40 years since Billie Jean and Larry King launched World TeamTennis - an unusual team tennis concept that would bring together men and women in a fun, yet competitive, atmosphere. WTT, which has been sponsored by Mylan since 2012, has been an especially popular launching pad for top juniors and players just out of college who are looking to make their way into the pros.