Showcase Announcement
USTA Eastern Section's Camp A.C.E. to be held in July
by Press Release, 12 May 2010
Former Australian Open Semifinalist Chanda Rubin and Former US Olympic Coach Rodney Harmon to Teach at USTA Eastern's Camp A.C.E.
Weeklong Camp to Improve Tennis Skills and Prepare Students for College
White Plains, NY - Former Australian Open semifinalist Chanda Rubin and former US Olympic coach Rodney Harmon will be teaching this summer at Camp A.C.E., the annual overnight camp run by the United States Tennis Association's Eastern Section.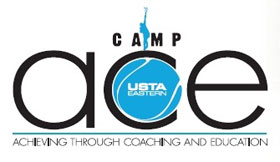 Camp A.C.E., which stands for Achieving through Coaching and Education, will be held July 25-31 at Ramapo College of New Jersey. The camp provides players ages 14-17 a week of daily tennis instruction, college admissions counseling, and community activities, geared to helping students continue their success after graduation.
Linda Mann, Managing Director of Community Tennis Development for USTA Eastern, said the addition of Harmon and Rubin provides a unique opportunity for campers to learn how to compete on a higher level and how to use their talents to help others in their communities.
"Chanda and Rodney are outstanding players and caring coaches who have used their abilities to teach the next generation of tennis players," said Mann. "They truly represent what Camp A.C.E. is all about: giving students the tools they need to succeed on the court and throughout their lives."
This year marks the 12th anniversary of the camp. In addition to swimming and daily tennis instruction, this year's camp will feature classes in fitness, nutrition, business etiquette, financial literacy and college preparation and admissions counseling.
Rubin won seven WTA singles titles during her career and was ranked as high as 6 in the world after reaching the Australian Open semifinals. In 1995, she set the women's records for the longest final set at Wimbledon (2 hours and 4 minutes) and the most games in a set (32) in her win over Patricia Hy-Boulais.
Harmon coached the US tennis team at the 2008 Olympics in Beijing. He also coached the University of Miami men's tennis team and was the only African-American man besides Arthur Ashe to reach the quarterfinals of the US Open.
To register for the camp, please visit www.eastern.usta.com.
The USTA Eastern Section, based in White Plains, New York, is a not-for-profit community service organization whose mission is to promote and develop the growth of tennis. The section encompasses all of New York State, Northern New Jersey and Greenwich, Connecticut. It is one of 17 geographic sections of the United States Tennis Association, the governing body of tennis in the United States, and supports more than 49,000 members. The section also establishes and maintains rules of fair play, high standards of sportsmanship and represents, in its jurisdiction, the programs and policies of the USTA. More information about the USTA Eastern section is available by visiting: www.eastern.usta.com.
Leave a Comment
More Special Features
15-Dec-2014
DTS College Exposure Series
The 2015 DTS College Exposure Series kicks off with the 10th Annual DTS Southern California Showcase January 3rd & 4th at the Claremont Colleges in Claremont, CA. Other lefs in the series will be held next summer in New Haven and Boston. Events in the series are the longest running of their kind - boasting an impressive list of college coaches. These college exposure events prove to be an invaluable resource for both student-athletes and college coaches.
10-Dec-2014
Minor Leagues of Tennis a Proving Ground for Officials as Well as Players
Known mainly for his booming voice over a Stadium Court microphone and his laid back demeanor, chair umpire Jake Garner is the face of tennis officiating here in the United States. But in October, Garner took a break from his regular duties to head to Macon, Ga., to observe and scout officials at a 50K women's pro event - which is good news for tennis players of all levels...
7-Dec-2014
Helping Bill Kallenberg
Bill Kallenberg has been a long-time friend of Tennis Recruiting. His photos have appeared in Tennis Recruiting articles for years, and we recently began working with him more formally - Bill took photos for TennisRecruiting.net at Kalamazoo this summer as well as at the U.S. Open. Many of you have seen him at junior tournaments over the years - and those of you in college have probably met him as well. Today, Bill is in need...