Showcase Announcement
USTA Eastern Section's Camp A.C.E. to be held in July
by Press Release, 12 May 2010
Former Australian Open Semifinalist Chanda Rubin and Former US Olympic Coach Rodney Harmon to Teach at USTA Eastern's Camp A.C.E.
Weeklong Camp to Improve Tennis Skills and Prepare Students for College
White Plains, NY - Former Australian Open semifinalist Chanda Rubin and former US Olympic coach Rodney Harmon will be teaching this summer at Camp A.C.E., the annual overnight camp run by the United States Tennis Association's Eastern Section.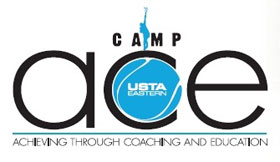 Camp A.C.E., which stands for Achieving through Coaching and Education, will be held July 25-31 at Ramapo College of New Jersey. The camp provides players ages 14-17 a week of daily tennis instruction, college admissions counseling, and community activities, geared to helping students continue their success after graduation.
Linda Mann, Managing Director of Community Tennis Development for USTA Eastern, said the addition of Harmon and Rubin provides a unique opportunity for campers to learn how to compete on a higher level and how to use their talents to help others in their communities.
"Chanda and Rodney are outstanding players and caring coaches who have used their abilities to teach the next generation of tennis players," said Mann. "They truly represent what Camp A.C.E. is all about: giving students the tools they need to succeed on the court and throughout their lives."
This year marks the 12th anniversary of the camp. In addition to swimming and daily tennis instruction, this year's camp will feature classes in fitness, nutrition, business etiquette, financial literacy and college preparation and admissions counseling.
Rubin won seven WTA singles titles during her career and was ranked as high as 6 in the world after reaching the Australian Open semifinals. In 1995, she set the women's records for the longest final set at Wimbledon (2 hours and 4 minutes) and the most games in a set (32) in her win over Patricia Hy-Boulais.
Harmon coached the US tennis team at the 2008 Olympics in Beijing. He also coached the University of Miami men's tennis team and was the only African-American man besides Arthur Ashe to reach the quarterfinals of the US Open.
To register for the camp, please visit www.eastern.usta.com.
The USTA Eastern Section, based in White Plains, New York, is a not-for-profit community service organization whose mission is to promote and develop the growth of tennis. The section encompasses all of New York State, Northern New Jersey and Greenwich, Connecticut. It is one of 17 geographic sections of the United States Tennis Association, the governing body of tennis in the United States, and supports more than 49,000 members. The section also establishes and maintains rules of fair play, high standards of sportsmanship and represents, in its jurisdiction, the programs and policies of the USTA. More information about the USTA Eastern section is available by visiting: www.eastern.usta.com.
Leave a Comment
More Special Features
23-Sep-2015
Billie Jean King on American Junior and College Tennis
Tennis legend Billie Jean King has never been shy about voicing her opinions on American tennis. Any complaints she registers usually come with suggested solutions. Contributor Marcia Frost sat down with King to discuss the future of tennis - with a focus on American junior and college tennis - during the celebration of the 40th anniversary of Mylan World TeamTennis in August.
8-Sep-2015
World TeamTennis at 40: Supporting Junior and College Players
It's been 40 years since Billie Jean and Larry King launched World TeamTennis - an unusual team tennis concept that would bring together men and women in a fun, yet competitive, atmosphere. WTT, which has been sponsored by Mylan since 2012, has been an especially popular launching pad for top juniors and players just out of college who are looking to make their way into the pros.
3-Sep-2015
USTA's New Initiative Aims to Reach Hispanics
The USTA's new leader, Katrina Adams, is reaching out to the Hispanic community, telling them tennis is a lifetime sport - and that college scholarships should be a goal for junior players. Adams may have only started serving her two-year term as USTA Chairman of the Board, CEO and President on Jan. 1, 2015, but her first major initiative has the potential to change the face of tennis forever.