Special Announcement
Tennis Manga Graphic Novel to Benefit Agassi Foundation
by Press Release, 11 May 2010
Announcing the availability of graphic novel Aced, Volume One: Tennis Manga. All proceeds will be donated to the Andre Agassi Foundation for Education.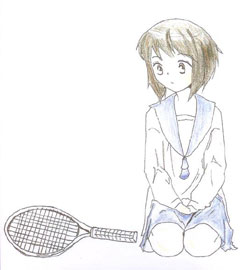 Created by
Catherine Chen
, a sixteen-year old USTA junior competitor from Southern California, this manga series follows the journey of a Japanese fifth grade student and her fun-filled tennis career. She is a total novice, but with her coach, a pro who had to retire due to injuries, and her supportive best friend, things are going to get interesting!
Check out Aced, Volume One here. You can see the front and back covers, and sample pages, and order from the secured shopping cart run by Yutopian Enterprises, a well established publisher.
The Andre Agassi Foundation for Education has raised millions of dollars for charity and has done wonderful work to transform public education for the underserved. All proceeds from the sale of this book will be donated to the Foundation.
Leave a Comment
More Special Features
24-May-2017
Hall of Famer Tracy Austin's Two Roles: Tennis Mom and Tennis Commentator
Tracy Austin was the definition of a tennis prodigy, with the former WTA No. 1 still holding records as both the youngest US Open women's champion (16) and youngest inductee into the International Tennis Hall of Fame. Today, Austin stays involved with tennis professionally as a commentator - and also as the parent of three boys who have all played tennis. Colette Lewis had the chance to talk with Austin at the Ojai in April on a wide range of topics.
13-May-2017
Tennis Community Mourns Loss of Steve Johnson, Sr.
Steve Johnson, Sr., a beloved figure in the tennis community and father of professional Steve Johnson Jr., died Thursday morning in his sleep at age 58. Johnson's death elicited an outpouring of sympathy from friends, students and colleagues across the country.
24-Apr-2017
Talking About the USTA All-American Combine
Today with chat with Scott Treibly of the USTA about the upcoming USTA All-American Combine that will take place at the USTA's Lake Nona facility in June.