Special Announcement
Tennis Manga Graphic Novel to Benefit Agassi Foundation
by Press Release, 11 May 2010
Announcing the availability of graphic novel Aced, Volume One: Tennis Manga. All proceeds will be donated to the Andre Agassi Foundation for Education.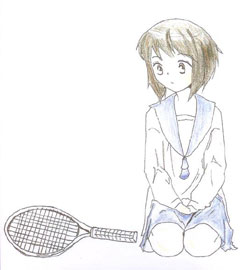 Created by
Catherine Chen
, a sixteen-year old USTA junior competitor from Southern California, this manga series follows the journey of a Japanese fifth grade student and her fun-filled tennis career. She is a total novice, but with her coach, a pro who had to retire due to injuries, and her supportive best friend, things are going to get interesting!
Check out Aced, Volume One here. You can see the front and back covers, and sample pages, and order from the secured shopping cart run by Yutopian Enterprises, a well established publisher.
The Andre Agassi Foundation for Education has raised millions of dollars for charity and has done wonderful work to transform public education for the underserved. All proceeds from the sale of this book will be donated to the Foundation.
Leave a Comment
More Special Features
29-Jan-2016
Andy Brandi on Junior Tennis
When Andy Brandi joined the United States Tennis Association's Player Development staff as a National Coach five years ago, he brought with him nearly every conceivable tennis experience: college tennis player, college coach, WTA touring coach, and tennis academy coach. Colette Lewis of ZooTennis.com got the chance to talk with him last month at the Junior Orange Bowl in Coral Gables, Fla.
15-Jan-2016
Eight Intriguing Questions for 2016
Another year... and another edition of "Intriguing Questions" from columnist Colette Lewis. Today, Colette poses eight queries about junior and college tennis for 2016.
11-Jan-2016
Learning from Lendl
During his Hall of Fame career, eight-time slam champion Ivan Lendl was known for his lethal forehand, his fitness, his preparation, and his single-minded pursuit of tennis excellence. With a stern and often forbidding presence on the court, Lendl, now 55, has made a markedly different impression on the seven junior boys he is working with as a USTA coaching consultant.