Special Announcement
Tennis Manga Graphic Novel to Benefit Agassi Foundation
by Press Release, 11 May 2010
Announcing the availability of graphic novel Aced, Volume One: Tennis Manga. All proceeds will be donated to the Andre Agassi Foundation for Education.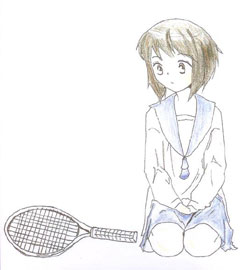 Created by
Catherine Chen
, a sixteen-year old USTA junior competitor from Southern California, this manga series follows the journey of a Japanese fifth grade student and her fun-filled tennis career. She is a total novice, but with her coach, a pro who had to retire due to injuries, and her supportive best friend, things are going to get interesting!
Check out Aced, Volume One here. You can see the front and back covers, and sample pages, and order from the secured shopping cart run by Yutopian Enterprises, a well established publisher.
The Andre Agassi Foundation for Education has raised millions of dollars for charity and has done wonderful work to transform public education for the underserved. All proceeds from the sale of this book will be donated to the Foundation.
Leave a Comment
More Special Features
27-Jan-2017
Key Changes in Junior Tennis for 2017
A new year always brings new rules and regulations in the junior tennis world. Earlier this week I spoke with USTA Director of National Tournaments Lew Brewer about changes the International Tennis Federation and USTA have implemented for 2017.
13-Jan-2017
Eight Intriguing Questions for 2017
Covering junior tennis tournaments and reporting on individual matches is the bread and butter of what I do at ZooTennis.com. But every January, the Tennis Recruiting Network encourages me to step back and contemplate some of the structural and procedural changes that surround the always evolving sport of tennis. Here are the eight questions that I look forward to seeing answered in 2017 ...
10-Jan-2017
Welcome to the USTA National Campus
While in Florida last month for the big junior tennis tournaments, I took a few hours to tour the USTA's vast new 64-acre National Campus in Lake Nona. The scale of the project is difficult to grasp even when visiting in person, but here are 18 photos to provide a glimpse into what is available at the public facility.