Special Announcement
Tennis Manga Graphic Novel to Benefit Agassi Foundation
by Press Release, 11 May 2010
Announcing the availability of graphic novel Aced, Volume One: Tennis Manga. All proceeds will be donated to the Andre Agassi Foundation for Education.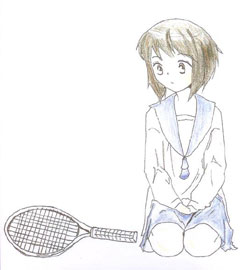 Created by
Catherine Chen
, a sixteen-year old USTA junior competitor from Southern California, this manga series follows the journey of a Japanese fifth grade student and her fun-filled tennis career. She is a total novice, but with her coach, a pro who had to retire due to injuries, and her supportive best friend, things are going to get interesting!
Check out Aced, Volume One here. You can see the front and back covers, and sample pages, and order from the secured shopping cart run by Yutopian Enterprises, a well established publisher.
The Andre Agassi Foundation for Education has raised millions of dollars for charity and has done wonderful work to transform public education for the underserved. All proceeds from the sale of this book will be donated to the Foundation.
Leave a Comment
More Special Features
25-Jul-2015
Analysis of Junior Ratings and Rankings
The Tennis Recruiting ranking system provides a predictive measure of junior tennis players. For the recent Clay Court Championships, our rankings correctly predicted 77.2% of the match results. So - is that a good number? This article compares the Tennis Recruiting ranking system with other junior tennis ranking and rating systems.
25-Jul-2015
Revisiting the Clay Court Forecast
Before the USTA Clay Court Championships began, Tennis Recruiting put out heat maps forecasting the chances players had to make runs through the tournament. So, how did we do? Let's take a look now that the tournaments are complete...
14-Jul-2015
Introduction to Junior Tennis Rankings
There are many ranking and rating systems in junior tennis - systems that assign values to players for purposes of comparing them. Each system has different properties and goals. Each system also has its followers, and there are arguments about which systems are "best". But what does "best" mean? This article opens a discussion about the various ranking systems in American junior tennis today.