Special Announcement
Tennis Manga Graphic Novel to Benefit Agassi Foundation
by Press Release, 11 May 2010
Announcing the availability of graphic novel Aced, Volume One: Tennis Manga. All proceeds will be donated to the Andre Agassi Foundation for Education.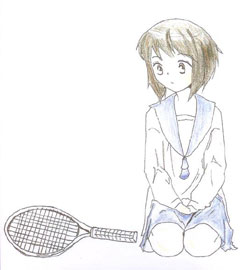 Created by
Catherine Chen
, a sixteen-year old USTA junior competitor from Southern California, this manga series follows the journey of a Japanese fifth grade student and her fun-filled tennis career. She is a total novice, but with her coach, a pro who had to retire due to injuries, and her supportive best friend, things are going to get interesting!
Check out Aced, Volume One here. You can see the front and back covers, and sample pages, and order from the secured shopping cart run by Yutopian Enterprises, a well established publisher.
The Andre Agassi Foundation for Education has raised millions of dollars for charity and has done wonderful work to transform public education for the underserved. All proceeds from the sale of this book will be donated to the Foundation.
Leave a Comment
More Special Features
20-Jan-2015
Racquet Customization a Growing Trend in Junior and College Tennis
As if tennis parents, junior and college tennis players didn't have enough expense in buying frames, strings, shoes and high tech apparel, many are choosing to shell out even more cash to have their racquets customized to preferred specifications.
16-Jan-2015
Eight Intriguing Questions for 2015
It's January... so it must be time for another edition of "Intriguing Questions" from columnist Colette Lewis. Today, in the tenth article in as many years, Colette poses eight questions about junior and college tennis that should be answered over the coming months.
9-Jan-2015
An interview with Nick Saviano
Nick Saviano began his storied coaching career at age 28 after winning two NCAA titles at Stanford and playing the ATP circuit for several years. After 15 years with the USTA, Saviano started his own tennis academy, where he can still be found feeding balls to eight-year-olds with grand slam dreams. Colette Lewis got the chance to talk with Saviano about many topics around tennis coaching and the game in general.