Special Announcement
Tennis Manga Graphic Novel to Benefit Agassi Foundation
by Press Release, 11 May 2010
Announcing the availability of graphic novel Aced, Volume One: Tennis Manga. All proceeds will be donated to the Andre Agassi Foundation for Education.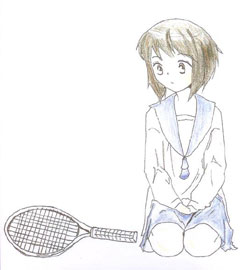 Created by
Catherine Chen
, a sixteen-year old USTA junior competitor from Southern California, this manga series follows the journey of a Japanese fifth grade student and her fun-filled tennis career. She is a total novice, but with her coach, a pro who had to retire due to injuries, and her supportive best friend, things are going to get interesting!
Check out Aced, Volume One here. You can see the front and back covers, and sample pages, and order from the secured shopping cart run by Yutopian Enterprises, a well established publisher.
The Andre Agassi Foundation for Education has raised millions of dollars for charity and has done wonderful work to transform public education for the underserved. All proceeds from the sale of this book will be donated to the Foundation.
Leave a Comment
More Special Features
26-Mar-2017
Collegiate Exposure Camps - Summer Series 2017
Want to play college tennis? Join the Collegiate Exposure Camps - Taught Exclusively by College Coaches. These camps are designed for competitive boys and girls entering grades 8-12 next year and hosted at prestigious schools around the nation.
24-Mar-2017
Countdown: Fitting In Doubles Proves Challenging
Doubles is fun, helps players to improve their games, key in college tennis, and a scheduling nightmare. For these reasons, settling on one scoring format for the four-person version of the game has proven impossible.
27-Feb-2017
In Search of Tennis Gadgets at CES 2017
Each January, 185,000 people descend on Las Vegas for the annual Consumer Electronics Show. While the masses aren't there to look for the latest tennis training aid or wearable device, potential gadgets for tennis players and fans are found in just about every corner of the city.