Special Announcement
Tennis Manga Graphic Novel to Benefit Agassi Foundation
by Press Release, 11 May 2010
Announcing the availability of graphic novel Aced, Volume One: Tennis Manga. All proceeds will be donated to the Andre Agassi Foundation for Education.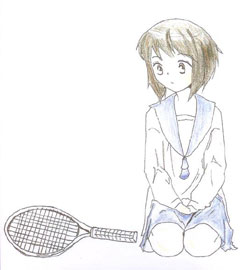 Created by
Catherine Chen
, a sixteen-year old USTA junior competitor from Southern California, this manga series follows the journey of a Japanese fifth grade student and her fun-filled tennis career. She is a total novice, but with her coach, a pro who had to retire due to injuries, and her supportive best friend, things are going to get interesting!
Check out Aced, Volume One here. You can see the front and back covers, and sample pages, and order from the secured shopping cart run by Yutopian Enterprises, a well established publisher.
The Andre Agassi Foundation for Education has raised millions of dollars for charity and has done wonderful work to transform public education for the underserved. All proceeds from the sale of this book will be donated to the Foundation.
Leave a Comment
More Special Features
28-Jun-2015
Mid-Atlantic College Showcase in Boyds, Maryland
On Saturday, July 11, the Montgomery TennisPlex will host its 2015 College Tennis Showcase, giving USTA Mid-Atlantic high school players a chance to learn about college tennis and interact with coaches. The showcase will be held at the Montgomery TennisPlex in Boyds, Maryland, and will include both information and on-court sessions.
26-Jun-2015
An Interview with Martin Blackman, General Manager USTA Player Development
If there are hats Martin Blackman hasn't worn in his decades associated with the sport of tennis, they'd be difficult to spot. Named General Manager of USTA Player Development in April, Blackman has a resume that includes experience as player, coach and administrator. Colette Lewis of ZooTennis.com talks with Blackman about a host of topics related to junior and college tennis.
9-Jun-2015
USTA Gives Position on Use of Periscope and Meerkat Live Streaming Apps
Less than three months after the release of live streaming video apps in Periscope and Meerkat, sports organizations and networks around the world are giving their positions and setting policy on how these convenient but controversial apps can be used by fans and others in attendance at their events. Rick Limpert discusses their use in the tennis world.