Special Announcement
Tennis Manga Graphic Novel to Benefit Agassi Foundation
by Press Release, 11 May 2010
Announcing the availability of graphic novel Aced, Volume One: Tennis Manga. All proceeds will be donated to the Andre Agassi Foundation for Education.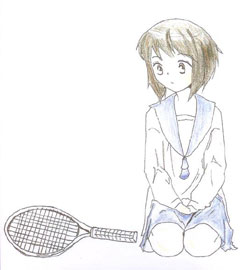 Created by
Catherine Chen
, a sixteen-year old USTA junior competitor from Southern California, this manga series follows the journey of a Japanese fifth grade student and her fun-filled tennis career. She is a total novice, but with her coach, a pro who had to retire due to injuries, and her supportive best friend, things are going to get interesting!
Check out Aced, Volume One here. You can see the front and back covers, and sample pages, and order from the secured shopping cart run by Yutopian Enterprises, a well established publisher.
The Andre Agassi Foundation for Education has raised millions of dollars for charity and has done wonderful work to transform public education for the underserved. All proceeds from the sale of this book will be donated to the Foundation.
Leave a Comment
More Special Features
27-Feb-2015
Talking with Michael Joyce - Part 1
Michael Joyce is best known to tennis fans now as the former coach of five-time slam champion Maria Sharapova. Prior to his coaching stint with Sharapova however, the 42-year-old Southern Californian had his own distinguished career, winning the USTA Boys 18s Nationals in 1991 and reaching an ATP career-high ranking of 64 five years later. Colette Lewis of ZooTennis.com got the chance to talk with Joyce about about his years with Sharapova, his coaching philosophy, his current work at a tennis academy, and much more...
4-Feb-2015
Inside College Tennis with Tony Minnis Returns
This weekend, Inside College Tennis with Tony Minnis returns with the first of three all-new episodes on The Tennis Channel. The television program, which highlights college tennis programs around the country of all shapes and sizes, should appeal to the entire TennisRecruiting.net community. We caught up with host Tony Minnis to learn what is coming...
20-Jan-2015
Racquet Customization a Growing Trend in Junior and College Tennis
As if tennis parents, junior and college tennis players didn't have enough expense in buying frames, strings, shoes and high tech apparel, many are choosing to shell out even more cash to have their racquets customized to preferred specifications.