Special Announcement
Tennis Manga Graphic Novel to Benefit Agassi Foundation
by Press Release, 11 May 2010
Announcing the availability of graphic novel Aced, Volume One: Tennis Manga. All proceeds will be donated to the Andre Agassi Foundation for Education.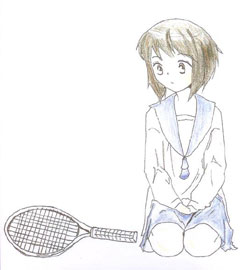 Created by
Catherine Chen
, a sixteen-year old USTA junior competitor from Southern California, this manga series follows the journey of a Japanese fifth grade student and her fun-filled tennis career. She is a total novice, but with her coach, a pro who had to retire due to injuries, and her supportive best friend, things are going to get interesting!
Check out Aced, Volume One here. You can see the front and back covers, and sample pages, and order from the secured shopping cart run by Yutopian Enterprises, a well established publisher.
The Andre Agassi Foundation for Education has raised millions of dollars for charity and has done wonderful work to transform public education for the underserved. All proceeds from the sale of this book will be donated to the Foundation.
Leave a Comment
More Special Features
21-Mar-2015
Former College Stars, Juniors Take BNP Paribas Open Challenge
It's one of the longest of longshots in tennis. Winning six or seven straight matches to reach just the qualifying stage of an ATP or WTA tennis event is considered a longshot. Thousands now try it each summer with the USTA's U.S. Open National Playoffs, and a couple hundred more try it each year in Indian Wells, Calif., as the people behind the BNP Paribas Open host the BNP Paribas Open Challenge. Several junior and college stars are among them.
9-Mar-2015
College Coaches Forum
Some junior tennis tournaments include college forums where junior tennis players and their parents can learn about the college recruiting process. One such forum took place at the USTA Southern Sectionals in Rome, Ga., earlier this year. Get some of the tips from that forum - and find out what they are all about...
28-Feb-2015
Talking with Michael Joyce - Part 2
Colette Lewis of ZooTennis.com got the chance to talk with former tennis player and now coach Michael Joyce earlier this month in Midland, Michigan at the $100,000 Dow Corning Tennis Classic. This is Part 2 of their conversation.