Special Announcement
Tennis Manga Graphic Novel to Benefit Agassi Foundation
by Press Release, 11 May 2010
Announcing the availability of graphic novel Aced, Volume One: Tennis Manga. All proceeds will be donated to the Andre Agassi Foundation for Education.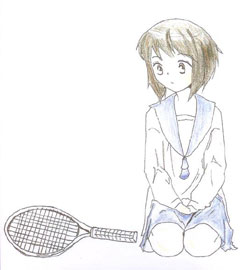 Created by
Catherine Chen
, a sixteen-year old USTA junior competitor from Southern California, this manga series follows the journey of a Japanese fifth grade student and her fun-filled tennis career. She is a total novice, but with her coach, a pro who had to retire due to injuries, and her supportive best friend, things are going to get interesting!
Check out Aced, Volume One here. You can see the front and back covers, and sample pages, and order from the secured shopping cart run by Yutopian Enterprises, a well established publisher.
The Andre Agassi Foundation for Education has raised millions of dollars for charity and has done wonderful work to transform public education for the underserved. All proceeds from the sale of this book will be donated to the Foundation.
Leave a Comment
More Special Features
25-Nov-2015
Laaksonen the Winner at 20th Champaign Challenger
Singles winner Henri Laaksonen and doubles champions David O'Hare and Joe Salisbury had plenty to celebrate on Saturday as they took the top prizes at the USTA JSM Champaign pro circuit event, but they weren't the only ones cheering. The Challenger celebrated its 20th year, making it one of the longest running tournaments of its kind in the country.
31-Oct-2015
ImRecruitable College Training Day and Showcase
ImRecruitable will once again host its largest recruiting event of the year. The College Training Day and Showcase will be held at Sunrise Tennis Club in Sunrise, Fla., on Dec 2 and 3, 2015. These events allow players the opportunity to gain maximum exposure and networking with college coaches that can lead directly to scholarship opportunities.
7-Oct-2015
USTA Adds Brad Stine to National Collegiate Coaching Staff
Brad Stine has coached tennis for 30 years, and he was recently appointed as the newest member of the USTA Player Development's collegiate division. Colette Lewis of ZooTennis.com recently talked with Stine about many topics - including the reasons he decided to pursue coaching, the five requirements for success as a pro, the value of the college pathway and the ITF's push for more prize money at the lower levels.