TOP PROSPECTS
Boys' Class of 2015 - Juniors
As of Monday, 3/3/2014




| | | | | | | | | | | | | |
| --- | --- | --- | --- | --- | --- | --- | --- | --- | --- | --- | --- | --- |
| View: | | Blue Chip | | 5-Star | | 4-Star | | 3-Star | | 2-Star | | 1-Star |





| Rating | Name | City | State |
| --- | --- | --- | --- |
| | Akins, Drew (Andrew) | Johns Creek | GA |
| | Anderson, Gregory | Tucson | AZ |
| | Andry, Cameron | Baton Rouge | LA |
| | Anzalone, Vincent | Wickliffe | OH |
| | Apple, Michael | Memphis | TN |
| | Arora, Vayum | Fremont | CA |
| | Auteri, Christopher | Staten Island | NY |
| | Barr, Kyle | Hilton Head Island | SC |
| | Barr, Tyler | Chagrin Falls | OH |
| | Beasley, David | Greenwood | IN |
| | Becker, Julius | Largo | FL |
| | Bedekar, Neel | Saratoga | CA |
| | Belsito, Daniel | Charlotte | NC |
| | Benjamin, Jordan | Fairport | NY |
| | Bessette, Zachary | Bradenton | FL |
| | Borchenko, Nicholas | Studio City | CA |
| | Boyar, Brian | Fair Oaks Ranch | TX |
| | Boyer, Toby | Ham Lake | MN |
| | Boykin, Kenneth | Jenks | OK |
| | Brazil, Sam | Asheville | NC |
| | Cauneac, Alex | Severna Park | MD |
| | Cerrini, Ezequiel | Sunny Isles Beach | FL |
| | Chari, Vikram | Saratoga | CA |
| | Chen, Michael | Holmdel | NJ |
| | Chintham, Jayanth | Cumming | GA |
| | Chiu, Spencer | Austin | TX |
| | Collins, Josiah | Atlanta | GA |
| | Cooper, George | Seal Beach | CA |
| | Cuba, Lubomir | Massapequa Park | NY |
| | Dave, Eshan | Southlake | TX |
| | DeLaTorre, Raul | Calexico | CA |
| | Deautriell, Jonathan | Pembroke Pines | FL |
| | Dragos, Mason | Lexington | OH |
| | Duarte, Hufelder | Johns Island | SC |
| | Galush, Matthew | Cary | NC |
| | Garnett, Connor | Bellevue | WA |
| | Gazzolo, Cristian | Coral Gables | FL |
| | Gerstein, Ari | Carmel | IN |
| | Ghering, Matt | Roswell | GA |
| | Goodwin, John | Mission Hills | KS |
| | Gordy, Julian | Tarzana | CA |
| | Grabill, Eddie | Hinsdale | IL |
| | Gray, Joseph | Dallas | TX |
| | Hafezi, Arash | Irvine | CA |
| | Haig, Joseph | Chestnut Hill | MA |
| | Hall, Justin | Plantation | FL |
| | Harvey, Colin | Lake Forest | IL |
| | Herrera, Justin | Miami | FL |
| | Hollaway, Felix | Houston | TX |
| | Hou, Brian | Mercer Island | WA |
| | Hyman, Justin | Oakland Twp | MI |
| | Indrakanti, Deepak | Cincinnati | OH |
| | Janglin, Oscar | Sarasota | FL |
| | Jiang, Yangeng | Pennington | NJ |
| | Johnson, Andre | Sarasota | FL |
| | Khan, Kamran | Dallas | TX |
| | Kissell, Chad | Hostetter | PA |
| | Klousia, Micah | Springfield | MO |
| | Ko, Sean | Danville | CA |
| | Kolachalam, Sreyas | Campbell | CA |
| | Kozlowski, Konrad | Irvine | CA |
| | Kros, Jason | Fairfax | VA |
| | Kumar, Ninan | Orlando | FL |
| | La Plante, Jack | Ojai | CA |
| | Lam, Kawika | Honolulu | HI |
| | Lam, Kevin | Galloway | NJ |
| | Lang, Spencer | Longmont | CO |
| | Lawson, Cole | Spring | TX |
| | Lee, Anthony | Gardena | CA |
| | Lenhard, Rafael | Carlsbad | CA |
| | Leto, Tony | Downers Grove | IL |
| | Levine, Daniel | Highland Park | IL |
| | Lieb, Benjamin | Newtown Sq | PA |
| | Lieb, Zachary | Newtown Sq | PA |
| | Liu, Max | San Diego | CA |
| | Llamas, Emanuel | El Paso | TX |
| | Mancini, Gianni | Irving | TX |
| | Marker, Ryan | Rancho Mirage | CA |
| | Markes, Colin | Austin | TX |
| | Miglo, Victor | Kew Gardens | NY |
| | Milstead, John | Houston | TX |
| | Mitchell, David | Castle Rock | CO |
| | Moore, Michael | Sarasota | FL |
| | Moreno, Emilio | Calexico | CA |
| | O'Meara, Conor | Austin | TX |
| | Ogden, Michael | Salisbury | NC |
| | Ortlip, Joshua | Irvine | CA |
| | Osses-Konig, Felipe | Rego Park | NY |
| | Page, Andy | Wheaton | IL |
| | Paige, Sayer | Fairfield | CT |
| | Patterson, Sawyer | Burbank | CA |
| | Pei, Charles | San Diego | CA |
| | Perez, Isaac | San Antonio | TX |
| | Peters, Michael | Saint Louis | MO |
| | Plutt, Michael | Weston | FL |
| | Poynter, Alexander | Houston | TX |
| | Pugh, Jacob | Dacula | GA |
| | Quang, Michael | Forest Hill | MD |
| | Rodgers, Jeffrey | Scotch Plains | NJ |
| | Rollhauser, Lorenzo | Knoxville | TN |
| | Rudowski, Adam | Franklin | TN |
| | Salgado, Afonso | Boca Raton | FL |
| | Salzmann, Dimitri | Hollywood | FL |
| | Sarkisov, David | Boynton Beach | FL |
| | Schaefer, Fabian | Ventura | CA |
| | Scott, Riley | Salinas | CA |
| | Sharton, William | Wayland | MA |
| | Sheehy, Joshua | Arlington | TX |
| | Shin, Peter | Dublin | CA |
| | Shintani, Aiku | San Diego | CA |
| | Shisler, William | Naples | FL |
| | Simhadri, Satyajit | Saratoga | CA |
| | Sinai, Andrew | Bethlehem | PA |
| | Spaulding, James | Winnetka | IL |
| | Springer, Nicholas | Naples | FL |
| | Sprinkel, Jesse | Minneapolis | MN |
| | Sun, Justin | Fremont | CA |
| | Sweet, Alan | Naples | FL |
| | Tan, Charles | Austin | TX |
| | Trhac, Peter | San Diego | CA |
| | Vandixhorn, Ben | Green Oaks | IL |
| | Vemuri, Avinash | Portland | OR |
| | Vishnubhotla, Radhakrishna | Carmel | IN |
| | Wagner, Eric | Roslyn Hts | NY |
| | Wang, Mike | San Ramon | CA |
| | Werner, Nicholas | Carmel | IN |
| | Zaretsky, Fredrick | Fair Lawn | NJ |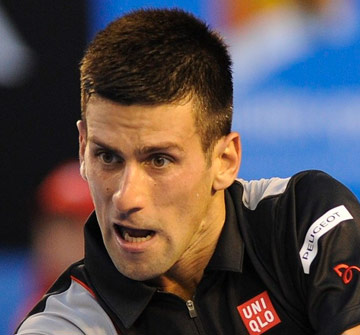 Novak Djokovic

Click on Novak Djokovic to view and buy his equipment, apparel, and footwear.


Follow college tennis with the ITA - the governing body that oversees all levels of men's and women's varsity collegiate tennis.
Athletic DNA: Rain Is No Excuse
Athletic DNA athletes are #BornForThis. There will always be an excuse not to train, true athletes will have none.