TOP PROSPECTS
Girls' Class of 2013 - Seniors
As of Monday, 3/11/2013




| | | | | | | | | | | | | |
| --- | --- | --- | --- | --- | --- | --- | --- | --- | --- | --- | --- | --- |
| View: | | Blue Chip | | 5-Star | | 4-Star | | 3-Star | | 2-Star | | 1-Star |





| Rating | Name | City | State |
| --- | --- | --- | --- |
| | Adamson, Kanela | Bountiful | UT |
| | Almaguer, Jasmine | Colton | CA |
| | Anghelescu, Corina | Johns Creek | GA |
| | Aranda, Alexis | Longwood | FL |
| | Asch, Samantha | Princeton | NJ |
| | Ashby, Meika | Kalamazoo | MI |
| | Avgerinos, Maria | Elmhurst | IL |
| | Baker, Melissa | Simi Valley | CA |
| | Baklini, Susan | Albuquerque | NM |
| | Barnard, Sophie | Mill Neck | NY |
| | Bellinger, Lauren | Dublin | OH |
| | Bensimon, Victoria | Cocoa Beach | FL |
| | Bhat, Rachana | Tucson | AZ |
| | Blakely, Audrey Ann | Reading | PA |
| | Boesing, Olivia | Floyds Knobs | IN |
| | Bondy, Lily | Brooklyn | NY |
| | Boos, Lyndsey | Orlando | FL |
| | Bouillin, Marion | San Diego | CA |
| | Brewster, Brittany | Austin | TX |
| | Brown, Ryan | Spicewood | TX |
| | Brown, Sara | Tucson | AZ |
| | Brown, Taylor | Winter Park | FL |
| | Brunner, Jenna | Cumming | GA |
| | Bryde, Karlee | Suwanee | GA |
| | Bure, Ekaterina | Springfield | NJ |
| | Castro, Michelle | Oakton | VA |
| | Cervin, Aspen | Houston | TX |
| | Cesarini, Cortney | Bradenton | FL |
| | Chamdani, Mariska | Santa Clara | CA |
| | Chen, Angela | Bellevue | WA |
| | Cheng, Vivian | Woodbury | NY |
| | Collens, Brittany | Manchester | MA |
| | Cordero, Ana | Guaynabo | PR |
| | Coria, Fiorella | Tustin | CA |
| | Crawford, Jacqueline | Bloomfield Hills | MI |
| | Cunningham, Farris | Houston | TX |
| | D'Ascenzo, Alexandra | West Bloomfield | MI |
| | DeLeon, Camille | La Mirada | CA |
| | Dechter, Ariel | Mundelein | IL |
| | Demontesquiou, Savannah | Encino | CA |
| | Dilorenzo, Cristina | New Albany | OH |
| | Dulski, Dominique | Indio | CA |
| | Egger, Grace | Issaquah | WA |
| | Elliott, Macie | Evansville | IN |
| | Escobar, Jessica | Miami | FL |
| | Etten, Shannon | Naples | FL |
| | Faulkner, Erin | Raleigh | NC |
| | Fields, Alexandra | Coral Gables | FL |
| | Flanagan, Shea | Overland Park | KS |
| | Franco, Yasmin | Largo | FL |
| | Gbadamosi, Princess | Houston | TX |
| | Golick, Lauren | Westlake | OH |
| | Goodman, Melissa | Lincoln | MA |
| | Groeneveld, Emily | FtLaud | FL |
| | Grunin, Destiny | Brooklyn | NY |
| | Guensler, Nini | Aliso Viejo | CA |
| | Hassey, Mariely | Surprise | AZ |
| | Hayley, Allyson | The Woodlands | TX |
| | Ho, Rebecca | Santa Clarita | CA |
| | Holden, Taylor | West Chester | OH |
| | Hopson, Meredith | Austin | TX |
| | Horton, Rachel | Stamford | CT |
| | Huie, Alexandra | The Woodlands | TX |
| | Jiang, Tina | Bridgewater | NJ |
| | Keller, Brenna | Mandeville | LA |
| | Kitchen, Alexandra | Palm Harbor | FL |
| | Klier, Kyla | Encino | CA |
| | Kong, Wendi | Cupertino | CA |
| | Lai, Krystal | Irvine | CA |
| | Law, Jody | Cupertino | CA |
| | Lederman, Taylor | Bradenton | FL |
| | Lefridge, Taylor | Corona | CA |
| | Legall, Kandis | Palm Coast | FL |
| | Li, My Linh | Galloway | OH |
| | Light, Samantha | Cramerton | NC |
| | Lin, Iris | South San Francisco | CA |
| | Martin, Blair | Tampa | FL |
| | Mitrache, Andreea | Sterling Heights | MI |
| | Morales, Rachael | Reynoldsburg | OH |
| | Nederlander, Taylor | Laguna Beach | CA |
| | Nelsen, Katherine | Omaha | NE |
| | Nelson, Rachel | Big Prairie | OH |
| | Nemchen, Yelena | Granite Bay | CA |
| | Nguyen, Cindy | Long Beach | CA |
| | Oedekerk, Zoe | San Juan Capistrano | CA |
| | Olivier, Emily | Spring | TX |
| | Orozco, Kassandra | New Milford | NJ |
| | Osabuohien, Adesuwa | Hazel Crest | IL |
| | Pavia, Vanessa | Thornwood | NY |
| | Polk, Macy | Powder Springs | GA |
| | Porter, Nan | Amarillo | TX |
| | Ragon, Catherine | Mandeville | LA |
| | Ralston, Summer | Roswell | GA |
| | Rao, Ashnaa | Charlotte | NC |
| | Rider, Sydney | Annapolis | MD |
| | Rochin, Hailey | Tucson | AZ |
| | Rudico, Jocelle | Duncanville | TX |
| | Serrano, Emily | Phoenix | AZ |
| | Shin, Linda | Johns Creek | GA |
| | Shukow, Taylor | Boca Raton | FL |
| | Smergut, Nadia | New York | NY |
| | Song, Alice | Charlotte | NC |
| | Spearman, Cassidy | Laguna Niguel | CA |
| | Stalder, Samantha | Costa Mesa | CA |
| | Stein, Sarah | Dublin | OH |
| | Stone, Sierra | Powell | OH |
| | Talbert, Miranda | Bradenton | FL |
| | Tan, Nora | Mercer Island | WA |
| | Tarun, Aimee | Kenilworth | IL |
| | Thai, Ashley | Galloway | OH |
| | Thai, Lauren | Galloway | OH |
| | Thoma, Alexis | Frisco | TX |
| | Thompson, Hayley | Irvine | CA |
| | Traynor, Victoria | Osprey | FL |
| | Valenzuela, Alexis Rae | West Covina | CA |
| | Valimaki, Erica | Orem | UT |
| | Vonderschmidt, Macy | McKinney | TX |
| | Ware, Savannah | Thousand Oaks | CA |
| | Wierda, Annie | Holland | MI |
| | Willetts, Chloe | Winston-Salem | NC |
| | Williams, Claire | San Angelo | TX |
| | Womack, Kennedy | Ashland | KY |
| | Wreder, Gabrielle | Miami | FL |
| | Wright, Mary Elizabeth | Hot Springs | AR |
| | Yazawa, Honami | Ojai | CA |
| | Young, Sydney | Austin | TX |
| | Zalameda, Amanda | Los Angeles | CA |
| | Zukowski, Victoria | Delray Beach | FL |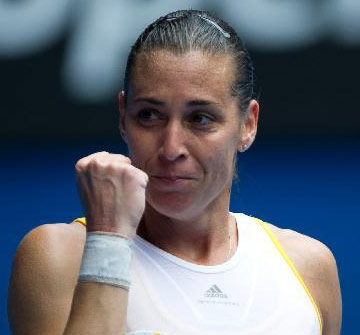 Flavia Pennetta

Click on Flavia Pennetta to view and buy her equipment, apparel, and footwear.


Follow college tennis with the ITA - the governing body that oversees all levels of men's and women's varsity collegiate tennis.
Gorin Tennis Academy
Gorin Tennis Academy is located in Granite Bay, just 20 minutes from Sacramento, CA.