TOP PROSPECTS
Girls' Class of 2014 - Seniors
As of Monday, 9/16/2013




| | | | | | | | | | | | | |
| --- | --- | --- | --- | --- | --- | --- | --- | --- | --- | --- | --- | --- |
| View: | | Blue Chip | | 5-Star | | 4-Star | | 3-Star | | 2-Star | | 1-Star |





| Rating | Name | City | State |
| --- | --- | --- | --- |
| | Aaron, Charlotte | Phoenix | AZ |
| | Abraham, Riya | Newington | CT |
| | Adams, Alexis | Snellville | GA |
| | Adams, Jenny | Renton | WA |
| | Al-Islam, Aliyah | San Francisco | CA |
| | Aliev, Ania | Needham | MA |
| | Allen, Abigail | Lenoir City | TN |
| | Allen, Grace | Greensboro | NC |
| | Allen, Meg | Hot Springs | AR |
| | Alvarado, Alexa | El Paso | TX |
| | Anderson, Cara | Wichita | KS |
| | Anderson, Haley | Cumming | GA |
| | Anderson, Rebekah | El Paso | TX |
| | Angell, Molly | Ottawa | IL |
| | Aranguiz, Constanza | Chino | CA |
| | Arribere, Nicole | Murrieta | CA |
| | Arroyo, Stefanie | Gurabo | PR |
| | Bailey, Hope | Sacramento | CA |
| | Baker, Allison | Columbia | MO |
| | Balls, Amanda | South Jordan | UT |
| | Bansal, Prachi | Dublin | OH |
| | Barbour, Davi | Mount Airy | NC |
| | Barnard, Brooke | Kansas City | MO |
| | Barnfield, Sabrina | Kilgore | TX |
| | Barrett, Bridget | Grand Rapids | MI |
| | Barron, Ashley | Suwanee | GA |
| | Barroso, Kylie | Conroe | TX |
| | Basile, Sarina | Columbia | SC |
| | Bauer, Kesha | Browns Mills | NJ |
| | Baum, Lindsay | North Salem | NY |
| | Baxter, Arden | Georgetown | TX |
| | Beachy, Chandler | Jacksonville | FL |
| | Beardall, Taylor | Longview | WA |
| | Beck, Rachel | Metairie | LA |
| | Beebe, Giselle | Olympia Fields | IL |
| | Bell, Megan | Holladay | UT |
| | Belote, Abbey | Springfield | MO |
| | Bernard, Morgan | Cincinnati | OH |
| | Betancourt, Tatiana | Covina | CA |
| | Bild, Tresa | Boise | ID |
| | Biswas, Maya | Bedford | MA |
| | Bock, Kathryn | Winchester | VA |
| | Bode, Taylor | Bloomington | IN |
| | Booker, Kate | Indianapolis | IN |
| | Borenstein, Jenna | New York | NY |
| | Boster, Madeline | Cincinnati | OH |
| | Bounpaseuth, Tiffany | Keller | TX |
| | Bourlas, Natalie | North Canton | OH |
| | Bowman, Dezmin | Indianapolis | IN |
| | Brandes, Courtney | Colorado Springs | CO |
| | Breimon, Kylee | Battle Ground | WA |
| | Brown, Ashley | Mapleton | UT |
| | Brummitt, Sylvia | San Diego | CA |
| | Bullock, Leah | Brownsburg | IN |
| | Burgos, Elizabeth | Dallas | TX |
| | Burns, Kelly | Holland | MI |
| | Busacca, Isabella | Bakersfield | CA |
| | Butler-Yeo, Asia | Wauwatosa | WI |
| | Butterworth, Brooke | Burlingame | CA |
| | Byrne, Kate | Phoenix | AZ |
| | Callo, Jaclyn | Clifton | VA |
| | Candia, Lauren | Anaheim | CA |
| | Casey, Rachel | Portland | OR |
| | Castellanos Garcia, Stephanie | The Woodlands | TX |
| | Cerati, Elena | Basking Ridge | NJ |
| | Chaplin, Alana | Corvallis | OR |
| | Cheatham, Nya | Lancaster | TX |
| | Chieffalo, Isabella | FtWorth | TX |
| | Choi, Lily | Flower Mound | TX |
| | Chupp, Rachel | Lawrenceville | GA |
| | Cnossen, Mikayla | Sparta | MI |
| | Coghlan, Megan | Bloomington | IN |
| | Conley, Meggie | Houston | TX |
| | Connors, Bridget | East Quogue | NY |
| | Cook, Hannah | Houston | TX |
| | Cook, Scarlet | Sylvester | GA |
| | Cooper, Isabelle | Columbia | SC |
| | Corrigan, Sid | South Bend | IN |
| | Coryell, Sarah | Golden Valley | MN |
| | Cox, Sarah | West Monroe | LA |
| | Craft, Hailey | Jackson | MI |
| | Crenshaw, Alexis | Boca Raton | FL |
| | Crow, Makayla | Little Rock | AR |
| | Cychosz, Jacqueline | Apple Valley | MN |
| | D'Souza, Kelsey | Austin | TX |
| | Daigle, Kimberly | Sterling | MA |
| | Daniels, Hailey | Ogden | UT |
| | Darby, Peryn | Jackson | MS |
| | Darian, Layla | Cumming | GA |
| | Davis, Cassie | Indianapolis | IN |
| | Davis, Olivia | Winchester | MA |
| | DeRobertis, Amber | New Fairfield | CT |
| | Deboer, Hailey | Santa Barbara | CA |
| | Devanthiran, Angeline | Woodside | NY |
| | Dibbins, Rachel | Oceanside | CA |
| | Ditler, Anna | Woodland | CA |
| | Ditler, Marrisa | Woodland | CA |
| | Donnelly, Kristen | Centerville | MA |
| | Dorman, Caroline | Lake Oswego | OR |
| | Downing, Haleigh | Bountiful | UT |
| | Dragos, Nicole | Lexington | OH |
| | Dreher, Caroline | Snohomish | WA |
| | Dunn, Danielle | Middleton | MA |
| | Dupuis, Lauren | Tallahassee | FL |
| | Earl, Ashlee | Morgan | UT |
| | Ecton, Kayl | FtCollins | CO |
| | Efimov, Daria | Southport | CT |
| | Eiler, Lexington | Lafayette | IN |
| | El-Kara, Sophie | Chino Hills | CA |
| | Eldredge, Cassandra | Peachtree City | GA |
| | Elia, Katherine | Erie | PA |
| | Emerson, Jennifer | Laguna Niguel | CA |
| | Estep, Monica | Roswell | GA |
| | Farmer, Sydney | Wayzata | MN |
| | Farrell, Samantha | Oakland | CA |
| | Faulkner, Emily | Oklahoma City | OK |
| | Ferguson, Jordan | Bainbridge Island | WA |
| | Fladung, Cheryl | Liberty Twp | OH |
| | Flahaven, Anna | Niles | MI |
| | Fley, Bess | Ft Mitchell | KY |
| | Flick, Anna | Jasper | IN |
| | Florissi, Caterina | Briarcliff | NY |
| | Florissi, Isabella | Briarcliff Manor | NY |
| | Flynn, Anna | Salisbury | NC |
| | Forscher, Kristen | Guilford | CT |
| | Fox, Adrienne | Anchorage | AK |
| | Frank, Dana | Floyds Knobs | IN |
| | Frank, Melanie | Durham | CT |
| | Funches, Margie | Jackson | MS |
| | Gadila, Lipika | Chesterbrook | PA |
| | Gantz, Rachel | Waukesha | WI |
| | Garant, Tyler | Anaheim | CA |
| | Garcia, Sarah Mae | Irvine | CA |
| | Gawron, Lisa | Lemont | IL |
| | Gee-Taylor, Glenna | Louisville | CO |
| | Geronimo, Elizabeth | New Braunfels | TX |
| | Gilbert, Jenna | Mukilteo | WA |
| | Gillette, Jazmin | Wheat Ridge | CO |
| | Goddard, Allison | Leesburg | GA |
| | Goebel, Brittany | McHenry | IL |
| | Gonzalez, Emilia | Katy | TX |
| | Gorelick, Maxine | Ridgefield | CT |
| | Graham, Brooke | Wilmington | NC |
| | Grandville, Brittany | Tappan | NY |
| | Greene, Megan | El Paso | TX |
| | Gundlach, Katie | La Quinta | CA |
| | Haas, Sarah | Larchmont | NY |
| | Hamada, Jessica | El Segundo | CA |
| | Hamilton, Kaylee | Rogers | AR |
| | Hamilton, Miranda | Oklahoma City | OK |
| | Hammond, Virginia | Chattanooga | TN |
| | Hankel, Camille | Norwich | VT |
| | Hannasch, Tiffany | Peoria | AZ |
| | Harris, Rebecca | Highland Village | TX |
| | Hart, Samantha | Carrollton | TX |
| | Hatcher, Sarah | Maitland | FL |
| | Haussmann, Julia | Seattle | WA |
| | Henke, Jessica | Northfield | MN |
| | Herman, Abby | FtThomas | KY |
| | Hess, Julianna | Frisco | TX |
| | Hickey, Bridgette | Charlotte | NC |
| | Hildreth, Katie | Tempe | AZ |
| | Hills, Hannah | Wichita | KS |
| | Ho, Sophia | Scottsdale | AZ |
| | Holland, Natalie | Farmington Hills | MI |
| | Hoskins, Madeline | Spencer | NC |
| | Huang, Amy | Coto De Caza | CA |
| | Huber, Allison | Melville | NY |
| | Huck, Kate | Huntington | WV |
| | Hughes, Sarah | Haddonfield | NJ |
| | Hunt, Savanna Storm | Bettendorf | IA |
| | Hutchinson, Jane | Eldon | MO |
| | Issa, Rochell | Maumee | OH |
| | Iwasaki, Kaitlyn | Salt Lake City | UT |
| | Iyer, Aishwarya | North Potomac | MD |
| | Jahangir, Firdaus | Arcadia | CA |
| | Jensen, Kristin | Colorado Springs | CO |
| | Johnston, Holly | Saint Joseph | MO |
| | Johnston, Taylor | Branson | MO |
| | Jones, Haley | Evansville | IN |
| | Jovanovic, Isabela | Boca Raton | FL |
| | Kang, Chae Bean | Irvine | CA |
| | Kantor, Abby | Foley | MN |
| | Karabay, Hediye | Flushing | NY |
| | Kazdan, Mikayla | Southfield | MI |
| | Kelly, Lynn | Mason | OH |
| | Kennedy, Kelly | Valparaiso | IN |
| | Ki, Sojin | Irvine | CA |
| | King, Reagan | Rainbow City | AL |
| | Kinsella, Elizabeth | Warwick | RI |
| | Kitchiner, Deja | Citrus Springs | FL |
| | Klaassen, Heidi | Arkansas City | KS |
| | Klapper, Hannah | Carmel | IN |
| | Klasen, Jillian | Maple Grove | MN |
| | Klein, Kelly | Ross | CA |
| | Klueh, Zoey | Orlando | FL |
| | Kluesner, Bridget | Edina | MN |
| | Klump, Paige | Golden | CO |
| | Knapp, Emma | Tampa | FL |
| | Knight, Kaitlin | Sumter | SC |
| | Kobayashi, Mai | Waikoloa | HI |
| | Kreuzer, Victoria | Grand Rapids | MI |
| | Krumme, Caroline | Lakeside Park | KY |
| | Kuethe, Kayla | Clive | IA |
| | Kuo, Stephanie | Houston | TX |
| | LaPietra, Reagan | Monroe | LA |
| | Landreville, Karlee | The Woodlands | TX |
| | Lane, Allison | Kennett Square | PA |
| | Langell, Madeline | Big Rapids | MI |
| | Lanman, McCall | Palos Verdes | CA |
| | Lapinski, Brooke | Chanhassen | MN |
| | Laschober, Darby | Collierville | TN |
| | Lazenby, Anna | Opelika | AL |
| | Lear, Beta | Lees Summit | MO |
| | Lee, Amber | Dublin | OH |
| | Lemmon, Emily | Centerville | UT |
| | Lemon, Sierra | Portland | OR |
| | Leong, Jennifer | Irvine | CA |
| | Leuth, Brittany | Cary | NC |
| | Lewis, Emi | New York | NY |
| | Li, Cheryl | Bridgewater | NJ |
| | Li, Katie | Boulder | CO |
| | Limyadi, Juliana- | Duluth | GA |
| | Lindsay, Victoria | Shiloh | IL |
| | Liu, Nancy | Katy | TX |
| | Lombardi, Alexia | Scottsdale | AZ |
| | Long, Isabelle | Bellevue | WA |
| | Lown, Jessica | Englewood | FL |
| | Lowrance, Mikala | Orlando | FL |
| | Lubold, Jessica | Scottsdale | AZ |
| | Lugo, Andrea | El Paso | TX |
| | Lynch, Daejia | Duncanville | TX |
| | MacLean, Corrie | Trumbull | CT |
| | Mackie, Natalie | Flower Mound | TX |
| | Madhu, Gopika | Boca Raton | FL |
| | Magee, Mollie | Overland Park | KS |
| | Mahendran, Sonali | Hermitage | TN |
| | Marcum, Maggie | Norman | OK |
| | Marsh, Cameron | San Marino | CA |
| | Martin, Savannah | Swansea | IL |
| | Matsuoka, Shiori | Greensboro | NC |
| | Matulis, Elizabeth | Charlotte | NC |
| | McCafferty, Zoey | Butler | PA |
| | McClaine, Jabree | Arlington | TX |
| | McCulloch, Abigail | Wilmette | IL |
| | McDermott, Jackie | Wheeling | WV |
| | McDonald, Erin | Pasadena | CA |
| | McGuirk, Jenna | San Francisco | CA |
| | McHugh, Caitlin | Post Falls | ID |
| | McIsaac, Rebecca | Fairview Heights | IL |
| | McLaughlin, Katie | Sioux Falls | SD |
| | Mella, Maxine | Libertyville | IL |
| | Menzel, Drew | Glen Ellyn | IL |
| | Meunier, Julie | Corvallis | OR |
| | Meyer, Bailey | Austin | TX |
| | Millado, Nicole | Gardena | CA |
| | Mizikar, Jenny | Batavia | IL |
| | Mock, Kristen | Mililani | HI |
| | Moniaga, Angela | Everett | WA |
| | Moore, Alyson | Lees Summit | MO |
| | Moore, Destiny | Georgetown | TX |
| | Morel, Ali | Destrehan | LA |
| | Morgan, Alexus | Charlotte | NC |
| | Morrison, Courtney | Oxnard | CA |
| | Moses, Sarah | Corpus Christi | TX |
| | Motley, Andrea | FtCollins | CO |
| | Motley, Kaitlyn | FtCollins | CO |
| | Motooka, Hailey | Honolulu | HI |
| | Mouer, Laurel | Mechanicsville | VA |
| | Moultrie, Vivian | Savannah | GA |
| | Mulvey, Jenny | Woodbury | MN |
| | Nabors, Natalie | Lawrenceville | GA |
| | Nath, Saaya | Naperville | IL |
| | Nederlander, Sarah | Laguna Beach | CA |
| | Nelson, Bergen | Saint George | UT |
| | Nelson, Taylor | Murfreesboro | TN |
| | Neskar, Kayla | Chesterfield | MO |
| | Nguyen, Anna | Houston | TX |
| | Noonan, Mackenzie | Baton Rouge | LA |
| | Novak, Emily | Elizabethtown | KY |
| | Novoa, Chandler | FtMyers | FL |
| | O'Brien, Maya | San Luis Obispo | CA |
| | Odin, Rachel | Springfield | IL |
| | Odonnell, Colleen | Waterville | ME |
| | Oeser, Kristen | Escondido | CA |
| | Ohnesorge, Sigrid | Madison | WI |
| | Olson, Emily | La Jolla | CA |
| | Olson, Katherine | Laguna Niguel | CA |
| | Overcash, Adrienne | Raleigh | NC |
| | Paige, Camille Celine | Memphis | TN |
| | Papachrisanthou, Gabriella | Millstadt | IL |
| | Park, Cindy | Federal Way | WA |
| | Parkin, Ruby | Salt Lake City | UT |
| | Pautsch, Lindsay | Albany | OR |
| | Pedicini, Maggie | Cotuit | MA |
| | Penner, Natalie | Alta Loma | CA |
| | Perry, Samantha | Grosse Pointe Farms | MI |
| | Petruzziello, Alexia | North Haven | CT |
| | Plum, Maggie | Richardson | TX |
| | Pornpitaksuk, Anika | Flushing | NY |
| | Porter, Mary | Summit | NJ |
| | Postolache, Thea | Silver Spring | MD |
| | Powers, Haley | South Bend | IN |
| | Priede, Daisy | Sawyer | MI |
| | Pruitt, Callie | Cumming | GA |
| | Pyland, Jenna | Houston | TX |
| | Qu, Helena | Ridgeland | MS |
| | Quinones, Isabel | Rocky River | OH |
| | Rahman, Hannah | Tarpon Springs | FL |
| | Rahrig, Natalie | FtWayne | IN |
| | Railson, Caitlin | Scottsdale | AZ |
| | Rains, Kelly | Brentwood | TN |
| | Rakem, Dora | Lake Worth | FL |
| | Ramont, Calla | East Lansing | MI |
| | Rea, Julie | San Marcos | CA |
| | Reddy, Rithika | Syosset | NY |
| | Rees, Alexandra | Morgantown | WV |
| | Rees, Alyssa | Morgantown | WV |
| | Ritter, Alex | Hinsdale | IL |
| | Roebker, Abby | Ft Mitchell | KY |
| | Rokito, Lindsay | Scarsdale | NY |
| | Rolle, Olivia | Jacksonville | FL |
| | Ross, Lauren | Coronado | CA |
| | Roundy, Rachel | North Salt Lake | UT |
| | Rubin, Bryn | Long Grove | IL |
| | Rueb, Nicole | New Orleans | LA |
| | Ruhl, Tatiana | Magnolia | TX |
| | Sagara, Mariko | Ojai | CA |
| | Salgado, Jasmine | Riverside | CA |
| | Samkutty, Madeline | Portland | OR |
| | Sanzone, Kaitlin | Montville | NJ |
| | Sapozhnikova, Maria | Morris Township | NJ |
| | Saunders, McKenzie | Elk Ridge | UT |
| | Savic, Vania | Woodside | NY |
| | Scalfano, Christen | Plano | TX |
| | Scheibmeir, Anna | Galvin | WA |
| | Scherer, Katie | Bogart | GA |
| | Schlesener, Alex | SmokeRise | GA |
| | Schlichting, Lindsey | Yorkville | IL |
| | Schlossel, Sophia | New York | NY |
| | Schmitt, Stephanie | Highland Heights | OH |
| | Seaver, Marla | Rochester | MI |
| | Sessions, Alexis | Lakeland | TN |
| | Sestokaite, Vilune | Lees Summit | MO |
| | Sha, Sybil | Orlando | FL |
| | Shaat, Mariam | Duluth | GA |
| | Shackelford, Meredith | Leawood | KS |
| | Shah, Ria | Mason | OH |
| | Sharp, Lauren | Lansing | MI |
| | Shipman, Kelsey | Olney | IL |
| | Shogren, Kasey | Sioux Falls | SD |
| | Simmons, Nicole | Wellsville | UT |
| | Smith, Jayla | St Petersburg | FL |
| | Smith, Meredith | Boone | NC |
| | Smith, Mikaila | Mill Valley | CA |
| | Smith, Olivia | Naples | FL |
| | Smith, Shrarre | Creve Coeur | MO |
| | Soderlund, Megan | Sykesville | MD |
| | Sousa, Annette | Santa Maria | CA |
| | Staal, Erin | Grand Haven | MI |
| | Stanford, Katie | Lake Worth | FL |
| | Stapper, Sierra | Austin | TX |
| | Stone, Sydney | Lafayette | CA |
| | Stoner, Madellyn | Ewing | NJ |
| | Stout, Taylor | Olathe | KS |
| | Strickland, Darby | Heath | TX |
| | Sullivan, Kelly Ann | Needham | MA |
| | Sussman, Juliet | Palm Springs | CA |
| | Swedo, Karen | Carmel | IN |
| | Swets, Julie | San Angelo | TX |
| | Szuba, Madeline | Plymouth | MI |
| | Taylor, Jannelle | Lady Lake | FL |
| | Terry, Lindsay | Tulsa | OK |
| | Thompson, Aliese | Arlington | TX |
| | Thornquist, Lauren | Auburn | WA |
| | Torres, Ana | Carrollton | OH |
| | Traverso, Molly | Orland Park | IL |
| | Turner, Emily | Starkville | MS |
| | Twombly, Paige | Easton | CT |
| | Uhlenkott, Hannah | Meridian | ID |
| | Ulbert, Kaitlin | Highlands Ranch | CO |
| | Uzer, Emily | Chicago | IL |
| | Valentin, Madeline | Mankato | MN |
| | Vidovic, Jelena | Vancouver | WA |
| | Vinge, Taylor | Valdosta | GA |
| | Vo, Tammy | Mc Lean | VA |
| | Volutza, Erin | Sinking Spring | PA |
| | Vu, Brittany | Friendswood | TX |
| | Walker, Kaitlyn | The Woodlands | TX |
| | Warren, Megan | Fishers | IN |
| | Watson, Shellbe | Saint George | UT |
| | Weber, Karly | Woodridge | IL |
| | Wexner, Hannah | New Albany | OH |
| | Williams, Hope | Midland | TX |
| | Williams, Logyn | Piedmont | OK |
| | Williams, Sarah | Pascagoula | MS |
| | Wilson, Nicole | Highland Village | TX |
| | Wolak, Paulette | Palo Alto | CA |
| | Wong, Isabella | Greensboro | NC |
| | Wong, Kristi | Stevensville | MD |
| | Wood, Zoe | Mount Kisco | NY |
| | Yamashita, Kasey | Rockville | MD |
| | Yamkova, Nataliya | Fallbrook | CA |
| | Zimberg, Rebecca | Nashville | TN |
| | Ziu, Tessa | Lenexa | KS |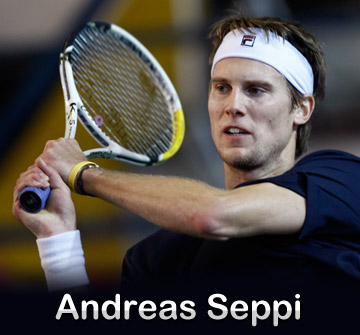 Click on Andreas Seppi to view and buy his equipment, apparel, and footwear.

Did you know @niketennis is having a sale on their latest apparel and shoes? Up to 25% OFF! Shop -->

Click Here!

25% off @niketennis apparel and shoes! LIMITED TIME ONLY! Shop:

Click Here!

To celebrate Rafa's 8th French Open title, @niketennis released this King of Clay tee! Get yours now!!

Click Here!


Follow college tennis with the ITA - the governing body that oversees all levels of men's and women's varsity collegiate tennis.
Sam Querrey prank called by Steve Johnson
A "special" fan calls in. Check it out.
Tennis Warehouse provides lively forums for the discussion of junior and college tennis. Here are the latest topics from the Talk Tennis message boards.