TOP PROSPECTS
Girls' Class of 2018 - Juniors
As of Monday, 3/6/2017




| | | | | | | | | | | | | |
| --- | --- | --- | --- | --- | --- | --- | --- | --- | --- | --- | --- | --- |
| View: | | Blue Chip | | 5-Star | | 4-Star | | 3-Star | | 2-Star | | 1-Star |





| Rating | Name | City | State |
| --- | --- | --- | --- |
| | Ackerman, Emily | Thousand Oaks | CA |
| | Adams, Julia | Knoxville | TN |
| | Adiaconitei, Maria | Bethesda | MD |
| | Alda, Shailla | Scottsdale | AZ |
| | Alicea, Samantha | Palmetto Bay | FL |
| | Almy, Alexis | Southborough | MA |
| | Alons, Anna | Salix | IA |
| | Archer, Olivia | Cornelius | NC |
| | Aude, Avery | Woodland Hills | CA |
| | Bacalla, Michelle | Skokie | IL |
| | Bahsoun, Sarah | Los Gatos | CA |
| | Ballow, Madison | Flower Mound | TX |
| | Barquero, Erika | Caguas | PR |
| | Bassey, Annika | Ojai | CA |
| | Bekirova, Aleksandra | New York | NY |
| | Bellini, Daniela | Tierra Verde | FL |
| | Bishard, Miranda | Orlando | FL |
| | Boru, Yasemin | Boca Raton | FL |
| | Bou, Julieanne | Bayamon | PR |
| | Brown, Ellis | Greensboro | NC |
| | Brown, Jessica | Midland | MI |
| | Brown, Meagan | Elk River | MN |
| | Bukzin, Jacqueline | Manorville | NY |
| | Butera, Alexa | Ho-Ho-Kus | NJ |
| | Carlson, Kiersten | Carmel | IN |
| | Carney, Eileen | Joliet | IL |
| | Cartledge, Emma | Roanoke | VA |
| | Chen, Casey | South Pasadena | CA |
| | Chratian, Erin | Duluth | GA |
| | Chratian, Sydney | Duluth | GA |
| | Clark, Annie | Oakton | VA |
| | Clayton, Alee | Huntsville | AL |
| | Coetzee, Jolene | Cerritos | CA |
| | Cohen, Neri | Tucker | GA |
| | Colling, Solymar | Orange | CA |
| | Corpuz, Katreina | Ewa Beach | HI |
| | Dean, Jenna | Bradenton | FL |
| | DiMaio, Samantha | Winter Park | FL |
| | Dolehide, Stephanie | Hinsdale | IL |
| | Duckworth, Kylie | Martinez | GA |
| | Dunlap, Lauren | Lithia | FL |
| | Dush, Emily | Chula Vista | CA |
| | Earnhardt, Katherine | Concord | NC |
| | Fossorier, Alyssia | Honolulu | HI |
| | Gelinas, Lindsey | Temecula | CA |
| | Giavara, Haley | San Diego | CA |
| | Gilliam, Anne | Dallas | TX |
| | Gladstone, Mira | Port Orange | FL |
| | Goines, Elizabeth | Atlanta | GA |
| | Grigorian, Sabina | Atlanta | GA |
| | Hernandez, Katherine | Huntington Beach | CA |
| | Ho, Valerie | Silver Spring | MD |
| | Hollyfield, Alara | Tampa | FL |
| | Holmes, Lilly | Florence | AL |
| | Hung, Lindsay | San Clemente | CA |
| | Ilic, Ivana | Ridgefield | WA |
| | Kaplan, Sydney | Montebello | NY |
| | Keller, Kelly | Laguna Beach | CA |
| | Klopfer, Annalise | Palm Harbor | FL |
| | Komarraju, Meghana | Vienna | VA |
| | Kurz, Victoria | Hilton Head Island | SC |
| | LaBiche, Lily | New Orleans | LA |
| | LaFrance, Katie | Little Rock | AR |
| | Laas, Viva | Bonita Springs | FL |
| | Lambert, Isabella | Minneapolis | MN |
| | Lamoreaux, Anya | Mesa | AZ |
| | Lamoreaux, Madeline | Mesa | AZ |
| | Landau, Fleming | Charlotte | NC |
| | Lee, Peyton | Marietta | GA |
| | Leslie, Taylor | Stilwell | KS |
| | Letto, Anna | Hilton Head Island | SC |
| | Li, Nicole | Boca Raton | FL |
| | Lopez, Patricia | Miami | FL |
| | Lopez-Clay, Amaya | Boca Raton | FL |
| | Love, Taylor | Wilson | NC |
| | Mannix, Samantha | Elkhorn | NE |
| | Markel, Abigail | Charlotte | NC |
| | Melville, Taylor | Duluth | GA |
| | Menshykova, Alina | Ojai | CA |
| | Mitta, Priyanka | Mobile | AL |
| | Motosono, Kianah | Miami | FL |
| | Nash, Kendall | Jacksonville | FL |
| | Nelson, Toni | Buckeye | AZ |
| | Newman, Julia | Natick | MA |
| | Nguyen, Katherine | Fountain Valley | CA |
| | Nielsen, Jayden | Port Moody | BC |
| | Nowak, Amanda | Summerfield | NC |
| | Owensby, Margaret | Boca Raton | FL |
| | Paradela, Jolina | Pearland | TX |
| | Park, Lauren | La Canada | CA |
| | Perim, Iolanda Maria | Austin | TX |
| | Pezzuco, Julia | Johnston | RI |
| | Pham, Julia | Los Altos Hills | CA |
| | Pietrowicz, Maja | Clinton Twp | MI |
| | Pyritz, Tiffany | Wake Forest | NC |
| | Ramras, Sabrina Anya | Paradise Valley | AZ |
| | Roper, Hunter | Jonesboro | AR |
| | Santilli, Maria | North Huntingdon | PA |
| | Schroer, Jamie | Tucson | AZ |
| | Semenov, Nicole | Brooklyn | NY |
| | Shen, Amber | Broomfield | CO |
| | Shin, Jennifer | Valencia | CA |
| | Silpachai, Mahli | Newbury Park | CA |
| | Singh, Anshika | Greenwood Village | CO |
| | Smith, Jacy | Bryan | TX |
| | Spicer, Dilara | Leawood | KS |
| | Stankovic, Christina | Naperville | IL |
| | Stefan, Jessica | Saint Petersburg | FL |
| | Strande, Emily | Centennial | CO |
| | Tattini, Madison | Lexington | IL |
| | Tjon-A-Joe, Femke | Corpus Christi | TX |
| | Townsend, Camille | Coconut Creek | FL |
| | Tripathy, Jasmin | Lubbock | TX |
| | Truluck, Elizabeth | Myrtle Beach | SC |
| | Tsukiji, Jessica | San Jose | CA |
| | Van Linge, Elena | Menlo Park | CA |
| | Veluvolu, Tara | Duluth | GA |
| | Vesely, Adrienne | Plano | TX |
| | Vincent, Caroline | Pacific Palisades | CA |
| | Wang, Kathy | San Diego | CA |
| | Weinberg, Sydney | Winchester | MA |
| | Wilcox, Sarah | Prairie Village | KS |
| | Williams, Chelsea | Brooklyn | NY |
| | Williams, Savannah | Port Saint Lucie | FL |
| | Wright, Georgia | Bee Caves | TX |
| | Wu, Janabelle | San Jose | CA |
| | Yergler, Madelyn | Granger | IN |
| | Yoon, Lauren | Knoxville | TN |
| | Yu, Kristina | New Braunfels | TX |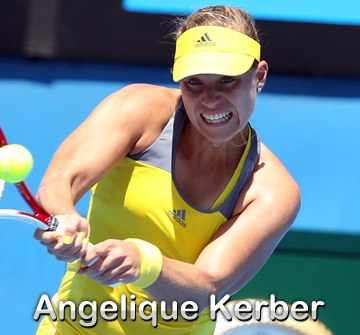 Click on
Angelique Kerber
to view and buy her equipment, apparel, and footwear.

Follow college tennis with the ITA - the governing body that oversees all levels of men's and women's varsity collegiate tennis.
Rafael Nadal meets Rafa Nadal?
Josh Berry is famous for his impersonations of the top male tennis players. But how good is he? Will he pass Rafa's test?