TOP PROSPECTS
Girls' Class of 2018 - 8th Graders
As of Monday, 9/16/2013




| | | | | | | | | | | | | |
| --- | --- | --- | --- | --- | --- | --- | --- | --- | --- | --- | --- | --- |
| View: | | Blue Chip | | 5-Star | | 4-Star | | 3-Star | | 2-Star | | 1-Star |





| Rating | Name | City | State |
| --- | --- | --- | --- |
| | Ackerman, Emily | Thousand Oaks | CA |
| | Adan-Pol, Michelle | Miami | FL |
| | Almy, Alexis | Southborough | MA |
| | Archer, Olivia | Cornelius | NC |
| | Bacalla, Michelle | Skokie | IL |
| | Bard, Carson | Alpharetta | GA |
| | Blydenburgh, Scarlett | Chatham | NJ |
| | Bukzin, Jacqueline | Manorville | NY |
| | Butera, Alexa | Johnston | IA |
| | Carlson, Kiersten | Westfield | IN |
| | Casati, Emily | Deerfield | IL |
| | Chandler, JaneCarter | Norfolk | VA |
| | Chang, Victoria | Dublin | OH |
| | Cheng, Serena | Plano | TX |
| | Clark, Annie | Oakton | VA |
| | Cohen, Neri | Tucker | GA |
| | Corpuz, Katreina | Ewa Beach | HI |
| | Creath, Callie | Austin | TX |
| | Cross, Rachel | Charlottesville | VA |
| | Day, Courtney | Dover | MA |
| | Dean, Jenna | Bradenton | FL |
| | Deming, Julia | Fallbrook | CA |
| | DiLaura, Isabella | Austin | TX |
| | Dolehide, Stephanie | Hinsdale | IL |
| | Dush, Emily | Johns Creek | GA |
| | Earnhardt, Katherine | Concord | NC |
| | Ewing, Salma | Fremont | CA |
| | Finke, Thea | Plantation | FL |
| | Fossorier, Alyssia | Honolulu | HI |
| | Fruehauf, Katey | Milton | GA |
| | Fuller, Chrissy | Newburgh | IN |
| | Garcia, Taylor | Mandeville | LA |
| | Garrido, Caroline | Gastonia | NC |
| | Gilliam, Anne | Dallas | TX |
| | Gladstone, Mira | Port Orange | FL |
| | Gong, Jessie | Bellevue | WA |
| | Gorczyca, Emilia | Laguna Niguel | CA |
| | Gulbransen, Nastia | Boca Raton | FL |
| | Gupta, Neha | Elk Grove | CA |
| | Hines, Maggie | Evanston | IL |
| | Hobbs, Jillian | Clayton | NC |
| | Holmes, Lilly | Florence | AL |
| | Humphreys, Megan | Madison | MS |
| | Hutchings, Hannah | Woodstock | GA |
| | Jakeway, Katherine | The Woodlands | TX |
| | Jankowski, Cali | Carlsbad | CA |
| | Kachkarov, Katherine | Flushing | NY |
| | Kaplan, Sydney | Montebello | NY |
| | Kerrigan, Kristin | Austin | TX |
| | Kim, Ashley | Keller | TX |
| | Koester, Grace | Paradise Vly | AZ |
| | Kogan, Taylor | Plantation | FL |
| | Koniaev, Anastasia | Old Brookville | NY |
| | Kuo, Alexandra | La Jolla | CA |
| | LaFrance, Katie | Little Rock | AR |
| | Lambert, Isabella | Deephaven | MN |
| | Lamoreaux, Anya | Mesa | AZ |
| | Lamoreaux, Madeline | Mesa | AZ |
| | Lee, Esther | Fullerton | CA |
| | Leslie, Taylor | Stilwell | KS |
| | Li, Stephanie | New York | NY |
| | Lopez-Clay, Amaya | Stoughton | MA |
| | Lou, Raissa | Pittsford | NY |
| | Lugtu, Samantha | Paramus | NJ |
| | Lynch, Victoria | Roswell | GA |
| | Madurawe, Niluka | Sunnyvale | CA |
| | Mannix, Samantha | Lincoln | NE |
| | Markham, Ava | Demarest | NJ |
| | Merrill, Alexis | Traverse City | MI |
| | Morgus, Sullivan | Cary | NC |
| | Mossmer, Nicole | La Jolla | CA |
| | Nannery, Jacqueline | Canton | MA |
| | Newman, Julia | Natick | MA |
| | Nguyen, Katherine | Fountain Valley | CA |
| | Nguyen, Morgan | Jacksonville | FL |
| | O'Connor, Gabriella | Cincinnati | OH |
| | Ochotorena, Alexandra | Albuquerque | NM |
| | Oloko, Semi | Wake Forest | NC |
| | Paixao, Isabela | Mc Kees Rocks | PA |
| | Paradela, Jolina | Pearland | TX |
| | Park, Joyce | Gig Harbor | WA |
| | Paulus, Kate | Leawood | KS |
| | Perlwitz, Nicola | Weston | FL |
| | Pezzuco, Julia | Johnston | RI |
| | Pham, Hanh | Fountain Valley | CA |
| | Pidgeon, MaryJo | Douglasville | GA |
| | Pitts, Stephanie | Crestwood | KY |
| | Polanco, Priya | Stone Mountain | GA |
| | Pyritz, Tiffany | Wake Forest | NC |
| | Quinn, Lauren | Charleston | SC |
| | Ramras, Sabrina Anya | Paradise Valley | AZ |
| | Reddy, Sophia | Eden Prairie | MN |
| | Rice, Thea | Hot Springs | AR |
| | Rodriguez-Benito, Jimena | Key Biscayne | FL |
| | Rogers, Taysia | Farmington Hills | MI |
| | Ruffels, Gabriela | Laguna Niguel | CA |
| | Sabotic, Alisa | Okemos | MI |
| | Santilli, Maria | Irwin | PA |
| | Schroer, Jamie | Tucson | AZ |
| | Semenov, Nicole | Brooklyn | NY |
| | Sheinin, Peri | East Greenwich | RI |
| | Sherman, Katharine | Augusta | GA |
| | Shiau, Grace | Hockessin | DE |
| | Silpachai, Mahli | Newbury Park | CA |
| | Staes, Grace | Atlanta | GA |
| | Stefan, Jessica | Saint Petersburg | FL |
| | Tan, Jacquie | Elk Grove | CA |
| | Tattini, Madison | Lexington | IL |
| | Thompson, Julia | Winchester | MA |
| | Townsend, Camille | Flushing | MI |
| | Truluck, Elizabeth | Myrtle Beach | SC |
| | Tsukiji, Jessica | San Jose | CA |
| | Vasilyuk, Luba | Dallas | TX |
| | Verpoucke, Emma | Chatham | NJ |
| | Vincent, Caroline | Pacific Palisades | CA |
| | Weinberg, Sydney | Winchester | MA |
| | Wilcox, Hailey | Greenwich | CT |
| | Wilcox, Sarah | Prairie Village | KS |
| | Willson, Danielle | Newport Beach | CA |
| | Wright, Georgia | Bee Caves | TX |
| | Yaloz, Shelly | Little Neck | NY |
| | Yergler, Madelyn | Granger | IN |
| | Yu, Jennifer | Great Neck | NY |
| | Yu, Kristina | New Braunfels | TX |
| | Zhang, Marina | Garnet Valley | PA |
| | Zieglar, Kristina | Daytona Beach | FL |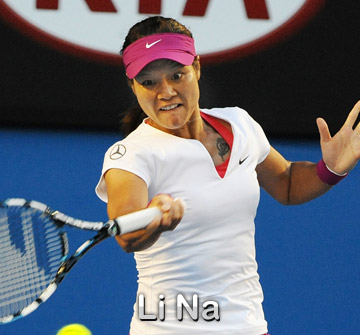 Click on Li Na to view and buy her equipment, apparel, and footwear.


Follow college tennis with the ITA - the governing body that oversees all levels of men's and women's varsity collegiate tennis.
Is Academic Support Available for Student Athletes with Learning Disabilities?
Ross G discusses resources available for student athletes with documented learning disabilities.