Clay Court Championship Week
Top-seeded Kerznerman Rules Boys' 14 Clays
by Marcia Frost, 28 July 2010
As irony would have it, the Jimmy Evert Tennis Center in Fort Lauderdale seemed to be the only place in Florida where it was raining every day enough to disrupt play. The USTA National Boys' 14 Clay Courts still got through the wet courts - and even a threat from Tropical Storm Bonnie - with the top player ending up in the winners' circle.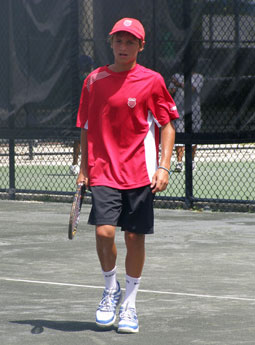 The rain delays didn't appear to bother top-seeded
Daniel Kerznerman
. Until the finals, the 14 year old had only lost one set and - except for that third round match against
Asher Hirsch
which had gone to 6-1,5-7,7-5 - had given up few games.
The road to the final had already been cleared a bit for him as Zandrix Acob, the second seed, was gone. The Hawaiian had lost in the round of 16 to a very steady and confident Jared Woodson, the No. 23 seed, just after No. 3 Toshiki Matsuya fell to New Yorker Artemie Amari. Also gone from the draw was No. 4 Jacob Dunbar in a tight second-rounder to Francis Tiafoe.
Daniel Kerznerman's opponent in the final also had a pretty easy road there. Ninth-seeded Benjamin Tso had actually not lost a single set and had blanked his opponents in four. He had no higher seeds to deal with. It looked to be an interesting final match up and quite a coincidence that within the rain, heat and humidity of Florida it would be two East Coast players in the end.
Brooklyn-bred Kerznerman was a bit more accustomed to the weather as he has been working at the USTA National training facility in Boca Raton. He had just made the finals of the Florida Open singles (and won the doubles), swept a National Open in February after winning the Tennis Plaza Cup, having started the year as a finalist at the Winter Nationals. On the other hand, Benjamin Tso's best national event in the last year was a third place finish at a November 2009 National Open.