Who's Hot?
Prince Hot 100 List - August '10
by Amelia Thomas, 23 August 2010
While the summer is drawing to an end, junior tennis players all over the country are pushing for a few more wins before school starts. We check in with a few top recruits who particularly excelled last month in the August edition of the Prince Hot 100.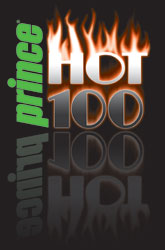 The Prince Hot 100 lists are published each month, and the August Hot 100 Lists feature the one hundred boys and girls who most improved their ranking during the month of July. You can find out more about the Prince Hot 100 - and how the lists are calculated - by reading here.
The very latest lists, published last week during our Championship Week coverage, are available here:
We take a quick look at some of these players...
Roundup
Nelle Youel (Crystal Lake, Ill.)
Rising senior Nelle Youel states that her biggest strength is that she brings "variability" to her game. "With my coach I am working on a variety of shots and sequences of shots, setting up points in matches," Youel said.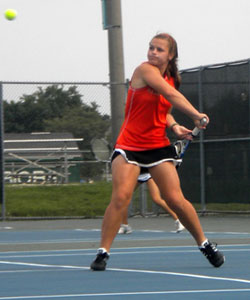 Youel works with her father, Curt Youel, and coach Scott Meier of the Crystal Lake Racket Club. Growing up, she also trained with older brothers Ben and Gabe. The Youel family has seen strong tennis over the years.
Her mother, Therese Youel, says that the competition she experienced as a child accounts for much of Nelle's success in tennis. "[Her brothers] would never go easy on her, but she would never back down or quit," Therese Youel said. "We hope her perseverance will serve her well in all aspects of life."
Youel also practiced other sports with her siblings. "I am probably a little unique in tennis because I also work hard at a couple of other sports. I play varsity basketball in high school - and varsity soccer," Youel said. She explains that training in other sports has bettered her tennis game. "There is a lot of footwork and agility that is important in basketball and soccer, and those have really helped me in tennis too."
Last month, Youel jumped over 100 spots in the rankings thanks to a 13-1 win-loss record - taking the top spot in this edition of the Prince Hot 100. Her best win came against four-star senior Alyssa Ritchie in the Midwest Open.
"I knew [Ritchie] was a great competitor, and she played tough points the whole match," Youel said. "I was able to mix in some good drop shots, place the ball well and serve really well during that match. We had many long hard hitting points."
As a rising senior, Youel has begun to think about college, and even had one offer. With a class ranking of 16 and 11 varsity letters in sports, Youel has high hopes for college and knows what she wants in a college team. "I would want to make the most out of the four years I have to play college tennis - and go to a place where I can be in the line up and really contribute to the team."
Cole Sutton (Baltimore, Md.)
The top player on the boys' list this month is rising eighth-grader Cole Sutton, who attributes his stellar play last month to physical fitness. "I am fast and don't tire too easily," Sutton said.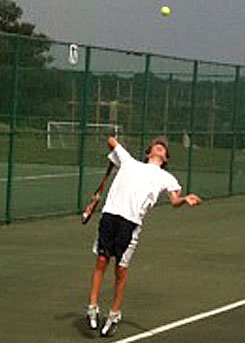 His parents agree. "He can almost always outlast his opponent," they said. Sutton believes his fitness comes from playing multiple sports. He is very athletic, competing in soccer, track and baseball in addition to tennis.
Although Sutton loves many sports, tennis required him to make a choice recently. "The track team at his school is trying to recruit him, but he knows that tennis happens at the same time," Sutton's mother, Lark Pfleegor said.
Track is not the only sport Sutton gave up. He also had to drop baseball to focus on tennis. Although this was a big sacrifice, Pfleegor thinks it was for the best. "I believe focusing on tennis 100% has helped his mental and physical game," Pfleegor said.
Sutton competed in three tournaments last month, winning titles at both the Annapolis Open and Maryland Outdoor Championships. He also took third place at the Columbia Open.
Sutton cites his best win as the one against Josh Leiner in the finals at Annapolis.
"I had lost to him just a week before so I was hoping to have better results this time," Sutton said. "I dropped the first set but then I picked up my game and won the second. In the third set tiebreak, I was down a match point - but I managed to come back and win 11-9."
While giving up other activities was hard, it has paid off. "He is a naturally gifted athlete at many sports, but I believe he realized his abilities in tennis were better than at most other sports," Pfleegor said. "He loves the game of tennis - and is able to push himself."
Sarah Stadfelt (Huntington Beach, Calif.)
Rising junior Sarah Stadfelt's parents attribute their daughter's success to headstrong confidence, dating from when she was younger. "She told us at a very early age she was determined to be a professional tennis player, and she will work as hard as she can toward that goal," they said. "She has never wavered from that since she began playing."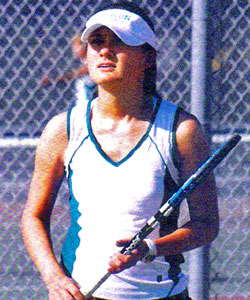 July certainly looked good. Stadfelt won four tournaments during the month: the
Chapman University Open
, the
Tennis Club Tournament
, the
Costa Mesa Summer Classic
and the
Lakewood Open
. This long winning streak pushed Stadfelt up close to 200 spots in the rankings - and earned her a spot on the Prince Hot 100 List.
Currently, Stadfelt is working on a better mental game, which she says sets her apart from many recruits. "I think I am more calm and composed on the court than other tennis players," Stadfelt said.
Stadfelt had to use her improving mental game in a match against four-star senior Meghan Sheehan Dizon in the quarterfinals of the Costa Mesa Summer Classic. Stadfelt lost the first set 2-6, but her confident mentality helped her make a comeback. "I put that set behind me and started fresh again," Stadfelt said. "I just thought that if she was going to win, she'd have to earn it. I played much better and won the second set 6-2. The third set was very close, and I won 7-5." Stadfelt then went on to win the tournament.
While she is working on her mental game, Stadfelt has already honed many of her skills. "I have a good serve, pretty solid ground strokes, and an improving net game," Stadfelt said. "My strengths would probably be my serve when it's at its best - and my forehand."
Beyond tennis, Stadfelt possesses a variety of other interests. She is fluent in Mandarin, and her hobbies include golf, ping-pong, art and piano. Stadfelt is a member of the National Honors Society and on the Distinguished Honor Roll at her school. She would like to go to a Division 1 school in her home state of California.
Harrison Kennedy (Suwanee, Ga.)
In the past year, rising junior Harrison Kennedy had an opportunity many tennis recruits cannot say they've experienced. He spent six months in Brazil training on red clay, working out with professional players and fitness coaches.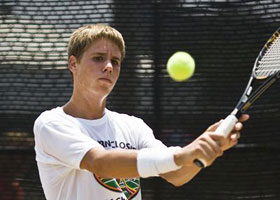 "Living in a foreign country taught me a lot about how the real world works, putting tournament tennis into perspective and allowing me to play relaxed and confident," said Kennedy.
Kennedy credits this experience for his recent success. He competed in the Southern Open and the National Open in Lexington, compiling an 11-3 record for the month of July.
The Georgian says that his best win last month came against Becker O'Shaughnessy. Kennedy previously lost to O'Shaughnessy in the finals of the Georgia Qualifier, and he described his improvement when they competed for the second time at the Southern Closed. "During the Qualifier, I let his big serve move me off the baseline," Kennedy said. "During the Southern, I stayed back for his serve and then moved forward to the baseline where I was able to get into the points."
Kennedy works with coaches Jeff Weaver (owner of ACE Academy), Walter Constantine, John Lawrence and Dylan Wright (who plays for Emory). Kennedy and Weaver have been working on his serve and approach game. "It's also key for me to continue to focus on my fitness. It's the base for everything," Kennedy said.
Not only a growing tennis player, Kennedy is also number one in his class. He currently lists LSU, Georgia, Miami, Texas, and North Carolina among his schools of interest. "I hope to get a chance to visit [schools] soon," Kennedy said. "The most important thing is to get to play."
Have a look over the Prince Hot 100 lists - and take a look at some of the other players who have stepped up their game.
The next edition of the Prince Hot 100 will be available on September 14.
Want to Be Featured?
Each month, we feature several boys and girls from the Hot 100 lists in a Hot 100 roundup article like this one.
If you would like to be considered for a feature, we need your current email address and phone number. Register for a free account and update your information.
Presented by Prince
Prince Sports, Inc., is proud to be the title sponsor of the Prince Hot 100.
Based in New Jersey, Prince is a company of racquet sports enthusiasts whose goal is to create cutting edge, functional and technically advanced products that deliver performance benefits for avid players. The Company's portfolio of brands includes Prince (tennis, squash and badminton), Ektelon (racquetball) and Viking (platform/paddle tennis). The Company has a history of innovation including inventing the first "oversize" and "longbody" racquets, the first "Natural Foot Shape" tennis shoe, the first "synthetic gut" string and the first electronic ball machine.
Today, Prince markets leading technologies in racquets (EXO3), string (Recoil), footwear (Precision Tube Technology) and apparel (Aerotech). It has operations on three continents with distribution in over 100 countries.
For more information on players, products or programs please visit Prince Sports, Prince Tennis, and the Prince EXO3 site.
Leave a Comment
More Roundup Articles
21-Nov-2017
Hot 100 List - November '17
Today we announce the November edition of the Hot 100. The Hot 100 features 100 boys and 100 girls who have been playing outstanding tennis. These players have substantially improved their rankings over the past month.
7-Nov-2017
Fall Signing Week 2017: Spanning The Nation For Recruits
Players from around the nation are signing their National Letter of Intent this week. They are going to schools big and small, from the East Coast to the West Coast. Find out how Lauren Dunlap, Tomas del Olmo, Tatum Burger, Adam Oscislawski, Kate Paulus and Nicklas Oberg made their decisions.
23-Oct-2017
Countdown: Blue Chip Girls
With Signing Day just around the corner, things are heating up on the recruiting trail. We reported on the boys last week - but today we check in the top girls. Check out the status of the Blue Chip girls in the Class of 2018 ...
About Amelia Thomas
Amelia Thomas has been the author of the Hot 100 column at Tennis Recruiting since Fall 2009. Thomas, currently a student at Appalachian State University in Boone, has been involved in journalism in both high school and college. She served as editor of her school's online news site in 2011 and 2012, and she placed in a National Scholastic competition for Feature of the Year.