National Roundup
Welcome, Class of 2017!
by Dallas Oliver, 6 September 2010
Labor Day is the unofficial end of summer. School starts back up, and there are new sixth-graders walking the halls. This week's rankings at the Tennis Recruiting Network are the first of the 2010-11 season - and they also mark the arrival of the Class of 2017.
The calendar at TennisRecruiting.net runs from September 1 through August 31. We calculated the final rankings for the outgoing seniors last week, and we bade farewell to the Class of 2010.
This week, the first week of September, we welcome the new sixth graders from the Class of 2017. Tuesday and Wednesday's rankings are the first official lists for the 2017 boys and girls, respectively.
This article takes a brief glance at some of the top youngsters in the Class of 2017. These kids have performed quite well in the 12s division - as well as the 14s and 16s.
Boys' Roundup
Chase Wood (Knoxville, Tenn.)
Down in Tennessee, Knoxville native Chase Wood has made quite a name for himself. His 67-20 record includes six wins over players rated 5 Stars or better, and ten of those victories came in the most recent USTA national tournaments. In the Hard Courts at Little Rock, Wood posted five wins in capturing the Southwest draw.
Top 6th-grader
Chase Wood
© Julie Wrege, TennisRecruiting.net
Wood has competed in nine different states in the past year - all in the southeastern U.S. Highlights include a 4-1 record for Team Southern at the Knoxville
Zonals
, reaching the finals of the
Southern Bullfrog
in Little Rock, and capturing the title at the
Southern Closed
in Lexington.
Like many young tennis stars, the 4'7" right-hander was exposed to the game from a young age. He first took to the courts at age four under the watchful eye of his mother, Shari Wood, who teaches pee wee tennis.
Tennis is a family affair for the Woods: Shari played college tennis at Tennessee, father Donie competed for Arkansas, and older brother Nick is a soon-to-be Blue Chip in the sophomore class.
Today, Wood works with both of his parents, and he also works with Rob Cameron who teaches at Fox Den Country Club in Knoxville. Wood can be characterized as a steady baseline player - and he is currently working on improving his serve.
Wood's parents make sure to keep him grounded with a normal life. A student at Sacred Heart Cathedral School, he practices tennis in the afternoons for 90 minutes each day after class before heading home to do his homework. He spends time with his friends on weekends when he is not traveling out of town for tournaments.
His parents are understandably proud of their son's accomplishments in tennis and in life, and they are pleased with the balance he has been able to achieve.
"Chase is a kind and fun kid", says his mother, Shari. "He truly enjoys life and loves to be with other kids. When you get to know him, you find out how funny he really is."
Alexander del Corral (Doral, Fla.)
Rising sixth-grader Alexander del Corral got an early start in tennis - and we do mean early.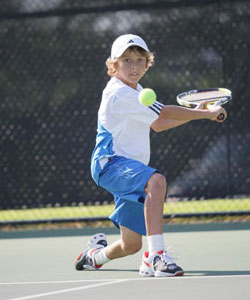 "He started as a baby - hitting balloons in the air with a plastic racquet," said his mother, Sidona del Corral. "He advanced to hitting nerf balls with beach racquets - all before he turned two. He had his first structured clinic when he was two-and-a-half, and he has been going strong ever since."
Going strong is one way to put it. Del Corral has gone 67-21 in tournaments over the past year, winning nine matches against older opponents rated as Blue Chips. He competed in 18 tournaments over that period - taking third place or better in six of those tournaments and going undefeated in the Knoxville Zonals.
In the future, del Corral should make sure to compete in any tournament with the title "National Open". He went 18-2 in three USTA national opens over the past year, winning the consolation event in Tallahassee, taking third place at Peachtree City, and winning a championship in Tennessee.
Born in Memphis, Tenn., the the 4'11" right-hander moved to southern Florida with his parents, Fernando and Sidona del Corral, several years ago. The del Corral family currently resides in Doral, Fla., outside of Miami.
In Florida, del Corral started working with Nick Saviano at Saviano High Performance Tennis in Plantation, Fla. He has been working there for the past four years. An all-court player, with a well-rounded game for one so young, del Corral is working to refine his technique - especially on his serve.
Tennis is not the only athletic area where del Corral excels. He also plays competitive travel soccer. "Alexander participates in a structured athletic development program three times per week," says his mother. A look at del Corral's personal bio page shows a littany of soccer achievements - including a national championship at the 2010 AYSO National Games with Doral United SC.
Competing at such a high level in both soccer and tennis seems daunting, but del Corral enjoys the challenge.
"Alexander is willing to sacrifice many other activities in order to advance his tennis skills," says his mother.
Girls' Roundup
Dominique Schaefer (Ventura, Calif.)
Three years ago, Dominique Schaefer had a dream run in the "Little Mo" tournament series. Schaefer captured first place at the sectional, regional, national, and international tournaments to be named international champion in the 8 & under division.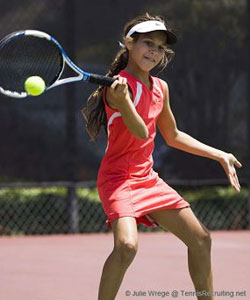 Fast forward to today, and we see that Schaefer continues to excel on the court. She competed in twenty tournaments during the 2009-10 year, reaching the semifinals or better in 12 of those 20 tournaments. And not all of those performances came in the 12s division - she played up in the 14s and 16s in almost half of her tournaments.
Schaefer only competed in one USTA National Championship this past year, but she made that appearance - in last month's Hard Court Nationals - count. She went the distance, reaching the final of the gold feed-in consolation to place sixth overall.
Schaefer resides in Ventura, Calif., with her parents, Kathy and Jose Schaefer. Father Jose serves as Schaefer's coach.
"Dominique has a powerful forehand and strong serve," said the older Schaefer. "She has a very aggressive game. Right now we are working on getting her to control her emotions and not get tight. We are also trying to improve her serve - and get her to advance to the net more often."
In addition to her father, Schaefer's siblings play competitive tennis as well. Her older sister competes for her high school team, and older brother Fabian is a 5-Star athlete who is going into the eighth grade.
But the 5'0" sixth-grader is forging her own tennis legacy. "What distinguishes Dominique is that she fights in every single point," says her father. "She runs for everything. She is a very good fighter on the tennis court."
As with many top young tennis players, it is hard to strike a balance between tennis, academics, and life. Schaefer works very hard in all areas.
"School is the priority," says her father. "During the school year, Dominique frequently does her homework in the car while driving to a tennis practice or match. Her grades are very good."
Schaefer is eager to improve on the court, and she finds motivation in both victory and defeat.
"She doesn't like to lose at all," says her father. "She has an extremely competitive personality and is really a hard worker. Every time she loses - especially if she knows she could have won - she wants to train harder in order to get better. She's also very fair - I've never seen her make a bad call."
Sofia Kenin (Hollywood, Fla.)
Sofia Kenin knows how to win. The rising sixth-grader from Florida competed in 21 tournaments during the 2009-10 season, reaching the semifinals or better in 13 of them.
Top 6th-grader
Sofia Kenin
© Doug Wrege, TennisRecruiting.net
And we are not just talking about local tournaments. Her past two outings? How about silver balls at the USTA
Clay Court
and
Hard Court
nationals. This article marks the third time in as many months that TennisRecruiting.net is shining the spotlight on Kenin.
Kenin's schedule has also included regular competition in the 14s and 16s age groups. She has played up in nearly half - 10 out of 21 - of her tournaments. Playing up has meant that a significant number of her 76 wins have come against older competition: she has posted 18 victories against 5 Stars and Blue Chips in older classes, some of which are girls two or three classes above her.
Born in Moscow, Russia, Kenin moved to the U.S. as an infant with her parents, Alex and Lena Kenin. The Kenin family has resided in Hollywood, Fla., during that time.
Kenin has been able to get excellent training in the Sunshine State. In addition to hitting with her father, Kenin worked with Rick Macci as a six- and seven-year-old. More recently, she has been training at the USTA Training Center in Boca Raton, Fla.
"Sofia is a smart tennis player," said her father, Alex. "She is aggressive, and she is good at building points. Right now we are working with her to improve her racquet speed and her serve."
A Montessori student, Kenin is able to compete, study, and socialize.
"Sofia loves to play tennis, but she is a good student as well," says her father. "She is enrolled full-time at Montessori Academy. Between tennis and school, she has a very busy schedule during the school year, but she always finds time to play with her little sister - and chat with her friends."
Starting this week, and for the next 366 weeks, the Tennis Recruiting Network will provide rankings for the Class of 2017. Please join me in welcoming our newest players to TennisRecruiting.net!
Leave a Comment
More Roundup Articles
17-Oct-2017
Countdown: Family Matters To Ohio State-Bound Allen
Family support has helped Kolie Allen develop into a blue-chip recruit worthy of receiving multiple Division I offers. The Illinois native has committed to play at Ohio State, the first school she visited during the recruiting process.
16-Oct-2017
Countdown: Blue Chip Boys
With Signing Week just a few weeks away, the future of many college tennis programs is about to get a whole lot clearer. We have made every effort to contact the Blue Chip boys in the Class of 2018 about where they are in the recruiting process. Today we take a look at where things stand ...
14-Oct-2017
Countdown: Sweet Music for Indiana's Recruiting Class
A talented tennis player and musician, Carson Haskins is fueled by a stubborn persistence to achieve his goals and retain a balance in his life. The blue chip senior from Ballwin, Missouri, has committed to play at Indiana University.