Who's Hot?
Prince Hot 100 List - September '10
by Amelia Thomas, 20 September 2010
Some have endured it for a few weeks already, and others are just getting back to it - but that back-to-school feeling is certainly in the air. Despite busy school schedules, endless studying, and other extracurriculars, junior tennis recruits don't let the school routine interfere with their game. TennisRecruiting.net and Prince Sports catch up with some of the more focused recruits in the Prince Hot 100.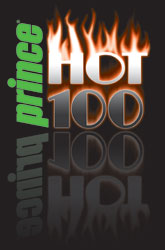 The Prince Hot 100 lists are published each month, and the September Hot 100 Lists feature the one hundred boys and girls who most improved their ranking during the month of August. You can find out more about the Prince Hot 100 - and how the lists are calculated - by reading here.
The very latest lists, published earlier today, are available here:
Let's take a look at some of the players from the lists...
Roundup
Taylor Rees (Portland, Oregon)
Eighth grader Taylor Rees started playing tennis at the extremely young age of two. During Rees' toddler-hood, her mother would bounce balls on their back patio and Rees would hit them back. That all ended after a couple of years, however - Rees hit the ball harder and harder, and her mother was afraid of getting hit. Rees finally began to play on a tennis court at around the age of five.
More recently, Rees is fortunate enough to practice four days a week in a group with several of her friends. "We all push each other to get better - but at the same time, we have fun," Rees said. She even credits her recently improved play to the support of her coaches, family, and teammates. "They are the reason why I am where I am - why I've gone this far," Rees said.
Her loved ones' support certainly aided Rees last month, when she won the 14s event at the Corvallis Junior Championship and garnered a 9-2 record for the month of August. That performance was good enough to lift her ranking 36 spots and into the Top 300.
A particularly exciting win for Rees was over 5-star opponent Madisyn Bryant in the finals of the Corvallis Championship. Bryant was the number one seed and had previously defeated Rees, but the two are good friends, so the stage was set for some friendly competition.
"[Bryant] has a game that doesn't let you have any rhythm," Rees said, "I just tried hard to get one more ball than she did and be more consistent. Losing so many times to her, it is hard to have confidence, but I tried to overcome my fears."
Rees won the championship with a tight 6-4, 6-4 victory over Bryant.
While at the US Open with her family last summer, Rees had an experience that most tennis recruits don't get to have. "On practice day, I got to sit up front and watch Kim Clijsters, Melanie Oudin, Dinara Safina, Fernado Verdasco, Robin Solderling, Roger Federer, Rafael Nadel, Novak Djokovic, and my favorite player in the world, Maria Sharapova!" Rees said. The opportunity to see them play set an example for Rees - who couldn't wait to play when she returned home.
Benjamin Foran (Whitefish Bay, Wisc.)
The past year has been a struggle for junior Benjamin Foran, who suffered two major back injuries, keeping him off the court for about eight months. After Foran recovered, he had a lot of catching up to do.
"Since I had that long period of inactivity, many muscles in my body had become very weak, so I needed to get everything, especially my core, a lot stronger."
Although it was a struggle, Foran now believes he has returned to a higher level of play. "I am now playing at 100% and I have been working with a trainer twice every week for about two months," Foran said.
His parents agree, and even credit Foran's success last month to overcoming his injuries. "He has worked very hard since returning from his injuries and his mental focus appears to have improved as well," they said.
The 5-foot-11 recruit jumped almost 200 spots in the rankings last month after winning the Ann Arbor Open, which included seven straight wins without losing a set. One of Foran's most notable wins was against 3-star junior Kevin Renehan in the final. Renehan had beaten Foran in their last meeting a few months prior, so Foran was eager to get another crack at him. Foran took the match - and the championship - with a commanding 6-1, 6-1 victory.
"My first serve was my greatest weapon during that match," Foran said. After he won, Foran calculated that he got over 75% of his serves in, which saved him energy. "That was very important - because it was about 95 degrees during that match."
Beyond tennis, Foran is also a skilled musician. He has played trombone since he was 10 years old, and he still takes lessons and plays in ensembles. Foran has received superior ratings at the District and State Solo and Ensemble, and he sat first chair in the Wisconsin State High School Honors Wind Ensemble.
Foran's parents believe that his skills in tennis and music are related, and that his development in music complements his play. "Music has improved his ability to concentrate on a single task for an extended period and to recognize the importance of very subtle aspects of a difficult composition," they said. "A tennis match requires these same skills, and Ben has benefited from this cross-over between tennis and music."
Daniel Belsito (Charlotte, N.C.)
Eighth grader Daniel Belsito first became interested in tennis when he watched a friend's tournament a few years ago. "The whole thing was very interesting to me," Belsito said. "From the competition itself to the atmosphere at the country club."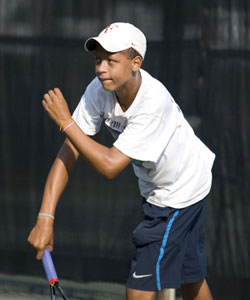 But what really hooked Belsito were the mental aspects of the game. "The biggest draw for me was the excitement of the one-on-one 'battle' - and the fact that you have to be able to think for yourself out there in response to different situations," Belsito said.
Since he began playing, Belsito has been honing his mental game into shape, and he says it is one of his biggest strengths. "I'm able to think my way through a match, changing my game-plan if necessary based on what's going on," Belsito said.
Belsito's father, Steve Belsito, describes his son as a 'student of the game,' commenting on his mental focus in tennis. "He is always reading books or watching matches on TV, and he is just as interested in developing his mental skills as he is in improving physical aspects of the game," said the elder Belsito.
Daniel Belsito used these skills to great effect last month when he played in four tournaments. He reached the finals of the Olde Forest Open, and was the champion of the Weddington Summer Classic, compiling a 17-4 record for the month of August and for the first time in his career moving into the Top 200.
Belsito's proudest accomplishment, however, was defeating four-star opponent Grey Hamilton at the North Carolina Clay Court Championships. "I have always admired his offensive style of play and his aggressive mentality," Belsito said. "He has a well-deserved reputation as one of the best players in the Southern region, so this was a break-through win for me and gave me a lot of confidence. I'm a big believer that you have to play against better players to get better yourself."
With this notable win under his belt, Belsito has high aspirations for his future play. "My goal for this coming year is to get to the top three in North Carolina and the top 25 in the Southern Section," Belsito said.
"Let me know if Nike or Adidas calls and is looking for someone to sponsor," he joked.
Mariel Ante (Riverside, Calif.)
When her parents first pushed her to play tennis, junior Mariel Ante wasn't very interested. Born in Cebu, Philippines, she accompanied her father to the tennis courts at a young age, but more because of the good food in the nearby cafeteria than for the opportunity to play.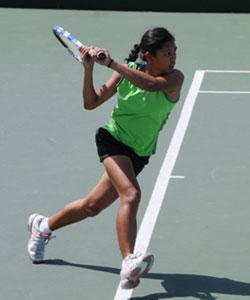 After she moved to the U.S. with her family, Ante entered a community tournament and won it. She began to take her tennis career seriously, deciding to try competing in USTA events.
This turned out to be the right decision for Ante, who played in a total of five tournaments last month. She reached the finals in both the Northridge Junior Tournament and La Marida Open Championships, and she won the Upland Junior Tournament. That record lifted her ranking more than 50 spots - she currently stands at a career-best #212 in the Class of 2012.
Although these tournament performances are impressive, Ante particularly cherishes her experience at the Jim Buck Jr. Team Tournament in San Diego, California. "In that team tournament, I was made a leader and co-captain, gained a lot of friends, coordinated and cheered for my teammates, and gained such a sense of accomplishment," Ante said.
The left-handed recruit continued her hot streak into September by winning the Girls' 18s in the Ramada Tournament in Claremont, California.
Ante credits her recent success to the confidence she gained from competing in a tournament in Edmonton, Canada in July. "It was my first out-of-country tournament, and it gave me a boost of self-belief, even though I was just a qualifier and barely made it to the first round," Ante said.
Currently, Ante and her father, who coaches her, are working on problem solving and shot selection. She hopes that a more tactical approach to tennis will carry her to even further success in her game.
Have a look over the Prince Hot 100 lists - and take a look at some of the other players who have stepped up their game.
The next edition of the Prince Hot 100 will be available on October 18.
Want to Be Featured?
Each month, we feature several boys and girls from the Hot 100 lists in a Hot 100 roundup article like this one.
If you would like to be considered for a feature, we need your current email address and phone number. Register for a free account and update your information.
Presented by Prince
Prince Sports, Inc., is proud to be the title sponsor of the Prince Hot 100.
Based in New Jersey, Prince is a company of racquet sports enthusiasts whose goal is to create cutting edge, functional and technically advanced products that deliver performance benefits for avid players. The Company's portfolio of brands includes Prince (tennis, squash and badminton), Ektelon (racquetball) and Viking (platform/paddle tennis). The Company has a history of innovation including inventing the first "oversize" and "longbody" racquets, the first "Natural Foot Shape" tennis shoe, the first "synthetic gut" string and the first electronic ball machine.
Today, Prince markets leading technologies in racquets (EXO3), string (Recoil), footwear (Precision Tube Technology) and apparel (Aerotech). It has operations on three continents with distribution in over 100 countries.
For more information on players, products or programs please visit Prince Sports, Prince Tennis, and the Prince EXO3 site.
Leave a Comment
More Roundup Articles
16-Oct-2017
Countdown: Blue Chip Boys
With Signing Week just a few weeks away, the future of many college tennis programs is about to get a whole lot clearer. We have made every effort to contact the Blue Chip boys in the Class of 2018 about where they are in the recruiting process. Today we take a look at where things stand ...
14-Oct-2017
Countdown: Sweet Music for Indiana's Recruiting Class
A talented tennis player and musician, Carson Haskins is fueled by a stubborn persistence to achieve his goals and retain a balance in his life. The blue chip senior from Ballwin, Missouri, has committed to play at Indiana University.
13-Oct-2017
Countdown: Talking D3 Recruiting With Chicago's Jay Tee
Colette Lewis sat down with Chicago coach Jay Tee to discuss the challenges of recruiting for a top Division III program at one of the country's most respected academic institutions, how Division III recruiting timetables differ from those of Division I, and many other topics.
About Amelia Thomas
Amelia Thomas has been the author of the Hot 100 column at Tennis Recruiting since Fall 2009. Thomas, currently a student at Appalachian State University in Boone, has been involved in journalism in both high school and college. She served as editor of her school's online news site in 2011 and 2012, and she placed in a National Scholastic competition for Feature of the Year.