College Commitment
Countdown: Koch in Garnet and Black
by
Ali Jones
, 11 October 2010
Seventeen-year-old Kyle Koch headed into his senior year of high school with a solid tennis resume: big forehand, booming serve, a singles record rated five-star, and a reputation for outstanding doubles play.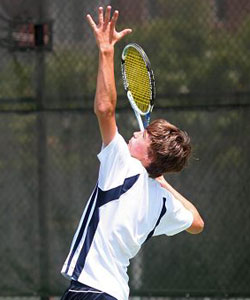 Still, the 6-foot-3 South Carolinian expected stiff competition - and a long search - for a coveted NCAA Division-I tennis scholarship.
But Koch's big game had caught the eye of Josh Goffi, a highly regarded assistant coach at Duke University hired in July to head the men's team at the University of South Carolina. And within weeks of Goffi's arrival, Koch announced his verbal commitment to play for the Gamecocks in Columbia, a half-hour from his home in Irmo, S.C.
"Doubles might have been the reason," Koch said, explaining how he became one of Goffi's first recruits. Also, "he said he liked that I played a big game, played a little like he did: big serve, big forehand. I guess he just saw something in me that the other schools didn't."
Whatever the reasons, Koch is thrilled to be staying home in South Carolina and competing in the tough Southeastern Conference. He is equally delighted to short-circuit what he expected would be an arduous scholarship quest.
"It's definitely a relief" to make an early commitment, Koch said. "I don't have to fill out 10 applications to schools. I have a spot on the team. I don't have to worry about that."
Koch had given serious consideration to another South Carolina school, Furman University, coached by the legendary Paul Scarpa, America's winningest active NCAA Division-1 tennis coach. But the opportunity to play for Coach Goffi and his assistant, Matt Lucas, at the beginning of their run at South Carolina swayed Koch's commitment to the Gamecocks.
"Josh and Matt know so much about tennis," said Koch. "From all the good things I've heard I just know they can help my game. I like everything [Goffi] had to stay about what he wants to do with the program, and I want to be part of that."