College Commitment
Countdown: Megan Horter to Baylor
by Granger Huntress, 26 October 2010
The Baylor Bears have a recent tradition of being a top-five program. They also have a reputation of being, not just a foreign-dominated team, but a completely foreign team.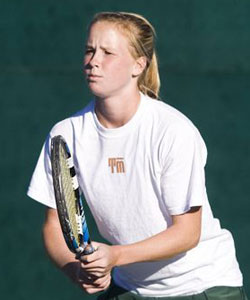 They have not had an American or Texas girl on scholarship in years. Several one or two star recruits have walked on, but despite all of the success, no big names have made the jump - yet
It takes a special kind of recruit to step in and break that trend - and that's exactly what they will be getting in 5-Star recruit Megan Horter.
Horter, who hails from the Dallas suburb of Southlake, appears to be your typical highly-regarded recruit, but look a little deeper and you quickly discover there's something different.
First off, Horter has a twin sister, Elizabeth, who unless you know Horter well, you probably have never heard of.
"We both started playing at age 4," says Horter. "Everyone in my family played, but now they've all quit. She played soccer and volleyball, then came back and played maybe one ZAT (beginning junior tournament) and that was it."
Horter speaks is quote philosophical when discussing her sister.
"We are pretty much opposite," explains Horter." She's more social and pretty chill. I'm a lot more competitive. She's a normal kid."
Horter starts out the day like a normal kid, attending classes at Southlake High School, before leaving around 1 p.m. and heading over to T bar M Racquet Club in Dallas. But before she takes the court under the tutelage of Dave Licker, Horter trains by herself for two hours.
"I do more stuff on my own because of my school schedule," says Horter. "I lift, run or hit serves for two hours before our workouts. I have always been driven. My brother and I are really similar."
Her bother, Thomas, currently studies flute at the Conservatorium van Amsterdam. He is also possibly the youngest certified flute repair technician in the world.
The hard work Thomas put into his flute practice certainly made an impression on his sister.
"He would come home after school and practice the flute for five hours at a time," explains Horter. "He was in band, but he didn't think they were serious enough. When you are living with someone that driven, you pick it up."