College Commitment
Countdown: Cotrone Commits Early
by Joshua Rey, 3 November 2010
Dominic Cotrone trusts his instincts.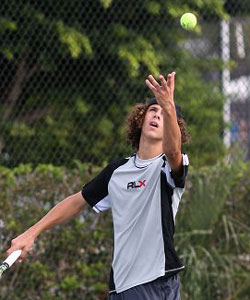 After moving to Bradenton, Fla., and training at
IMG Academies
for three years, he grew tired of tennis and took a year off from the sport. A new coach, Mike Wilson, gave Cotrone a new lease on the game and followed the five-star recruit to Honolulu in February for a spur-of-the-moment trip to a
USTA National Open
.
When it came to choosing a college, Cotrone made a five-point wish list: a big atmosphere, a nice campus, a warm climate, teammates he meshed with and coaches he admired.
One trip to Tallahassee, Fla., was all he needed to make a decision.
"I had four or five official visits lined up, and FSU was my first one," said Cotrone, 17. "After I got back from FSU, I ended up calling Louisville and Illinois and a couple others and told them that I wasn't going to be coming."
Florida State finished the 2010 season ranked 29th in the nation after a heartbreaking 4-3 loss to Georgia in the NCAA tournament. FSU's top three singles players in that match - Jean-Yves Aubone, Vahid Mirzadeh and Clint Bowles - will all be gone by the time Cotrone begins his career with the Seminoles next fall, offering the incoming freshman an opportunity to make an immediate impact.
"That's something I actually talked to the coaches about on the phone a lot," said Cotrone. "I knew I could definitely contribute to a team that's top in the country, but I wanted to make sure I made a big impact right away."
Listening to Cotrone on the phone, it is clear that family values have played a large role in who he is today, and where he'll be a year from now. Cotrone said that he thinks of tennis as his job: the key to him getting a good education and preventing his parents, David Sr. and Dawn, from paying a steep tuition.