Commitment Announcement
Fall Signing Week '10: Caroline Price to Wear Carolina Blue
by
Colette Lewis
, 10 November 2010
Before Caroline Price made her decision to join the North Carolina Tar Heels, she followed the advice of her father Mark, the former NBA All-Star point guard, who went through the process himself in the early 80s before joining Georgia Tech.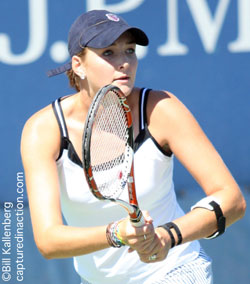 At his suggestion, Price, ranked 12th in the 2011 class, made several unofficial visits during her junior year, then took official visits to four schools this fall, again relying on her father's recommendation to experience what he considered the most enjoyable part of the process.
There was irony however, in her ultimate choice: North Carolina. Although Mark dreamed of playing for UNC and their legendary coach Dean Smith, he was not recruited by the perennial ACC power.
"I wasn't quite as highly recruited a player in high school as Caroline is," says Price, who is now on the staff of the NBA's Golden State Warriors. "I was a big fan of the North Carolina basketball program growing up, even though I was from Oklahoma. They didn't quite see me fitting into their program."
Price went on to earn All-American honors at Georgia Tech, where he met his wife Laura, then played a dozen years in the NBA, so any disappointment was soon forgotten.
"We told the North Carolina coaches that story on one of her unofficial visits and they asked us if we would hold it against them," recalls Laura Price. "We laughed and told them that we wouldn't. Mark ended up where he was supposed to be and everything worked out the way it was supposed to."
A 5-foot-11 inch left-hander, the 17-year-old Price won the 2009 16s Easter Bowl singles and doubles titles, and in July, the 18s Clay Courts. The Duluth, Ga. resident also was named a Bill Talbert Sportsmanship award winner, the USTA's national honor for junior players.
I asked Caroline in email and phone interviews about her recent decision to join the University of North Carolina in fall of 2011.