Commitment Announcement
Fall Signing Week '10: Chappell to the Horned Frogs
by
Ali Jones
, 10 November 2010
After a flurry of college coaches came knocking on his door, Nick Chappell finally narrowed his choice to the last two: Texas Christian or Georgia.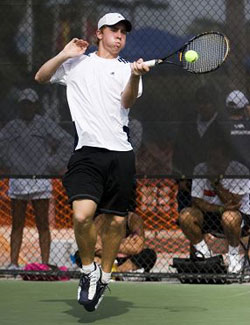 The seventh-ranked junior's ultimate goal is to play and succeed on the professional tennis circuit. His college choice came down to who can best help him achieve that goal. The man for the job, he thought, was David Roditi, the newly-hired coach of the TCU Horned Frogs and former junior Davis Cup captain. Chappell has signed with the Horned Frogs.
"I really like Coach Roditi," said the blue chip. "I've known him for a long time. I think he's a great coach and I think he can help [me achieve my goals]."
Roditi, who has spent the past five years as lead national coach at the USTA Training Center in Carson, California, is a TCU alum who played for the legendary Tut Bartzen.
Roditi said that he plans "to uphold the great tennis tradition that TCU has always had."
Chappell is banking on Roditi's plan for the team, but also his track record for developing outstanding juniors who are breaking through the pro ranks, including Ryan Harrison. John Isner, world top 20, was also once a pupil.
During Chappell's official visit to TCU, Roditi arranged for the Indianapolis senior to meet with the athletics and academic support staff that will help him at the college.
In a whirlwind two-day visit, Chappell had about 20 meetings with the various coaches, including Coach Gary Patterson, whose football team finished 6th in the nation in 2009. The point, Chappell said, was that "Coach Roditi wanted me to see that if TCU wants to, they can really develop a program and that's what they're trying to do with tennis right now."
The Frogs have dominated the Mountain West Conference Championships since they joined the league five years ago.
The landscape of Fort Worth, Texas, home of the university, is familiar to the five-foot-ten lefty. His brother, Paul, is a redshirt senior on the team - a bonus for the incoming Frog. Paul didn't persuade or dissuade his brother about TCU.
"[Paul] wanted me to see for myself, but he was definitely excited when I decided to come," Chappell said.