Who's Hot?
Prince Hot 100 List - November '10
by Amelia Thomas, 18 November 2010
With the Fall Signing Period in the rearview mirror, TennisRecruiting.net is ready to get back to its regular content. What better way to get back in the swing of things than with a new edition of the Prince Hot 100.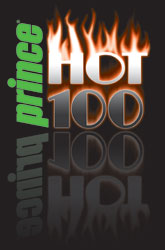 The Prince Hot 100 lists are published each month, and the November Hot 100 Lists feature the one hundred boys and girls who most improved their ranking during the month of October. You can find out more about the Prince Hot 100 - and how the lists are calculated - by reading here.
The latest lists, published earlier this week, are available here:
As always, we check in with a few of these players...
Roundup
Natalie Kitchen (Hilton Head Island, S.C.)
Eighth grader Natalie Kitchen's parents credit her improvement last month to bettering the imperfections in her game.
>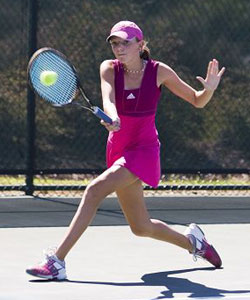 "During the last month, she has focused on her preparation for the tournaments on the schedule," said Harry Kitchen, her father. "She recognized her weaknesses and is working to improve them."
The 3-star athlete responded by amping up the intensity of her practices.
"I started training in the morning for two hours of individual attention and the afternoons for match play."
Kitchen also began setting daily goals to get herself concentrated for each practice and match. "I have been working on my focus and the mental aspect of the game," Kitchen said.
Kitchen's recent dedication in practice proved effective in her play last month, as she climbed into the Top 200, achieving a career-high ranking of #176 in mid-November. In all, Kitchen racked up twelve wins over three tournaments, including a winning the title at the K-Swiss Kiawah Clay Court Championships, defeating 5-star opponent Supriya Narisetti (Cary, N.C.) in the final.
Kitchen is particularly proud of her win in the final, although she had some difficulty. Playing aggressively, Kitchen won the first set against Narisetti 6-3. "I started out the match attacking the ball every opportunity I could," Kitchen said. "[Narisetti] made some changes in the second set and I lost 6-3." A tense third set was knotted at 4-4 before Kitchen was able to break, closing out the last two games for a 6-3, 3-6, 6-4 victory.
Kitchen considers herself an all-court player, referring to her aggressive game as well as her patience. "My coaches have taught me to construct the point - and wait for a short ball to finish the point," Kitchen said.
Kitchen and her parents believe she will continue to excel due to her enthusiasm and determination for the game. "I have a strong will to win," Kitchen said
Harry Kitchen agrees, adding, "In addition to her competitive nature, Natalie has a free spirit that reflects her passion and joy for tennis and life in general."